Her corona odyssey from India back to Nepal
When the children dance and sing in school, 11-year-old Saruli from Mugu was there with great joy when she was not collecting wood or protecting her parents' small field from the wild monkeys. Unfortunately, she was often more busy with her duties than she could find time for school – a classic problem for girls in the poor mountain regions of Nepal. In any case, dancing was great fun for Saruli. So she dressed up in her mother's sari at home on a winter evening in December 2011 and danced. But Saruli came too close to the open fireplace and suddenly her entire lower body was on fire. The nylon fabric burned itself deeply into the skin of the legs, buttocks and hips within seconds.
LAST MINUTE RESCUE | From this moment a story of suffering began that we can hardly imagine here in Central Europe. The family carried the severely burned girl to the only hospital in the Mugu mountain region – a full day's walk away. But no one could help the child there. There were no doctors, there were no drugs – not even for pain relief. Hope sank that Saruli could even survive this. When our team in Mugu heard of the accident, we decided to help immediately and fly Saruli to Kathmandu. However, since the nearby runway was already closed due to the onset of winter, only the far away runway in the neighboring region of Jumla remained. What followed was a two-day ordeal for everyone. Saruli's father and seven other men carried the badly suffering girl, who was repeatedly unconscious from pain, on a stretcher – uphill, downhill, over unpaved, icy mountain ridges at an altitude of over 4,000 m. To be finally in Jumla, however, did not mean the salvation. At first there were no planes flying for several days due to snowfall. Then one finally landed, but the local airline refused to take the seriously injured girl with them, as she couldn't sit down after all. So we booked the entire row of seats without further ado and Saruli was transported lying down.
IMPRESSIVE AND BRAVE | 9 days after the accident, the seriously injured child was finally taken to a special burn clinic. Saruli spent 108 days in various hospitals in Kathmandu and was operated on countless times. Our team accompanied the brave girl every step of the way. The little miracle happened: Saruli survived, was able to walk slowly again and finally returned to the mountains in Mugu, where she was greeted with great joy and amazement by the village community. She also eagerly resumed her interrupted schooling. When I met Saruli again a year later in Mugu, her life was almost as it was before the accident. She was able to move around largely unrestricted and attended school regularly. All this because of her great discipline: she does her exercises every day, creams the many spots, wears special clothing against the bulging scarring and much more. Over the next few years, Saruli bravely endured many more operations; she is so happy to have her life back. The impressive thing about her is that she is undaunted.
FAMILY HAPPINESS | When Saruli came of age, she married her great love, a young man from her home village. We were very happy for her, since a real love marriage is rather rare for Hindus, the marriages are usually arranged. The young happiness sparkled on their faces and was soon crowned with the birth of a son. In May 2018, Saruli gave birth to a healthy boy whom she named Prakesh, the Light.
FALSE PROMISES OF LUCK | Since the living situation of the people in Mugu is very difficult, the small terrace fields of the families give too little, Saruli and her husband decided – like many others – to try their luck in India. They emigrated in 2019 in the hope of earning enough money there to be able to return soon and build a modest but good life for themselves, including for the children. They set off with their toddler Prakesh and ended up in Bhimtal in Uttarakhand, a small Indian town. As neither of them had any specific training, they only had to work on construction sites. Every day was exhausting and paid so badly that the family couldn't even afford a room. They built a temporary makeshift shelter out of a tarpaulin and lived from hand to mouth. When Saruli became pregnant the second time, she could no longer cope with the hard work on the construction site and the money her husband made was inadequate.
CORONA AND NO WAY LEADS HOME | And then Corona came. Saruli's husband lost his job and every day went to the market to find some way to make money or get food. In addition to the financial worries, the family was very afraid that he could become infected. There were deaths, you heard about it in every corner and it was clear that if it hit him, the family could no longer be saved. The exit to Nepal was not allowed, both countries were in complete lockdown and shielded. The couple could only fear and wait. When work could be resumed months later, Saruli's husband was not allowed to continue working because they could not get hold of any of the very scarce protective masks. In addition, the situation of the Nepalis in India worsened, the tone of voice became increasingly harsh – everyone was simply afraid of the virus and for their existence. On August 17th, despite all the adversities, Saruli was put in a public hospital. She named her healthy son Shankar in the hope that the divine name would protect him.
ONLY WITH LUBRICATION OVER THE BORDER | By the time little Shankar was born, the family had used up almost all of their savings and there was really only one way not to end up on the roadside: back to Mugu. They teamed up with others from home and started the journey with the toddler and the newborn baby in groups of ten. The next odyssey in Saruli's life was again extremely difficult. On some days they had nothing to eat, the little one screamed with hunger. The border guards did not want to let them through at first, but then allowed the group to bribe them with 10,000 rupees. They were finally able to cross the border. Saruli's husband went into debt with fellow travelers. And it went on in exactly the same way, money was tight, transportation four times more expensive than usual, the provinces closed. With negative PCR tests, they were able to travel on, were stopped again, had to be quarantined in nowhere for 2 weeks – an endless path that seemed to never end. Hunger and the constant fear of infection accompanied her every minute.
SURVIVED FOR THE SECOND TIME | Completely exhausted, Saruli and her family finally reached their home village at the end of September after a week-long journey and long hikes through the mountains. We also received the good news and we soon came to Saruli's village with help to greet the returnees and to facilitate the (re) start of the small family. We first brought the essentials such as food, baby equipment and clothes for the little ones and then talked to Saruli about meaningful income generation.
SARULI IS AN ENTREPRENEUR – IT'S UPGRADING | Now her big dream has come true: a few weeks ago, Saruli received training in bookkeeping and opened a haberdashery shop in her village. She is now an entrepreneur and full of zest for action so that not only can she feed the people in the area, but also feed her family. As difficult as the path was, Saruli has never lost her infectious smile and her boldness – gifts that will surely pave the way for her again and again. We stay by your side and are happy to help.
by Stella Deetjen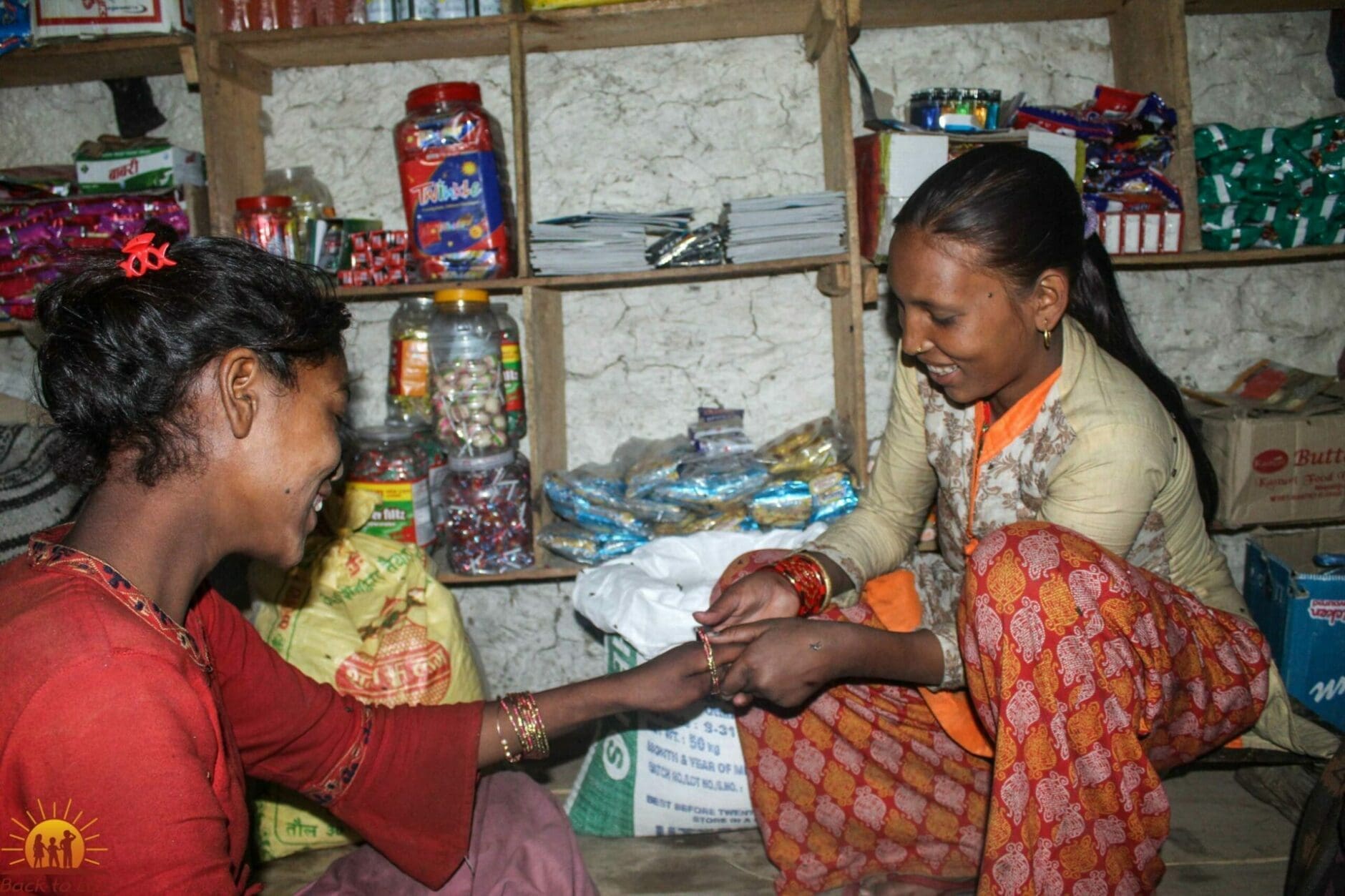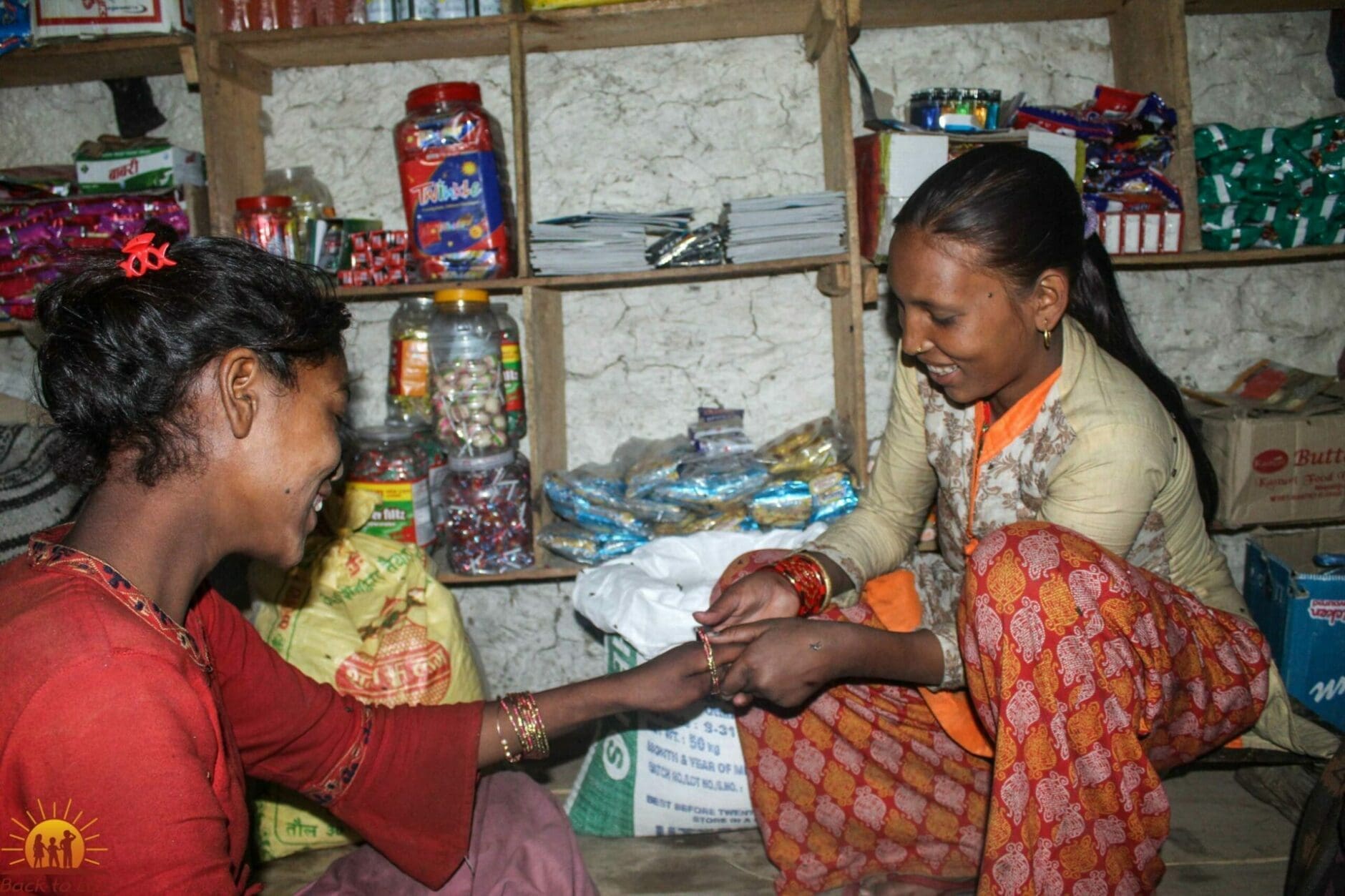 " LUCKY GOES LIKE A SUN
ABOUT MY LIFE ON. OUR STORE
RUNS GOOD AND THE BEST IS: WE
CAN STAY AT HOME IN MUGU. "