Why do we invest in health?
In the poor, rural areas of Nepal where we implement our projects lack of health care is a major problem. The more remote, the less medical help is available. There are often no doctors here, only nursing assistants who have only completed a short, basic training. Sometimes there is no staff at all in the rural health stations. There is a lack of medical equipment, medicines are often used up and supplies are slow to arrive. Even easily curable illnesses or injuries caused by accidents mean death for many. Diarrhea still claims the most lives, an avertable fate. The people are on their own and, if they can pay a fee, turn to the shaman (healer) or resort to obscure self-treatment: ulcers and tumors are pierced with glowing needles, in the case of gastritis the abdominal wall is burned with hot iron, Battery acid is used for toothache.
| | |
| --- | --- |
| Mortality rate in children < 5 years | |
| Air pollution premature death rate | |
| Mortality rate from exposure to unsafe water, poor sanitation and poor hygiene | |
| Density of doctors | |
| Proportion of children < 5 years with chronic malnutrition | |
| Per capita government spending on health | |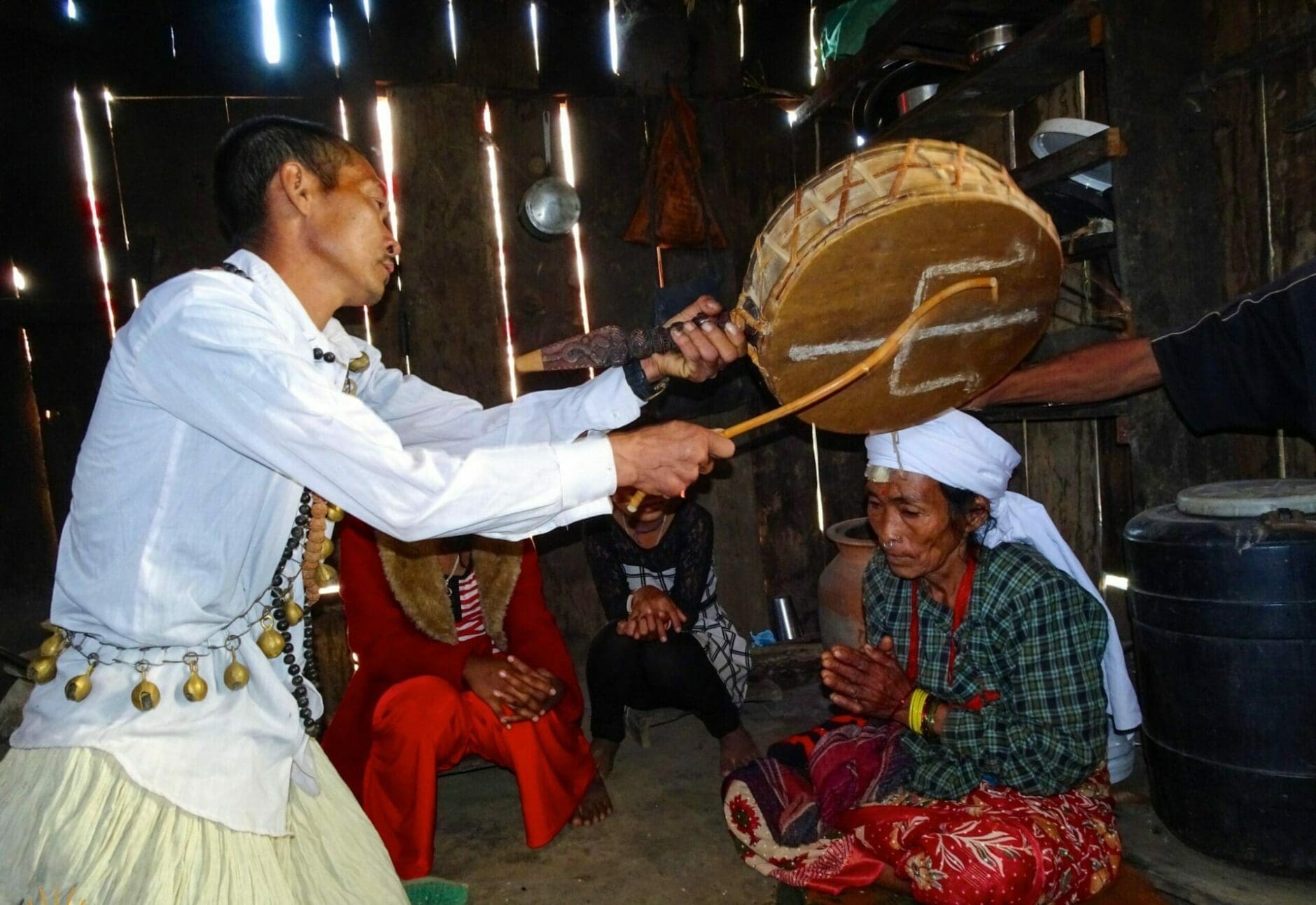 Rescue only for those who can pay
The situation is striking in the remote high mountain region of Mugu, 3500 km2 in size. There is only one hospital in the district capital of Gamgadhi, which is responsible for the entire population of the region with 66,000 people. If someone is seriously ill and the shaman can no longer help them, the relatives carry the sick person several days across the mountains to this hospital – sometimes over snow-covered passes of up to 4,000 meters. A tremendous strain for everyone involved, which often remains without the longed-for rescue. Anyone who needs a complicated surgical procedure has to fly out to the lowlands. An expensive affair for the families, many cannot afford the rescue.
Medical help must not be a privilege
While essential health care is now free in government hospitals, it is mostly city dwellers who benefit from it, not rural people. Just 7% of the Nepalese population has got a health insurance. This means that many treatments and medications have to be self-financed. This is usually impossible for poor families or represents an immense financial burden that compromises other important expenses for food or education. Families often run into long-term debt or sell their land.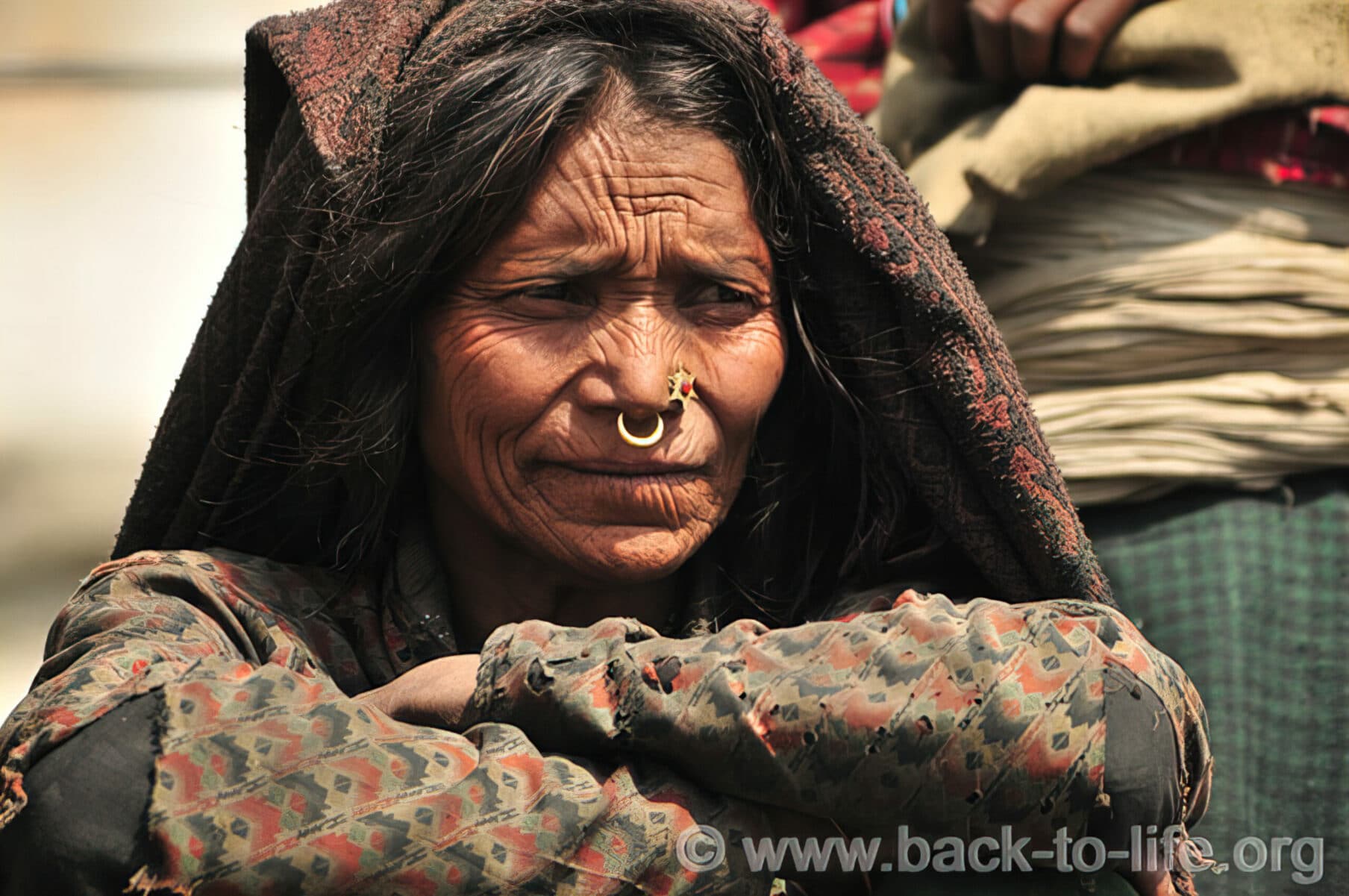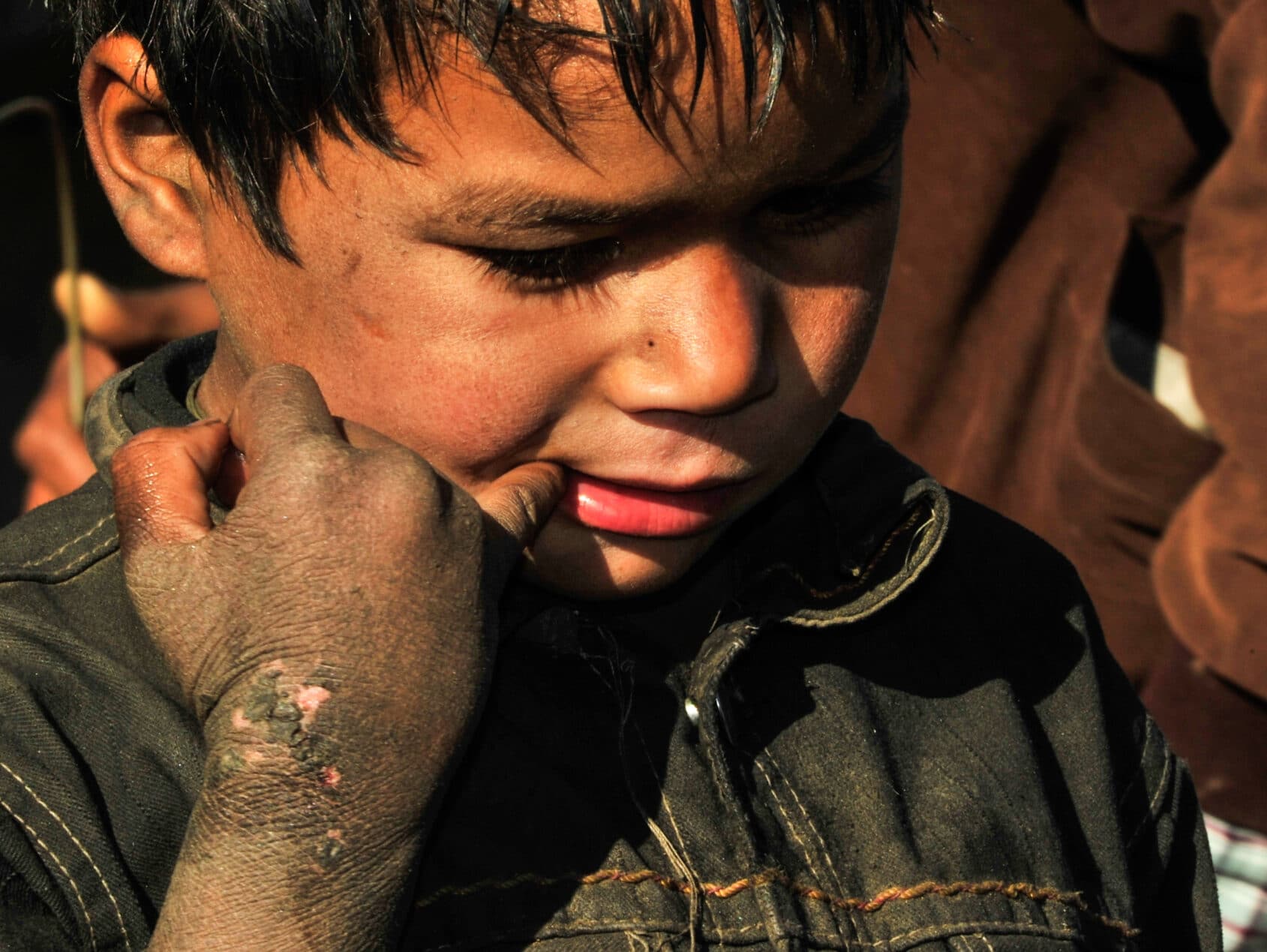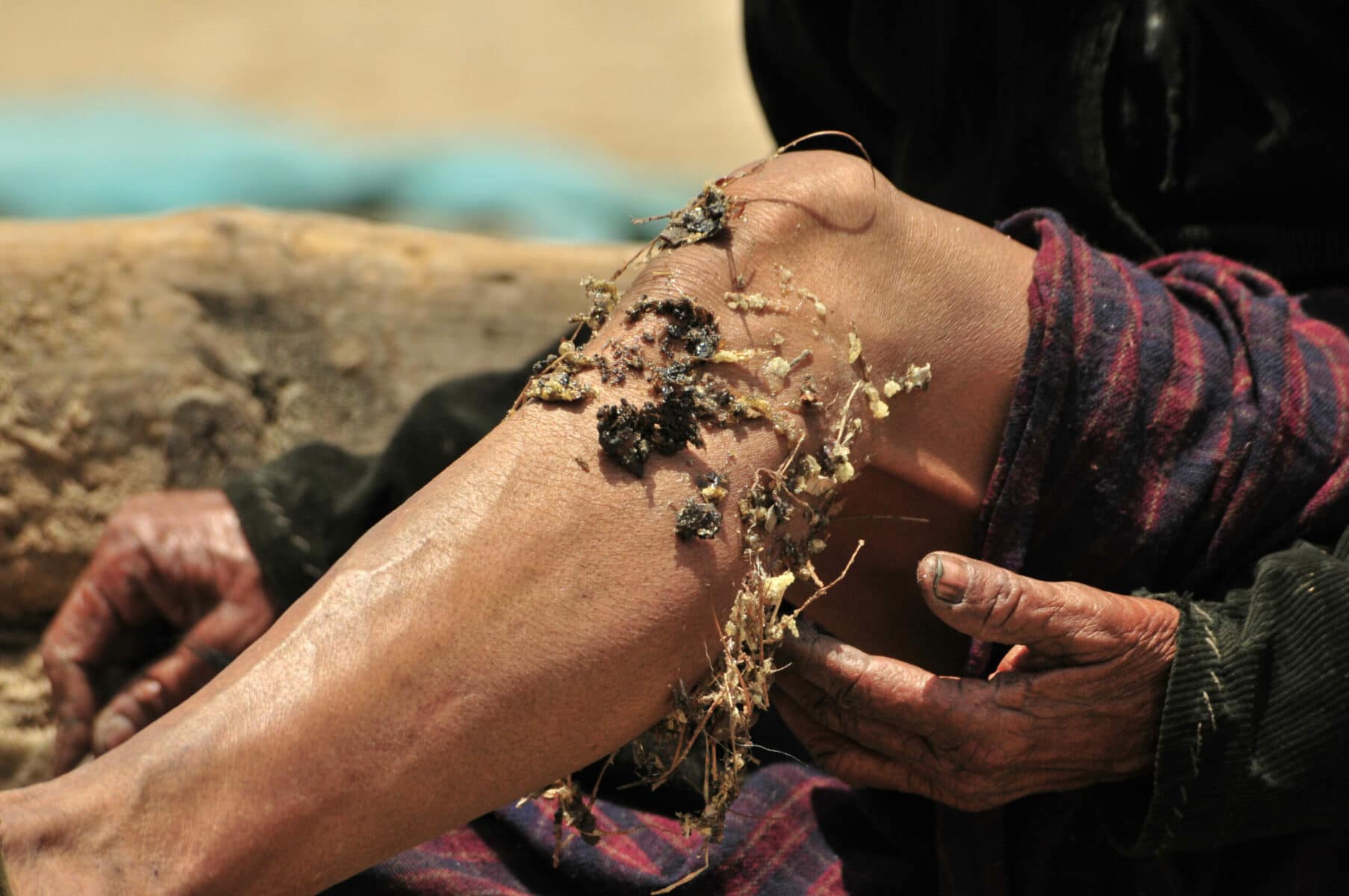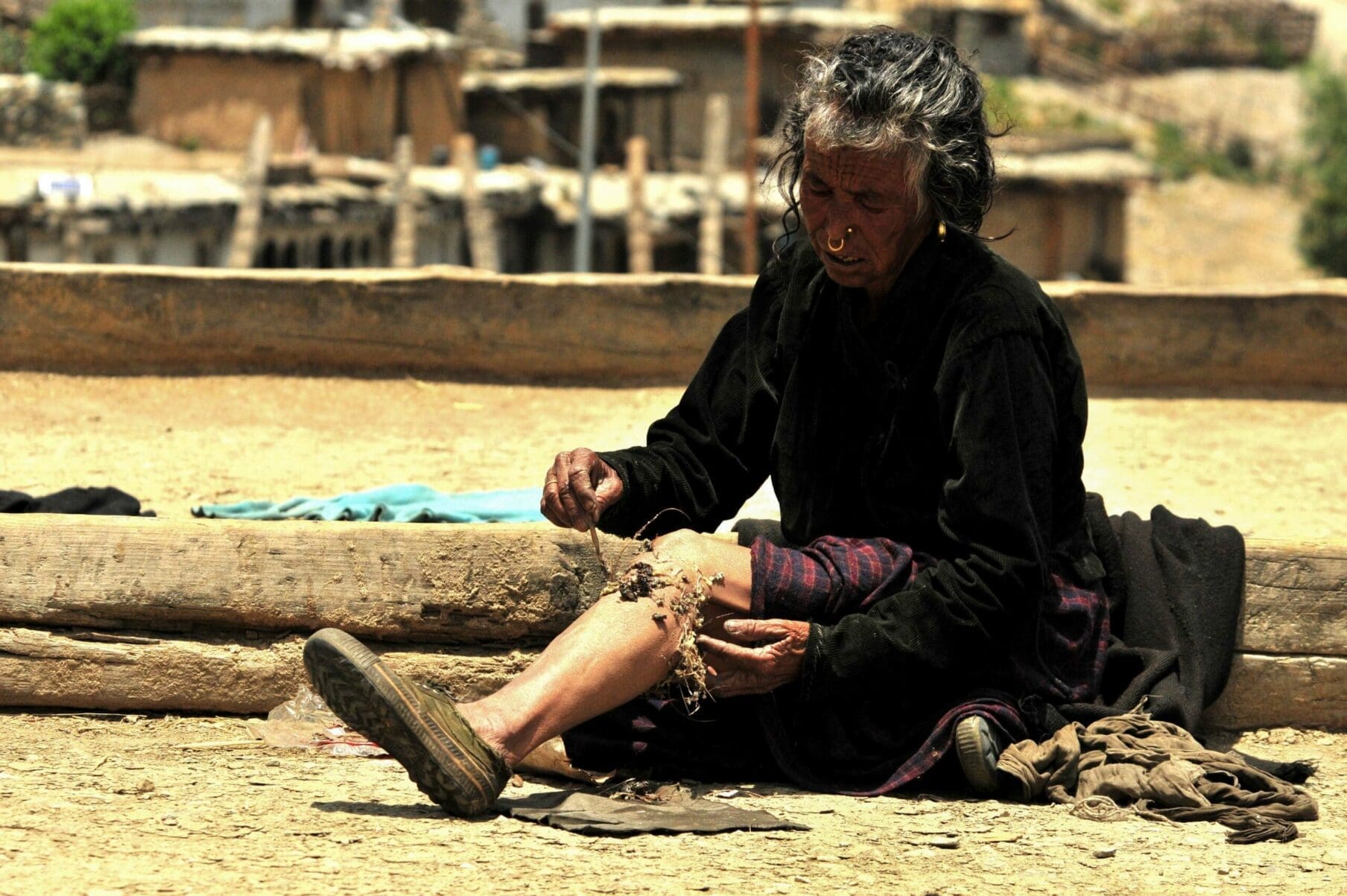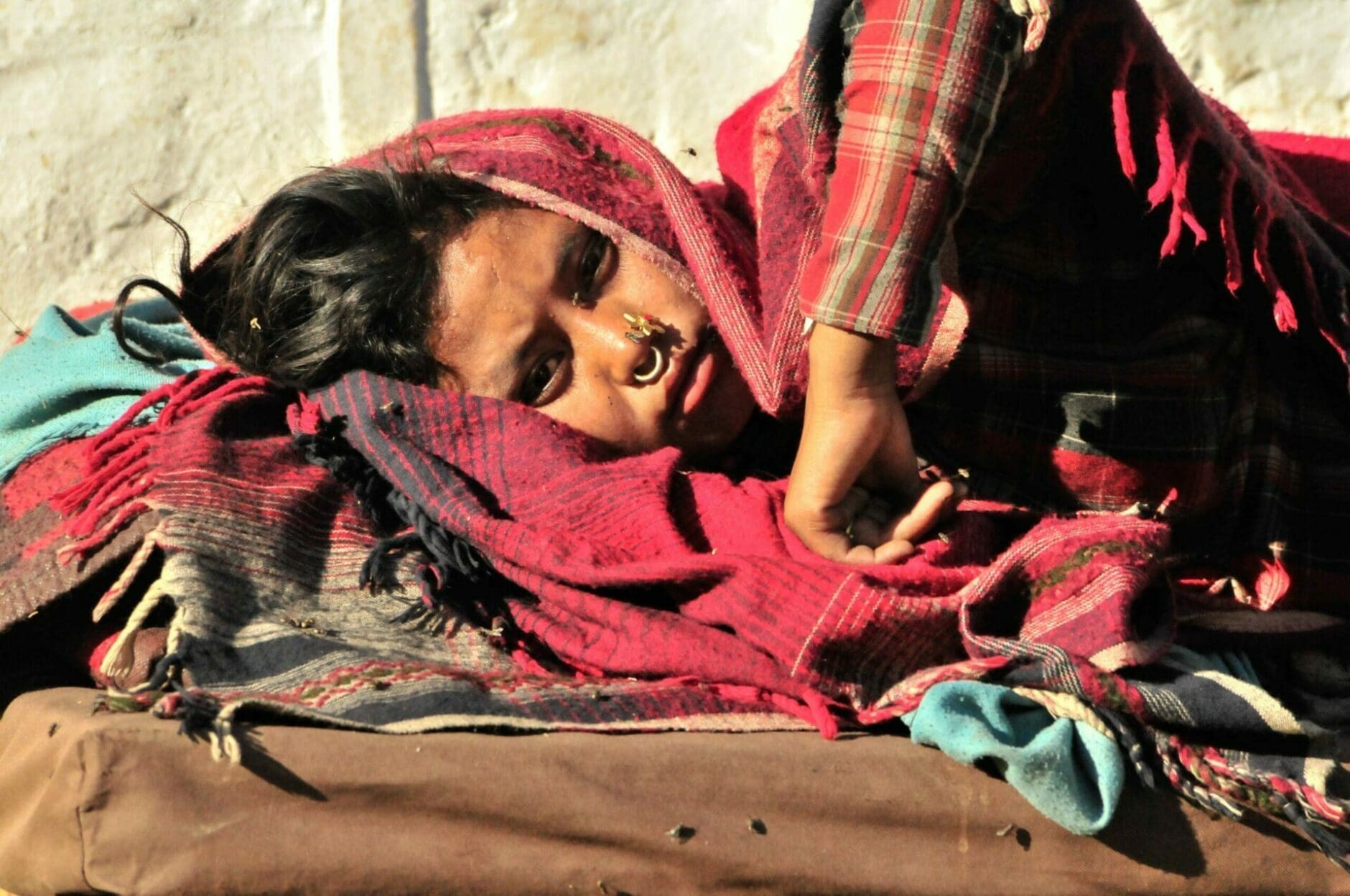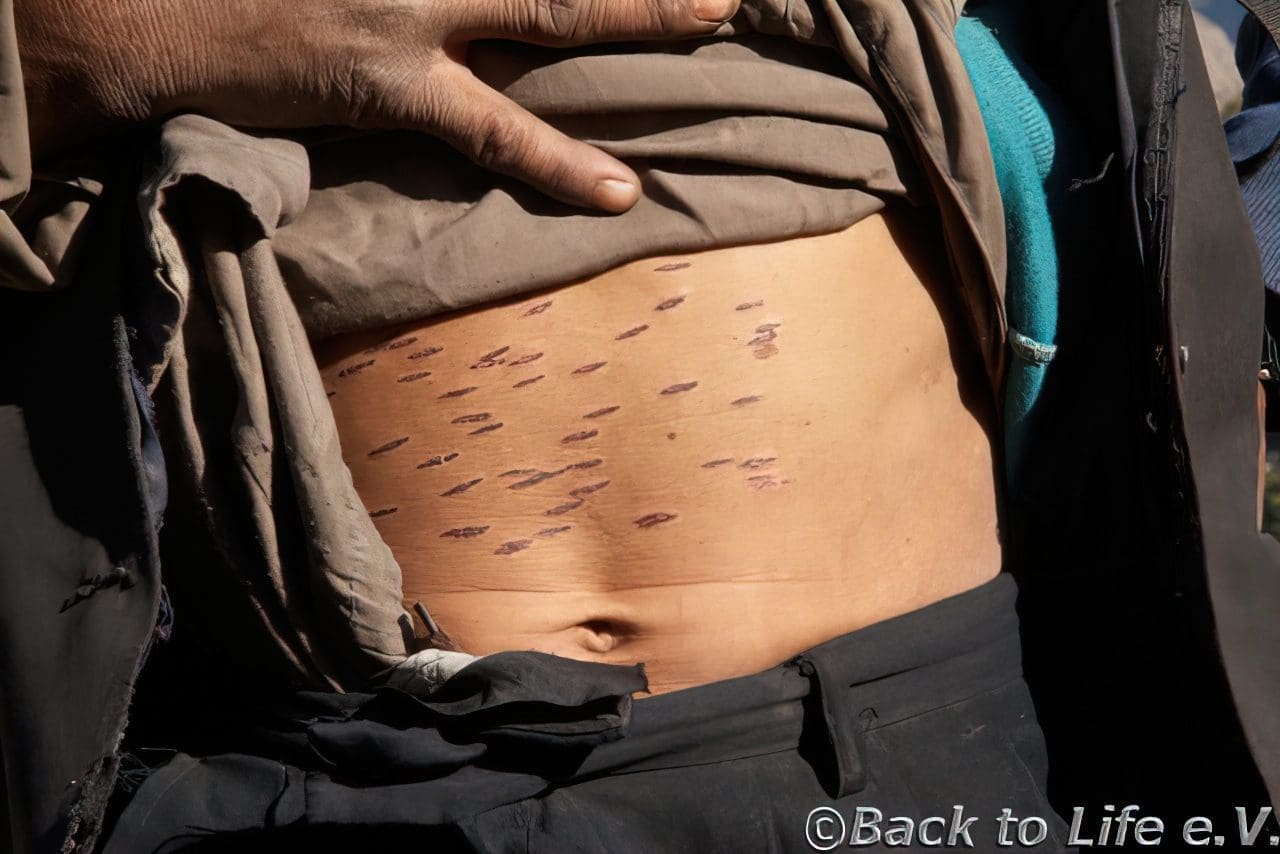 This is how Back to Life ensures better health in Nepal
Currently, the mortality rate for children under the age of 5 is 28 per 1,000 live births. One of the most important goals of the 2030 Agenda in Nepal is to reduce this to under 20 by 2030. According to the WHO, infectious diseases such as pneumonia, diarrhea and malaria are the leading causes of death in children under the age of 5, together with premature birth, lack of oxygen at birth, birth trauma and hereditary anomalies. Many of these are easily preventable with access to basic, life-saving healthcare and the practice of healthy behaviors. Above all, this includes professionally supervised birth, follow-up examinations, exclusive breastfeeding for at least six months, balanced, sufficient nutrition, vaccinations and treatment of common childhood diseases as well as good hygiene, sanitary facilities and clean drinking water.
Education is the key
If people are informed about these issues and preventative care is supported in the family, at school and in the village, many diseases can be effectively avoided from the start. That is why we actively and regularly inform adults, young people and children about health issues that affect them. To do this, we use various age-appropriate formats, such as child clubs, workshops, radio programs or large community events on World Water Day or other important international days of action. For those who cannot read and write, we develop illustrated information material. Our birthing centers are a platform for educating mothers, who then carry the new awareness of hygiene into their families. In this way, we raise awareness of healthy behaviors.
COVID-19 Prevention and Protective Measures
Already at the beginning of the pandemic, we carried out educational programs about the coronavirus and the important hygiene and distancing rules at our project schools, the birth centers and in the project villages. We reached 7,500 students and around 30,000 villagers. Many of them do not have access to television, radio or social media, or cannot read or write to find out more about the corona pandemic.

Find out more here about Back to Life's work during the Corona pandemic, from emergency aid with food parcels, sourcing protective equipment for our birth houses to homeschooling and building greenhouses.
Health Camps – we take doctors to the high mountains
Every year, Back to Life organizes health camps in the mountains of Mugu, where patients receive outpatient and specialist care. To do this, Back to Life hires Nepalese doctors from various disciplines, obtains the appropriate official permits and medicines, and announces the health camps in the villages at an early stage. For the doctors from Kathmandu, the mission in the high mountains is not an easy task, since they and our team first have to walk one or two days through difficult terrain to the site and are then accommodated there under the simplest of conditions. The doctors spend several days on site and treat as many patients as possible during this time. The health camps are the only opportunity in the year for the population living there to be examined and treated by a specialist – for many it is even their first contact with a doctor. Therefore, the rush is always enormous, some people come from very far away. The most common diseases include respiratory and skin diseases, conjunctivitis, gynecological problems, malnutrition and parasitic infestations.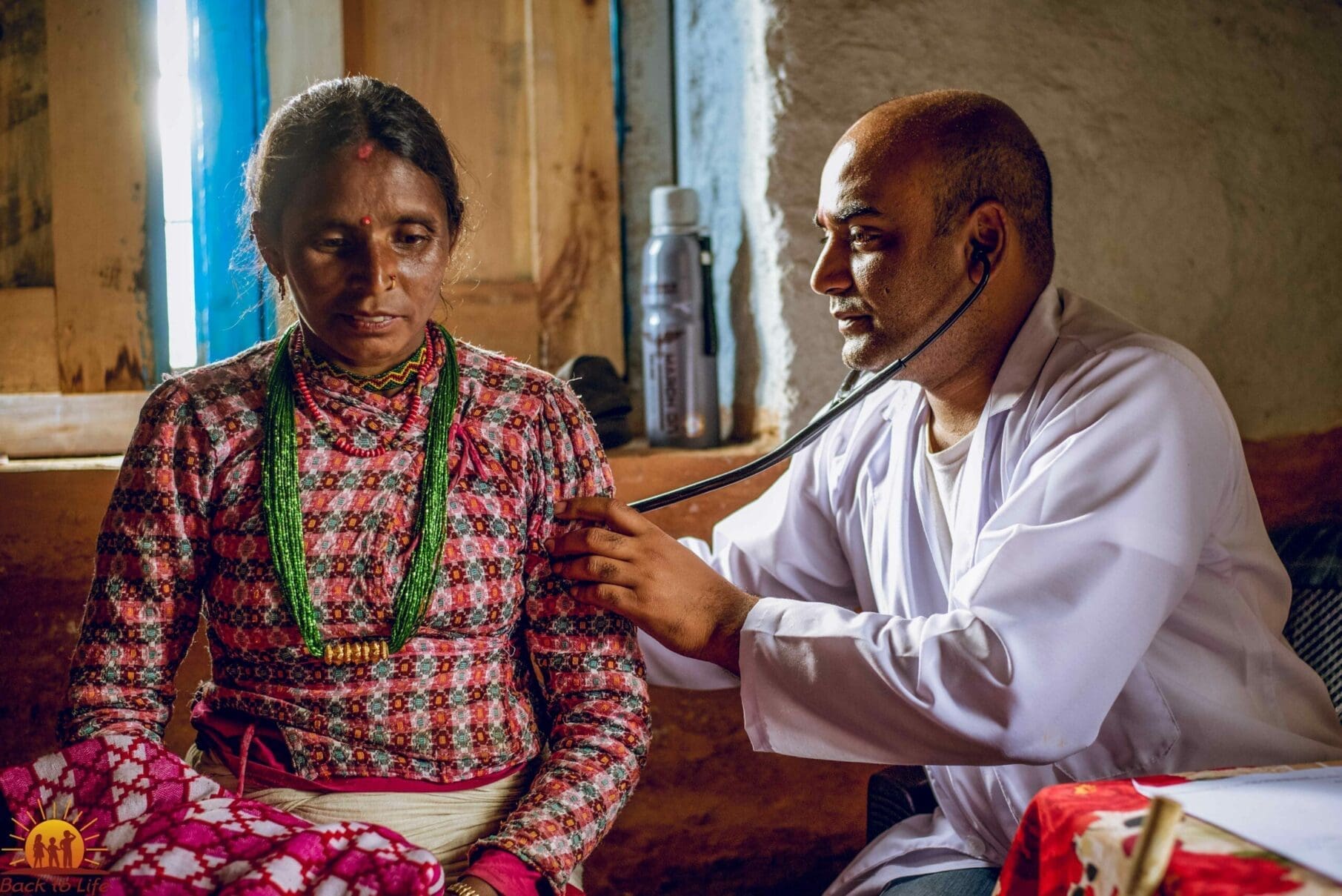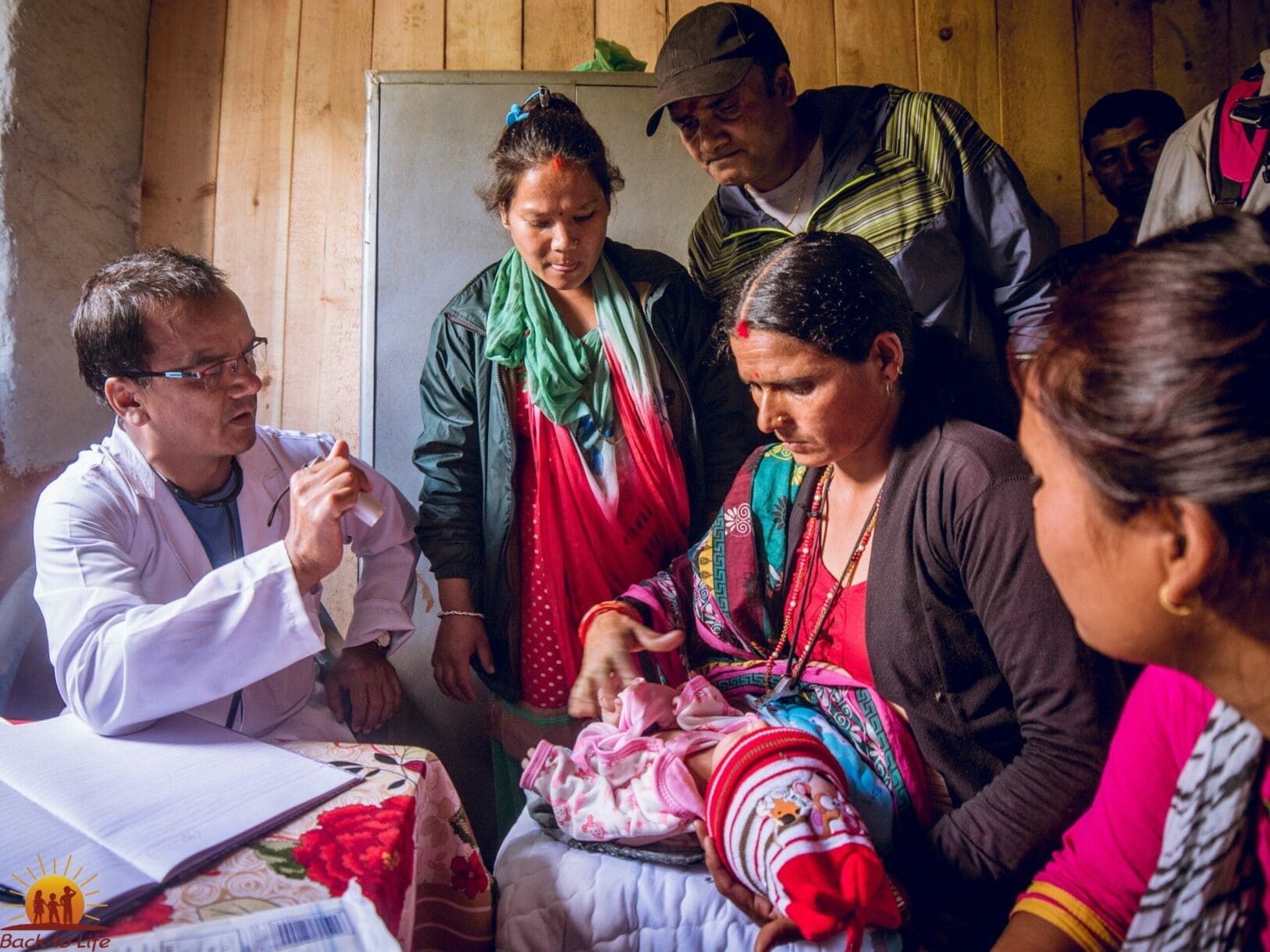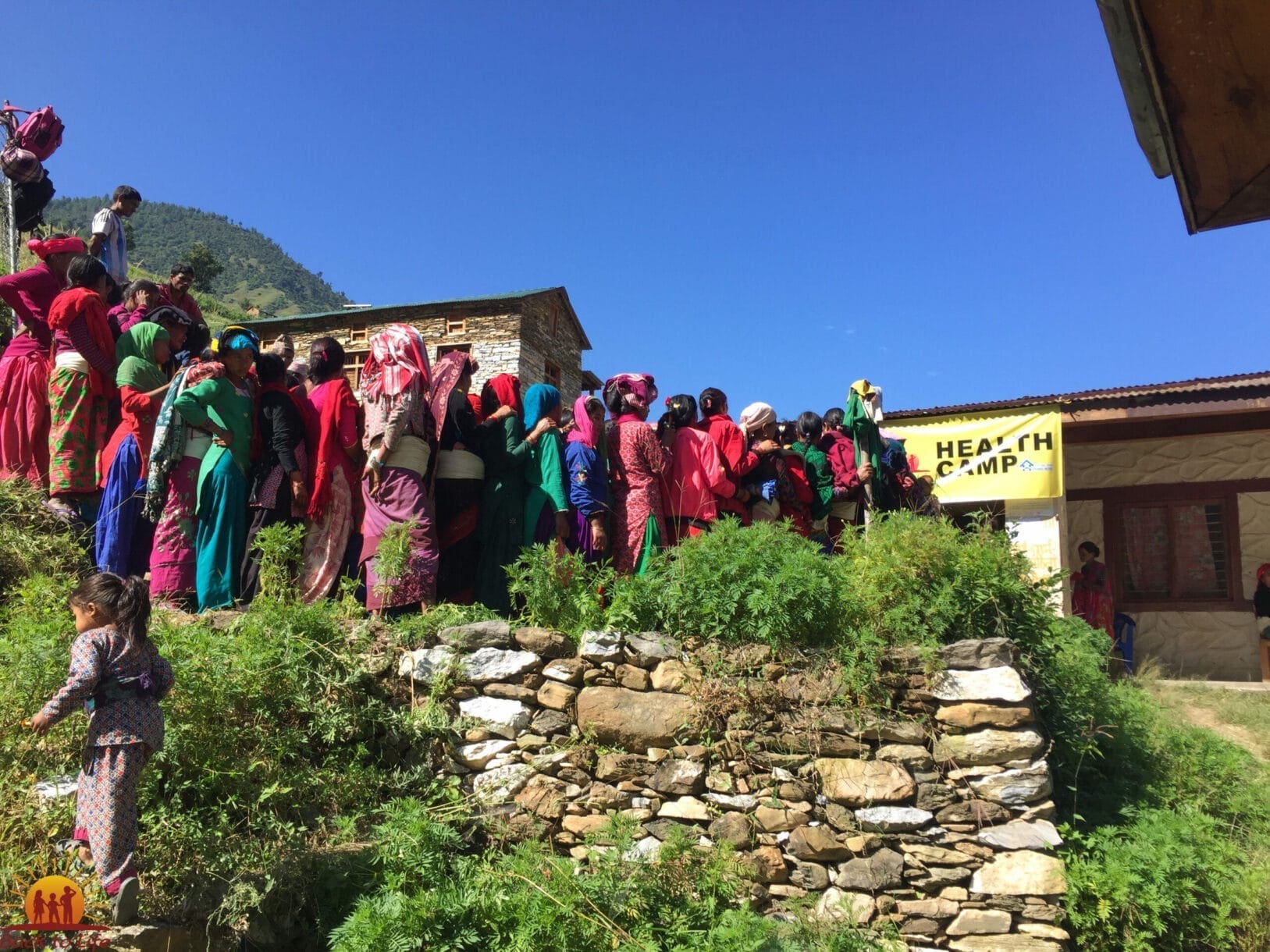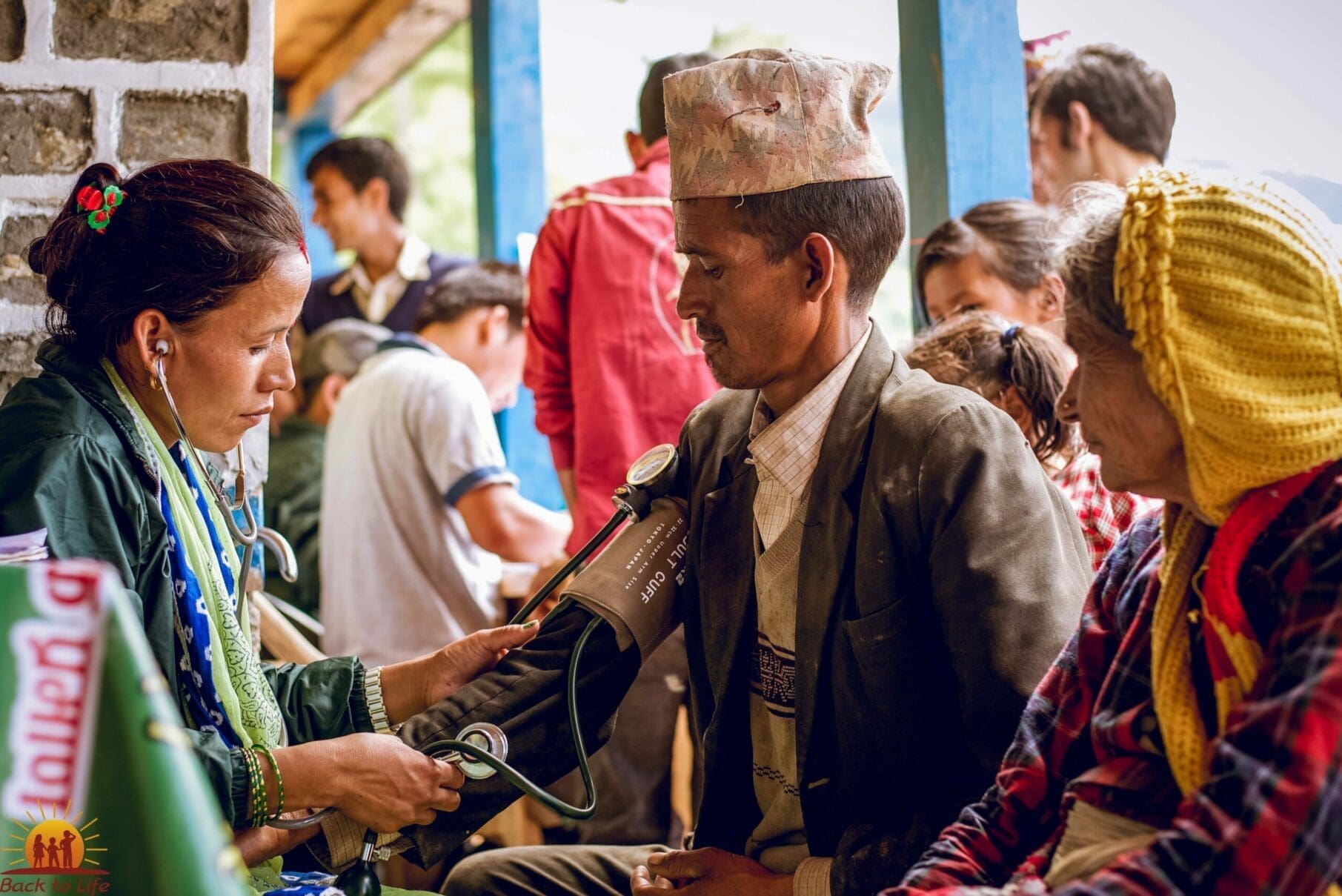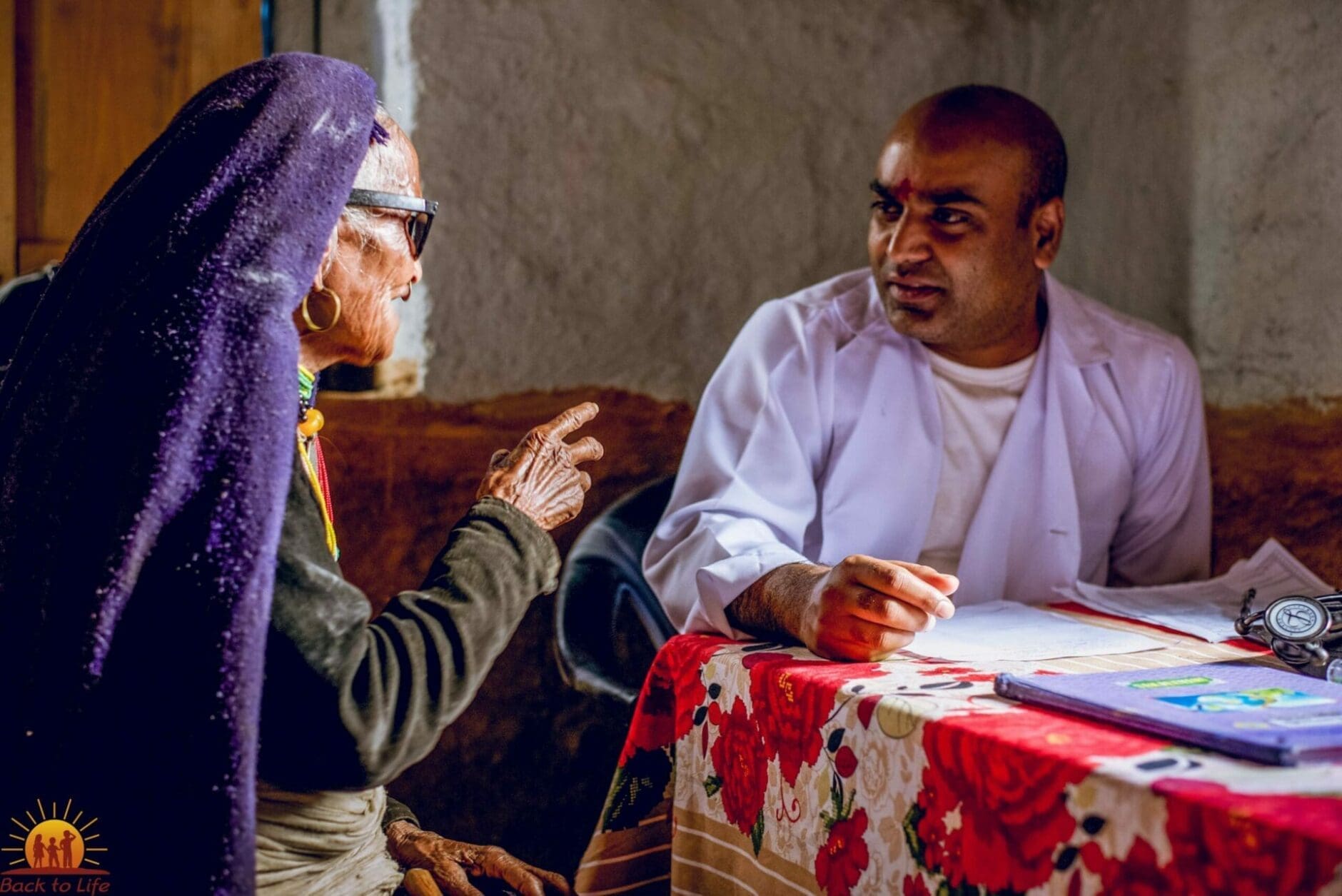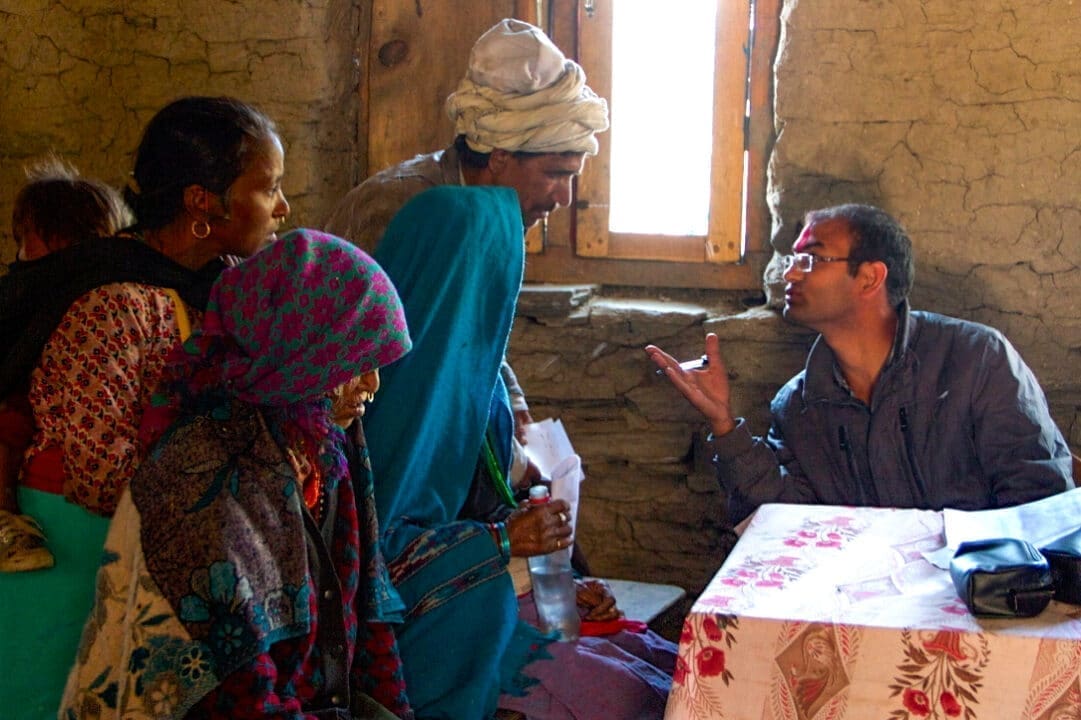 If on-site treatment is not possible, patients are referred to a lowland hospital. If necessary, Back to Life will support the transport there. To date we have been able to help more than 20,000 people with the health camps in the mountains of Mugu.
Medical Help at Schools
For Back to Life it is particularly important to promote health in schools through health training courses on how to wash hands properly, important daily hygiene and brushing your teeth. The children become accustomed to the important hygiene rules and they also teach them to their relatives at home. In some schools we provide a freshly cooked, balanced meal every day and give out fruit to help reduce malnutrition.

We organize health camps directly at the schools. All students are examined by paediatricians and general practitioners. If necessary, Back to Life takes care of further treatments up to surgical interventions and pays for the medical costs. Thanks to the Health Camps, we have already been able to help many children who have serious health problems.
Open your eyes – Mobile Eye Clinic
Back to Life also has the boys and girls examined by an ophthalmologist. With a kind of outpatient, mobile eye clinic, our team travels or walks with the doctor from school to school in remote areas. There the students are examined for their eyesight. The doctor usually stays one day per school. Glasses are most needed. After the eye test, they are made and handed out to the respective children promptly. Many teachers report that their children's academic performance improves after they receive glasses.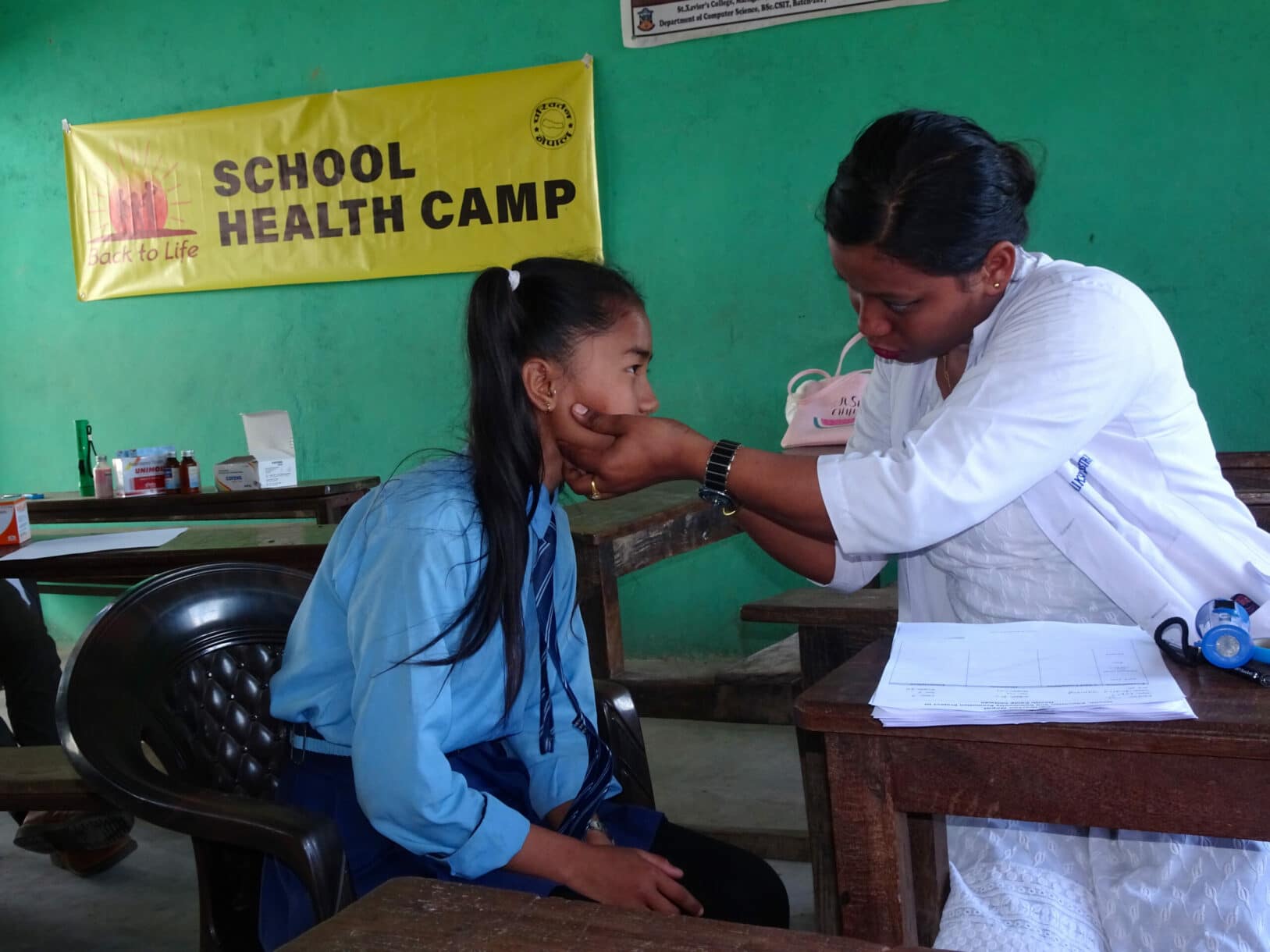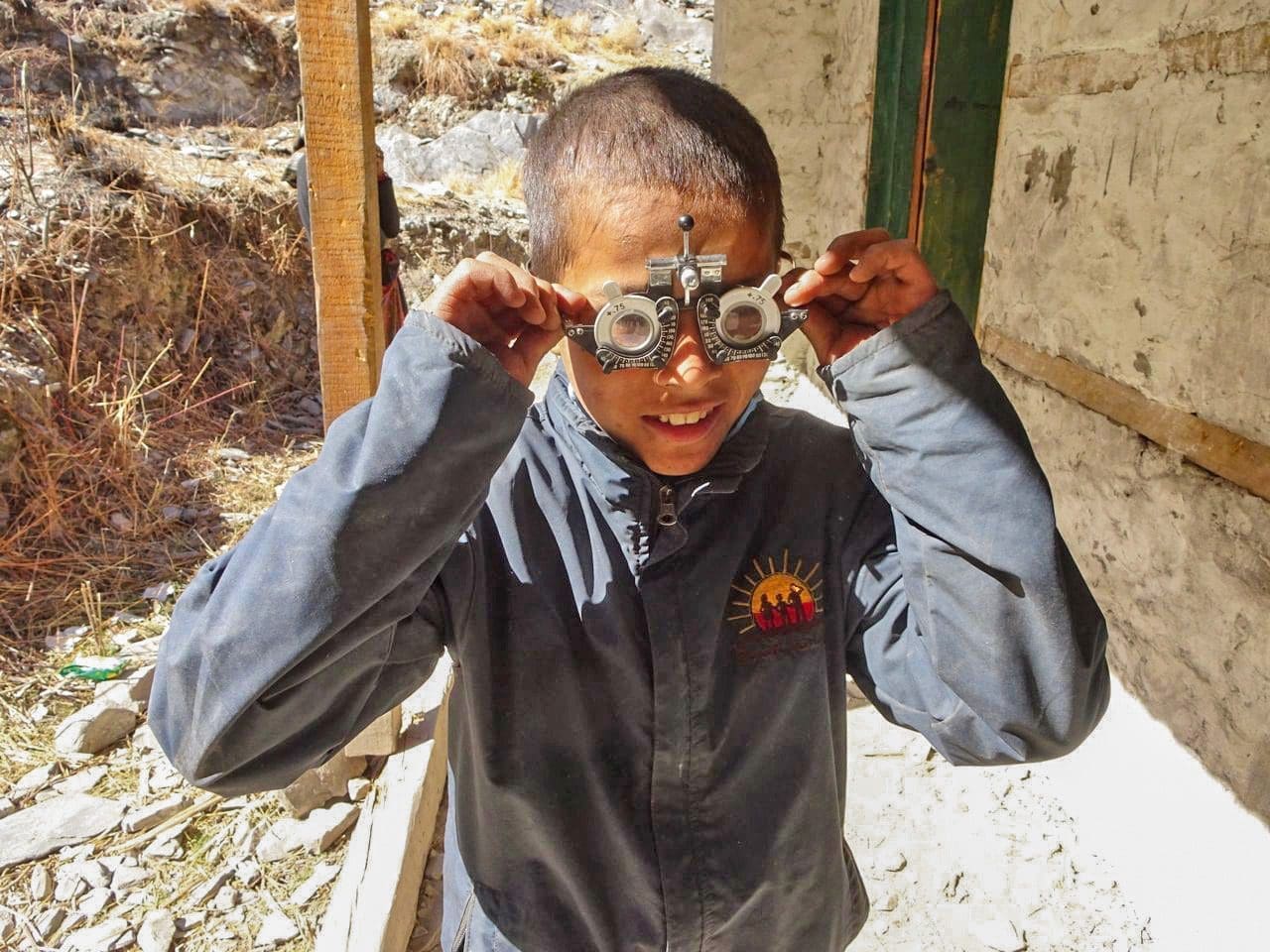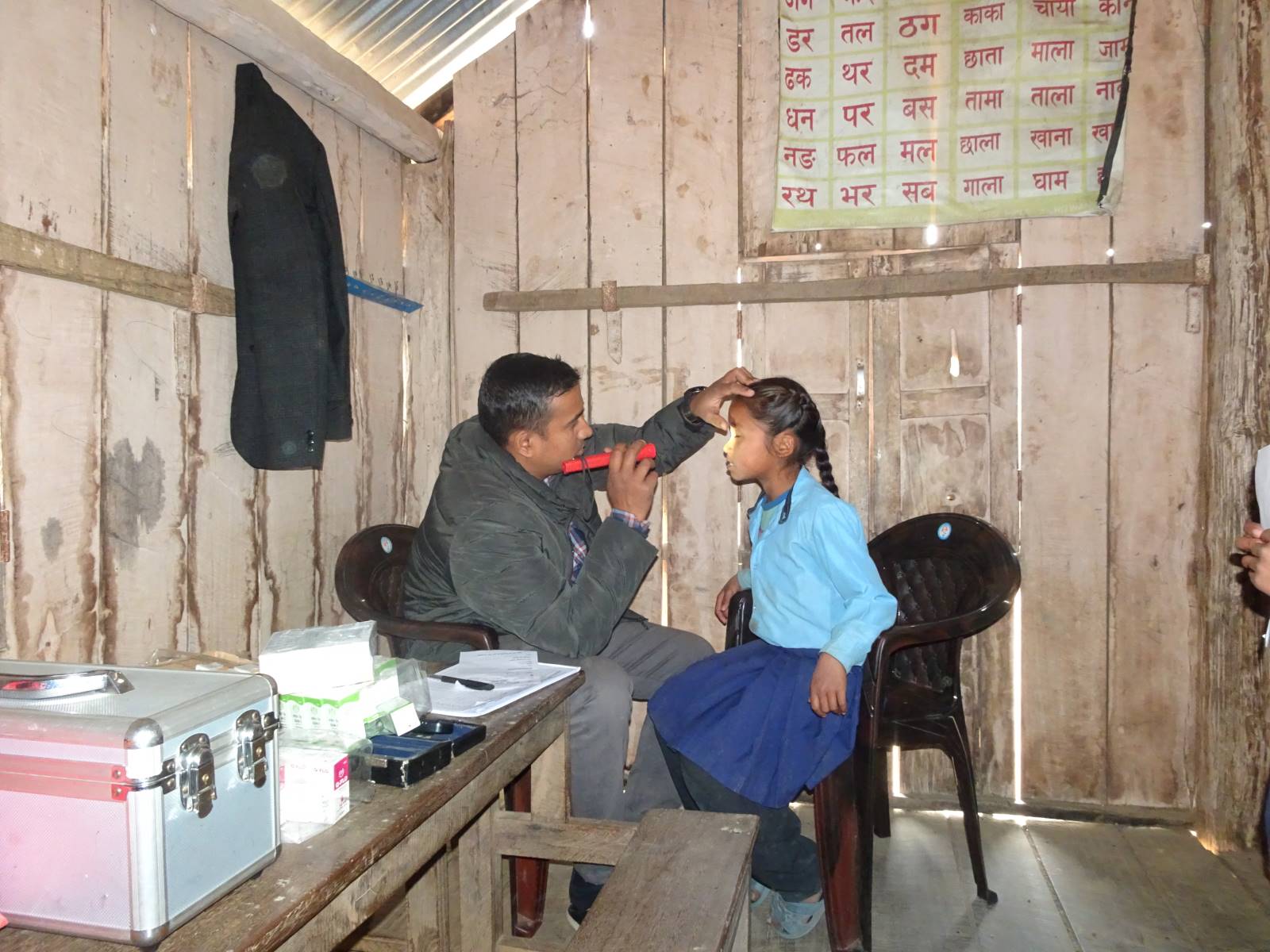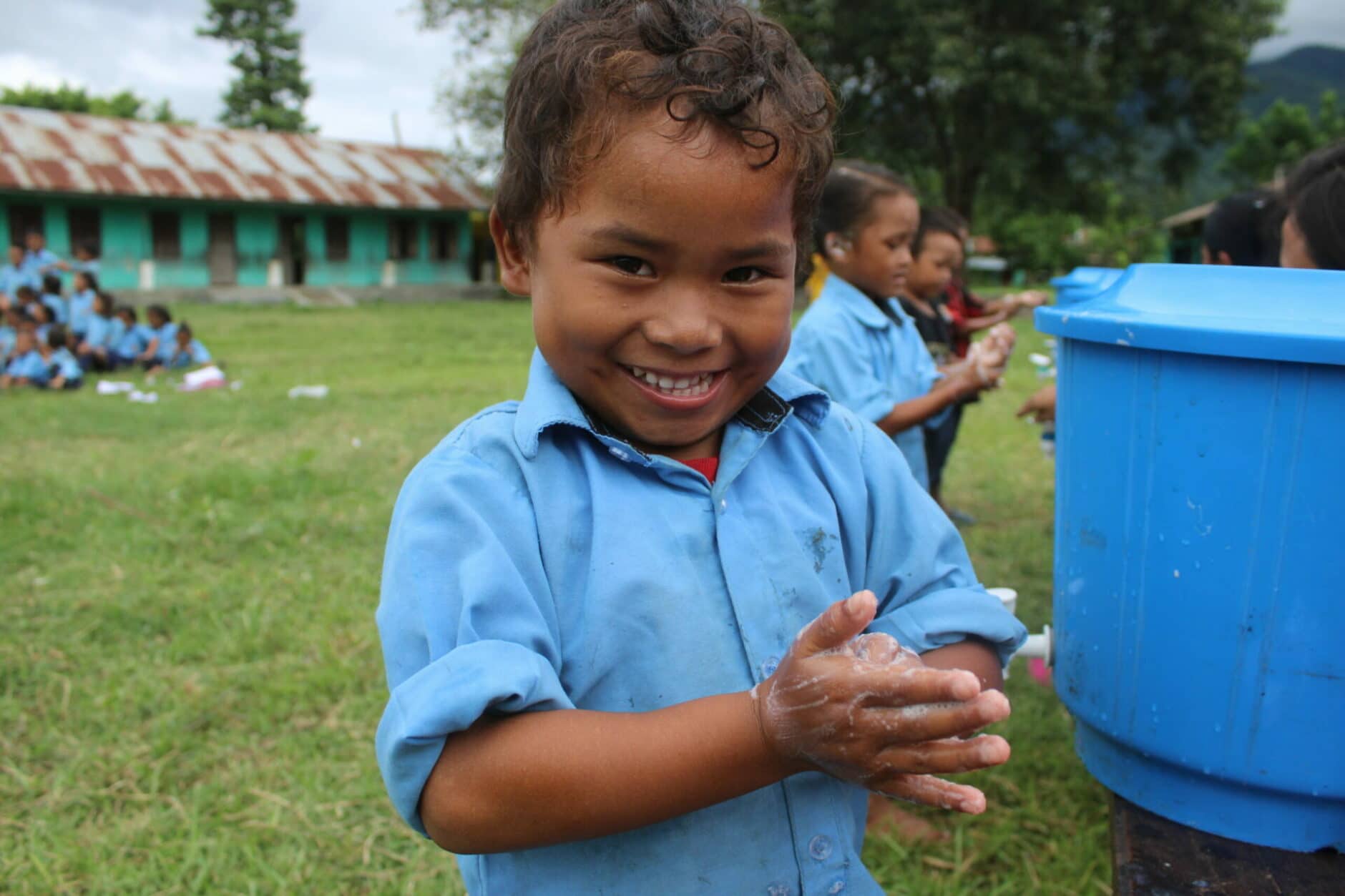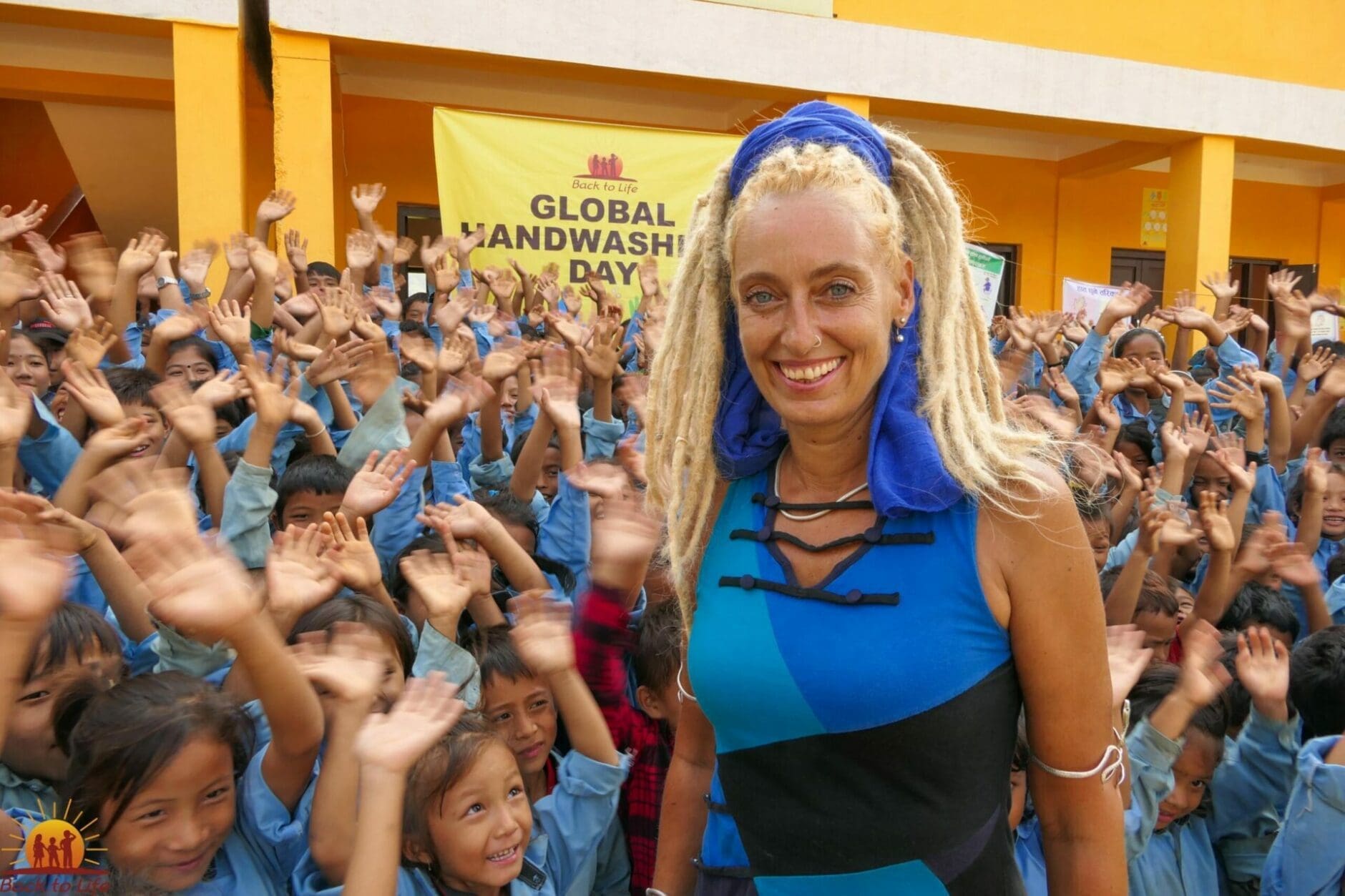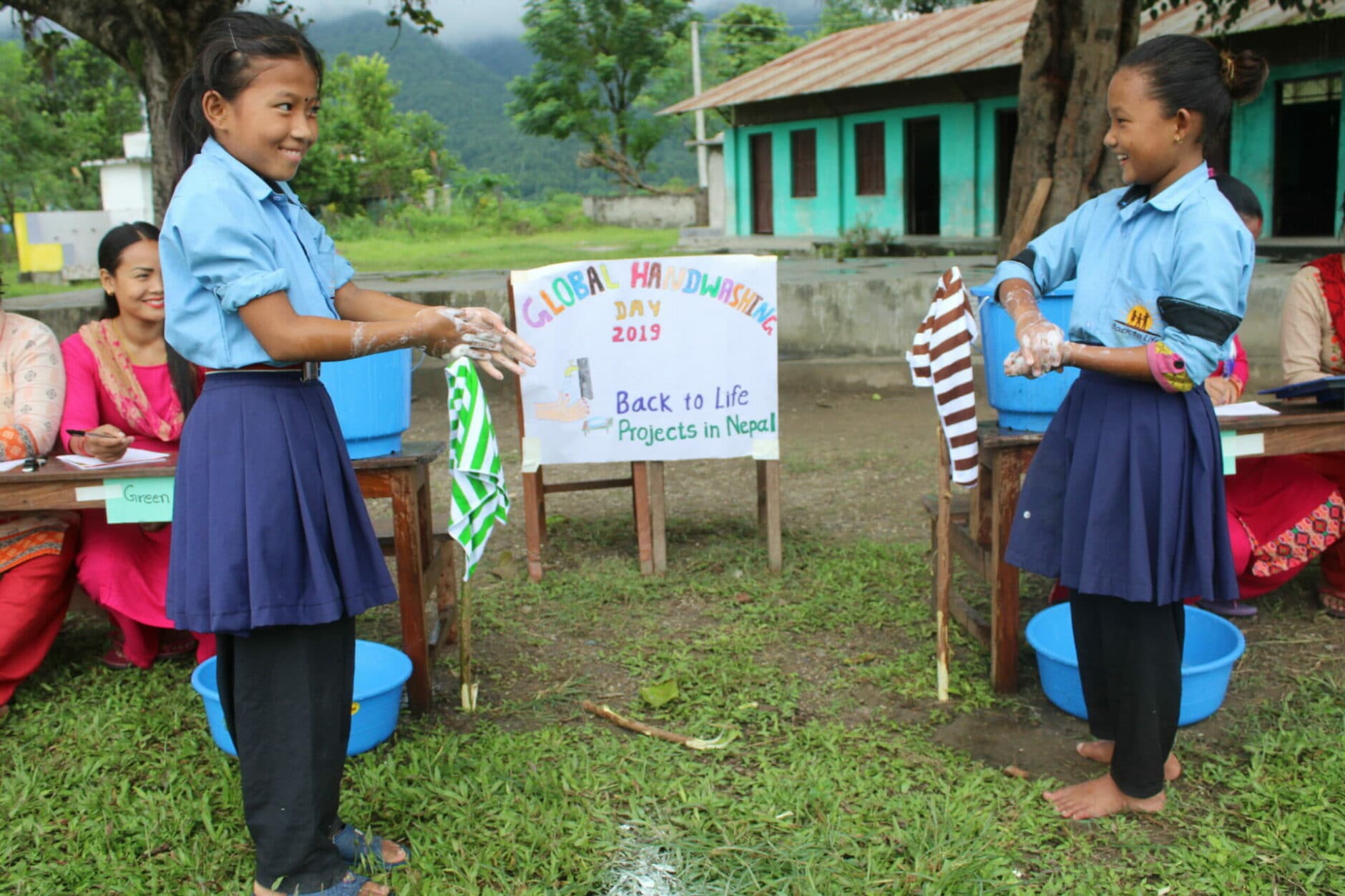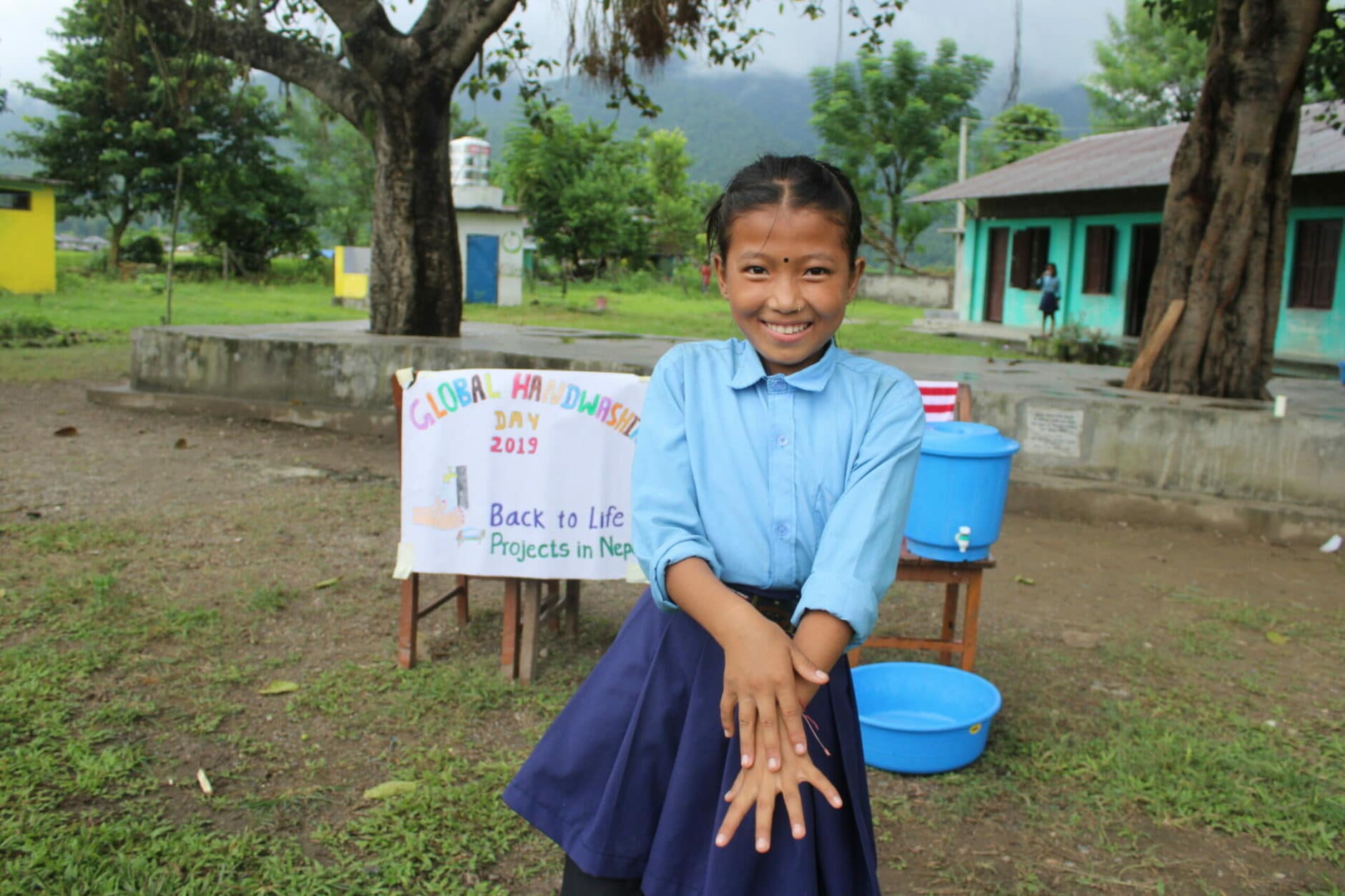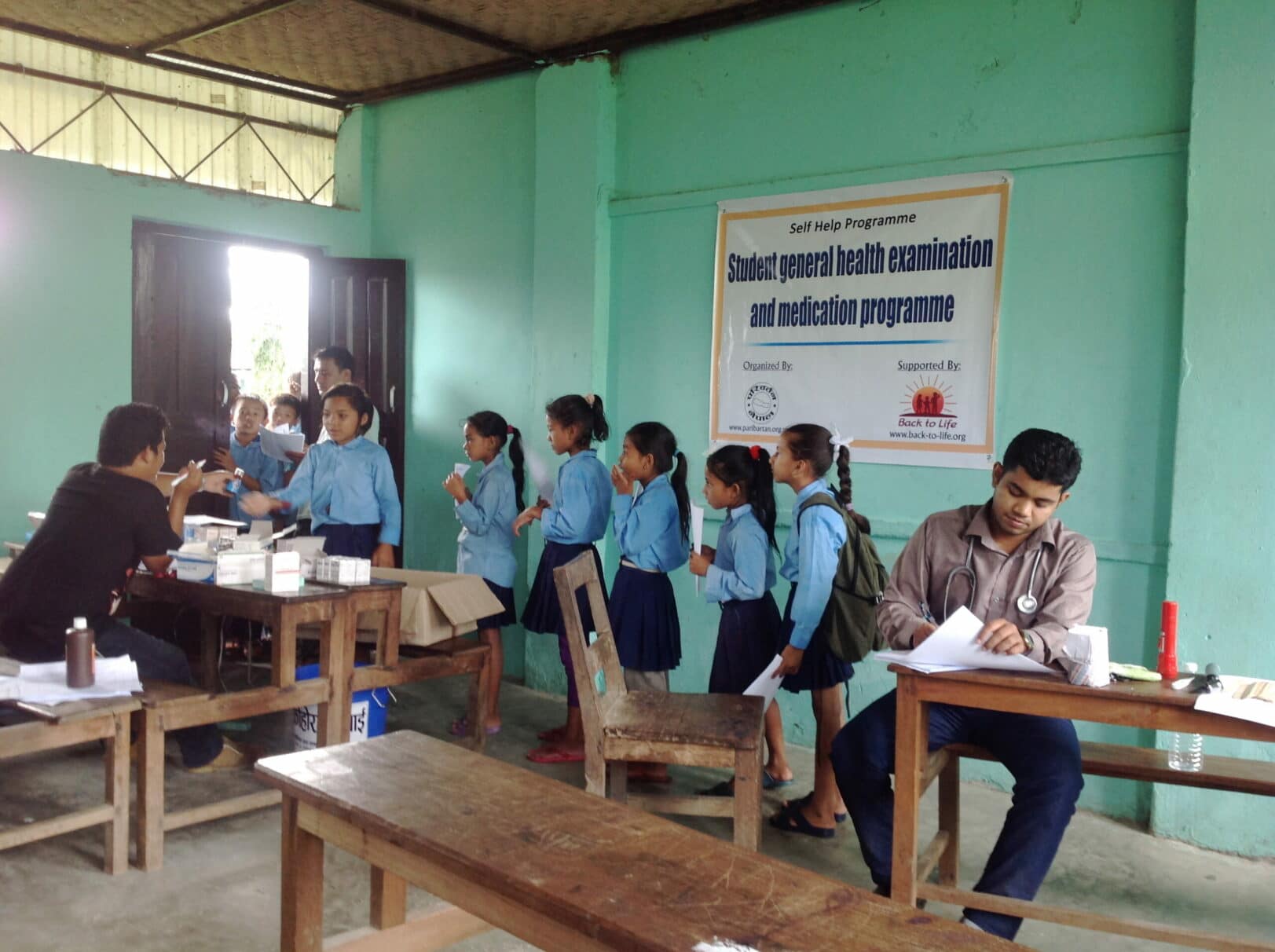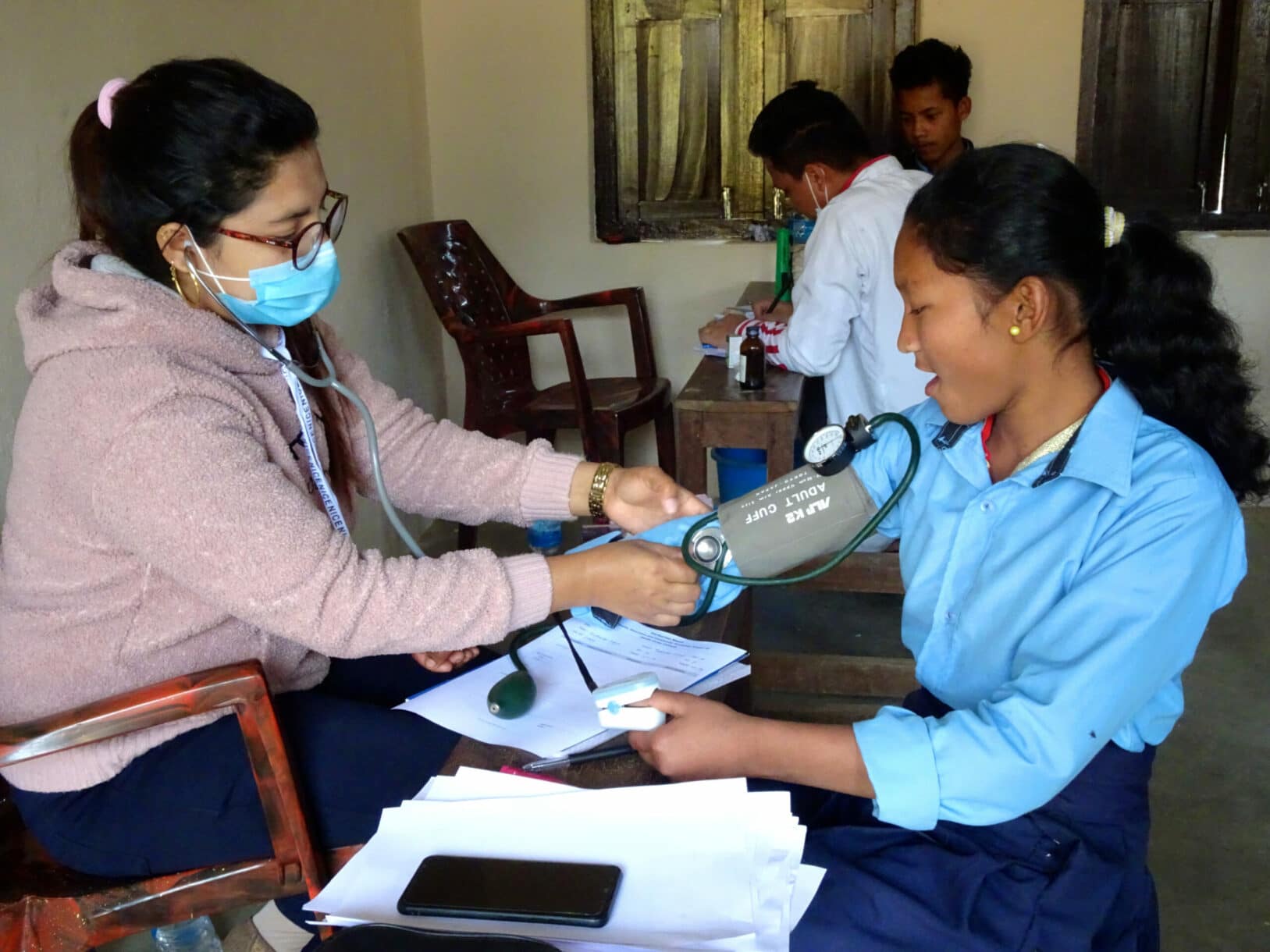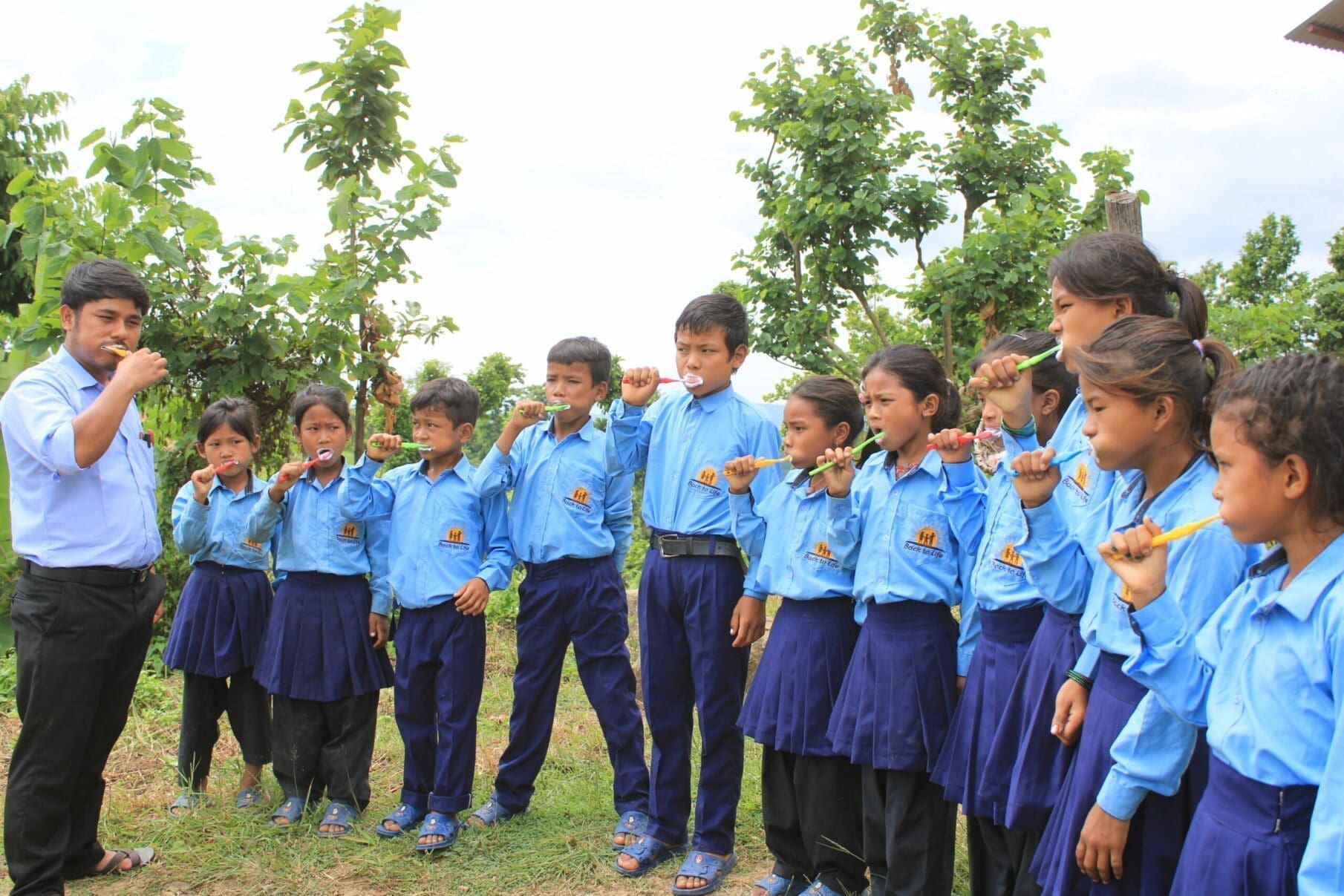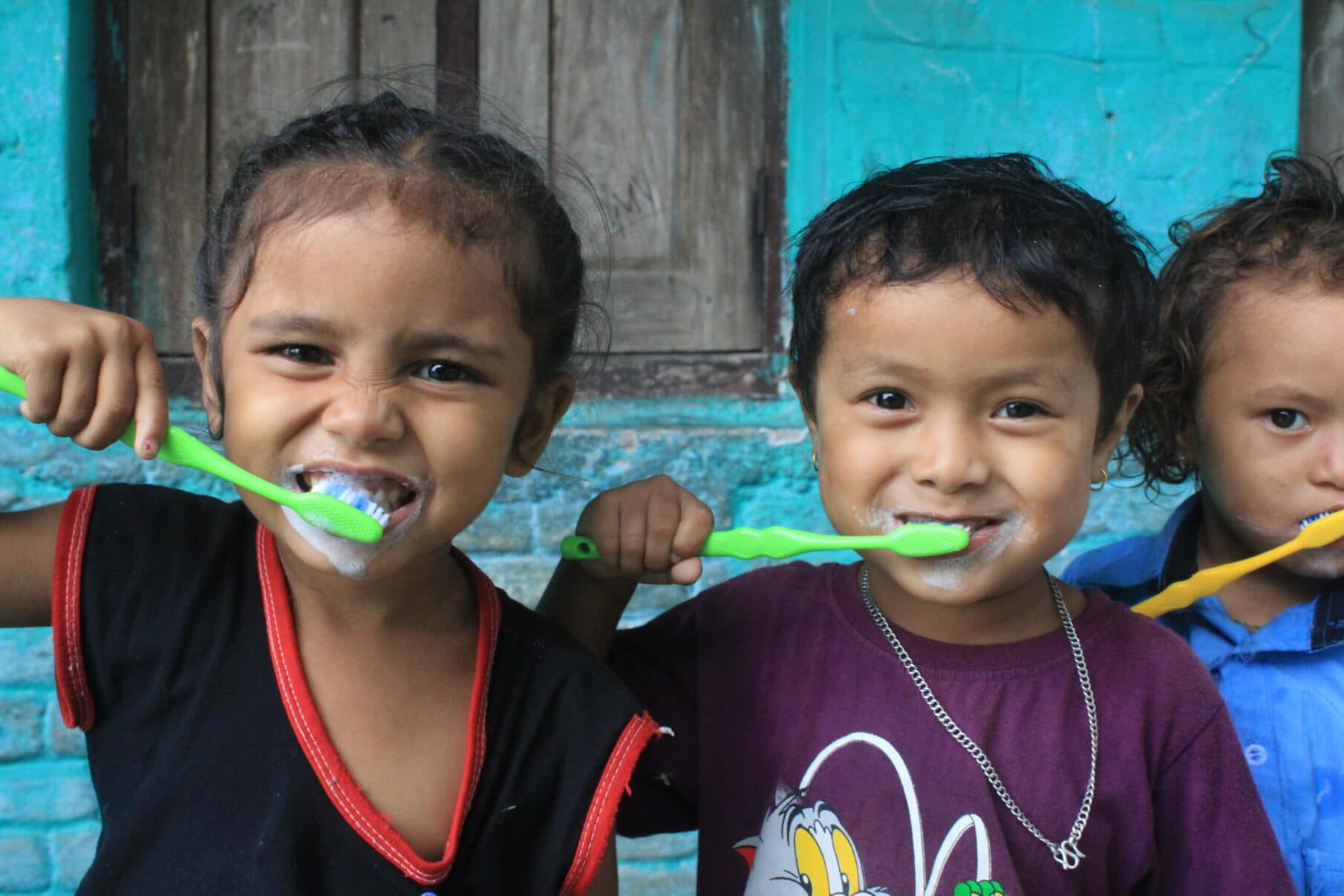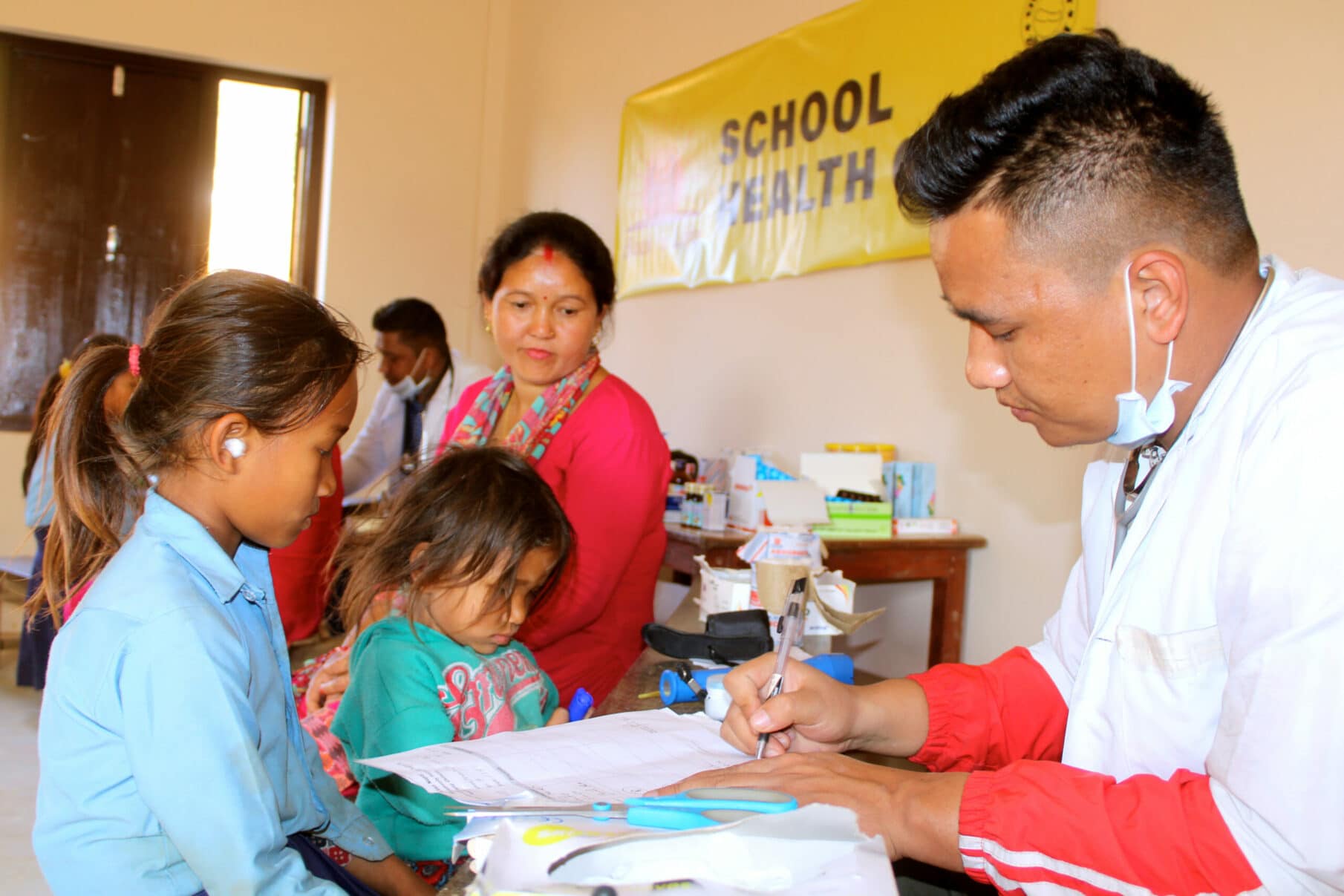 Rapid Emergency Assistance in Individual Cases
Again and again we come across medical emergencies in our project areas, which are literally a matter of life and death and the families simply cannot pay for transport or for urgently needed treatment and therapy. In these cases, Back to Life quickly and effectively organizes escorted transport to the lowlands to a suitable hospital, pays for specialist examinations, surgeries and therapies that are not covered by the government's free basic health services. Many fortunes turn. Learn more here.
Clean Drinking Water – the Basis for a Healthy Life
Clean water and sanitation are the basis of our health. In Nepal, millions of people continue to lack access to clean drinking water and improved sanitation, and are suffering the consequences.
Find out more here about water supply, sanitation and hygiene projects from Back to Life.
What have we achieved so far?
29100

People treated in our health camps so far
Our Success
Every year, health camps enable thousands of people in the high mountains to come into contact with (specialist) doctors
Special health camps: mobile eye clinic, ENT health camp, school health camps
Health education in schools leads to better hygiene and less absenteeism among children
Drinking water systems reduce waterborne diseases
The construction of toilets practically eliminates free defecation and significantly improves the health of children and adults
As long as the people in the mountains don't have medical help within reach, we bring doctors from the lowlands to where they are so badly needed. In terms of logistics and organization, it is not an easy task for our team to bring the doctors, instruments and medication deep into the high mountains. The health camps are like a lifebelt thrown to the people there. Thank you to our donors who give us the means to do this.
Would you like to help and become a project sponsor?
Give people the chance of health through your project sponsorship.
Would you like to help and become a project sponsor?
Give people the chance of health through your project sponsorship.