Children's laughter echoes through the small room. Amma is heating a large pot filled to the brim with oil over an open fire. Her youngest daughter Khushi, still a toddler of one and a half years who only recently learned to walk, rages around her mother with her siblings. The flames of the open fireplace in the middle of the room cast only a weak light on the sooty walls. The house consists solely of this room, here the family cooks, eats, sits together and sleeps at night. Amma sifts the coarsely ground flour. The oil is finally boiling. The mother kneads the dough. It works quickly, every move is perfect. She hears the cheers and laughter of her children, who play loud catch behind her, but does not notice that they are getting too close to the fire. In a fraction of a second, the accident happens: Khushi receives an unintended push and is no longer able to stay on her feet. She falls unimpeded against the inadequately secured vessel over the flames, causing it to tip over. Amma has to watch helplessly as boiling oil pours over her little girl in a gush. Khushi screams in excruciating pain and eventually loses consciousness. Your entire upper body, arm, neck and shoulder will be burned from the lower lip down. A living nightmare.
There is no medical help nearby at this time. Amma is desperate, she cannot help her little daughter. She treats the burned body with homemade herbal dressings, nothing more. It takes many months for khushi to recover a little.
Shortly afterwards, fate strikes again: Khushi's father falls dead. Amma is penniless and alone with 4 children. Life has scarred her: at 40, she looks like a 60-year-old woman. She is tired, worn out, disaffected. There is no perspective or hope for the family.
The toddler Khushi grows into a little girl and has bulging scars on her body that grow together so unfavorably that they hinder many movements. She cannot raise her right arm or close her mouth – her lower lip is fused with the burned throat. Your pronunciation is therefore not clear.
THE HOPE OF A DIFFERENT MOTHER | When we found six-year-old Khushi in her hopeless situation in 2010, her mother implored me to take the girl to Kathmandu for medical treatment. She said that without support, her daughter would never stand a chance in Mugu's harsh everyday life. Because of her burns and adhesions, she couldn't work really hard and no man in the entire mountain region would ever take Khushi as his wife. Amma's pleading touched me very much. We then decided to have the girl treated in a hospital specializing in burns in Kathmandu. At this time Amma worked alternately as a porter, in house construction and as a field worker.

Before the trip started, we signed a contract with Amma in front of the village community, who informed her about the risks of an operation and said that Back to Life would cover all costs during the treatment in Kathmandu. When Amma understood this, great stones fell from her heart. Since she could neither read nor write, the mayor of the village read everything to her. Then she put her fingerprint under the document as a signature. "
FLIGHT INTO A NEW LIFE – BETWEEN FEAR AND HOPE | Amma will accompany us to Kathmandu. In Nepal, a relative must always be present at the hospital, for example to hand the patient the meals, to wash him or to accompany him to the toilet, because that is not done by the nurses.
Amma feels uncomfortable when she approaches the small plane at Talcha Airport with Khushi and her youngest daughter Chutki, who she does not want to leave behind in Mugu. She has never flown in her life. Together with the rest of the team, we get on the plane, a rickety old propeller plane that would have long since been taken out of service in Europe. In 2010 the runway of the runway cut into the mountain was not asphalted and so the plane had to take off on a dusty gravel runway. A game of chance where a lot can go wrong. Finally in the air, Amma can hardly believe her eyes when she dares to look out the window: She realizes that in just a few minutes she is gliding over mountain passages, for which she had to plan days of walking in her previous life. Khushi is afraid of flying and holds my hand tightly.
A NEW WORLD OP ENS UP | Arriving in Kathmandu, the girl is amazed by the many foreign and overwhelming impressions of the capital, the street traffic, the stores, the many people and the noise. So much movement, bright colors everywhere, all kinds of smells. Khushi doesn't even know where to look first. Stella decides against a hotel room for Khushi's family and prefers to take them home with her instead. Light switches, faucets, a shower and the western toilets are completely unknown to the family.
FINALLY SURGERY HELP | The hospital, located about three quarters of an hour outside of Kathmandu, in the countryside, was founded by the German "Interplast" and offers excellent medical help. There, Khushi is to undergo a medical examination, five years after the tragic accident. After Dr. Shakya has examined the girl in depth, the surgeon gives us a prognosis and says that she will first have to prepare for three major operations with skin grafts and stay in the hospital for 2-3 months. These are only the first of many interventions that have been necessary over the years to enable the girl to lead a largely normal life. During the first operation, Amma and Stella wait tense until Khushi finally wakes up from the anesthetic. When the dressing is changed for the first time, it becomes clear what an excellent job the surgeon has done: The worst adhesions on the neck and chin have been loosened, and Khushi can close her mouth again. She looks at herself in astonishment in the mirror. Despite the bandage, you can see her smile. Over the next few days, her voice will become stronger, louder, more confident. She can now speak clearly, the girl blossoms.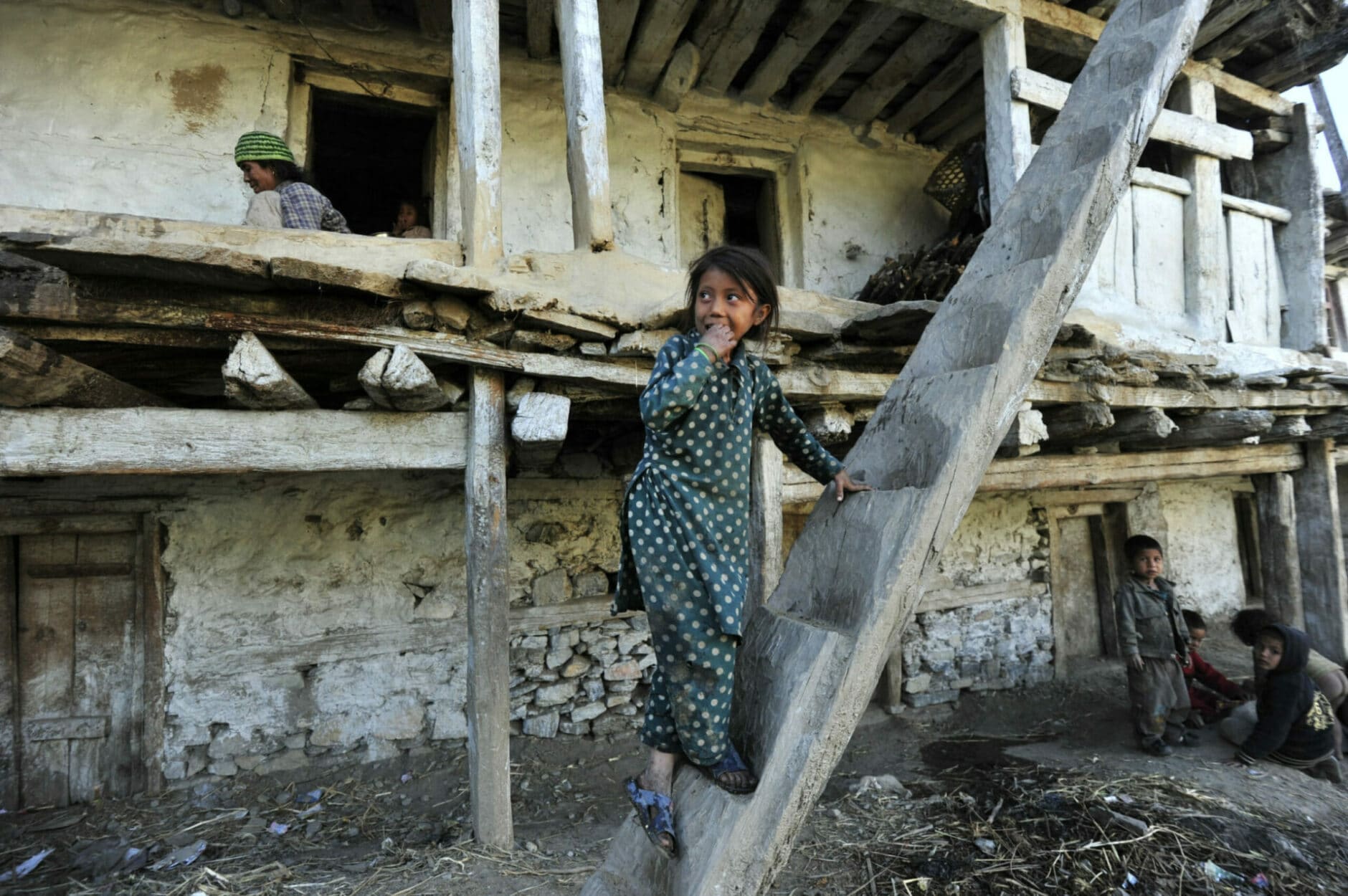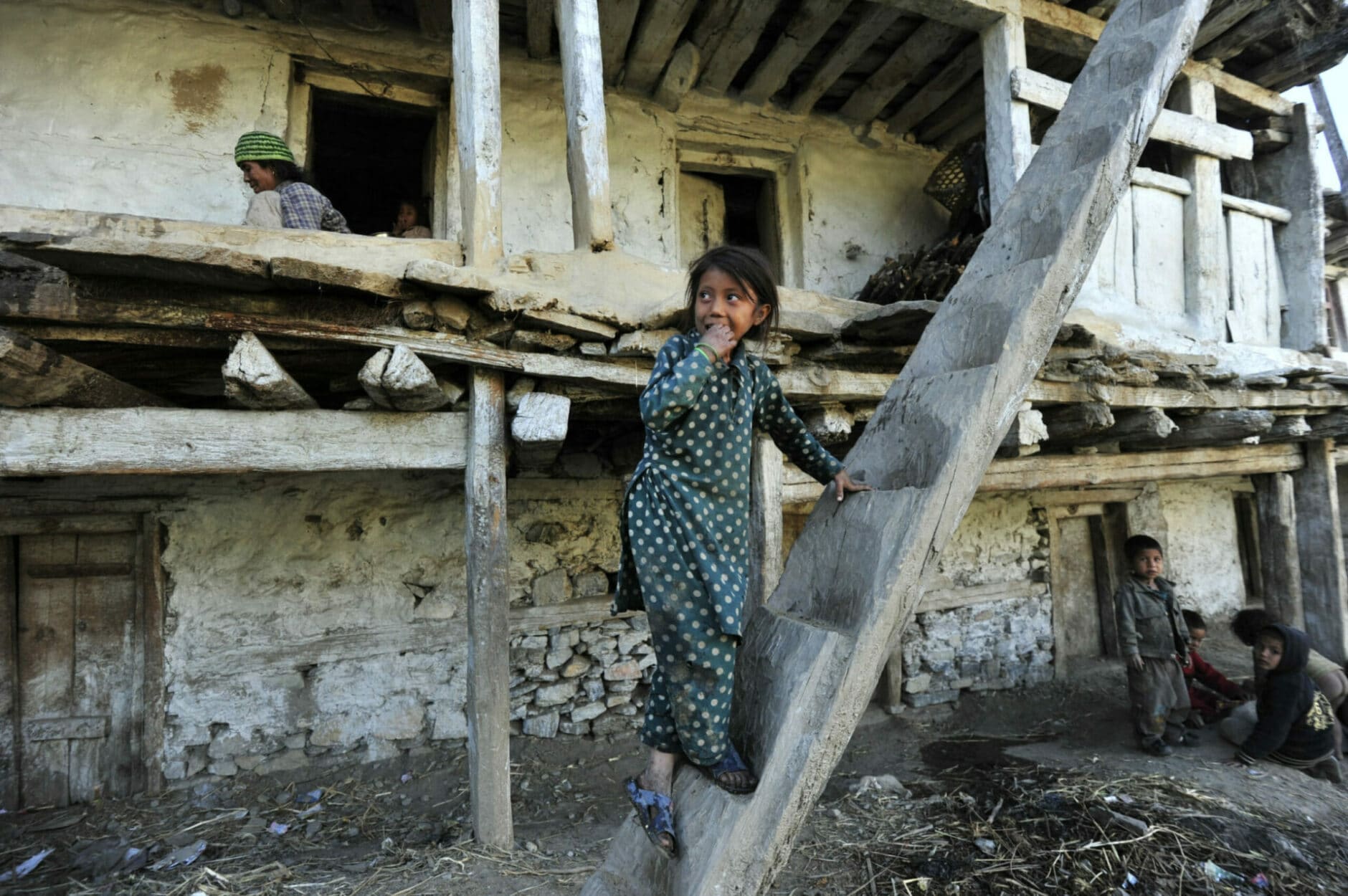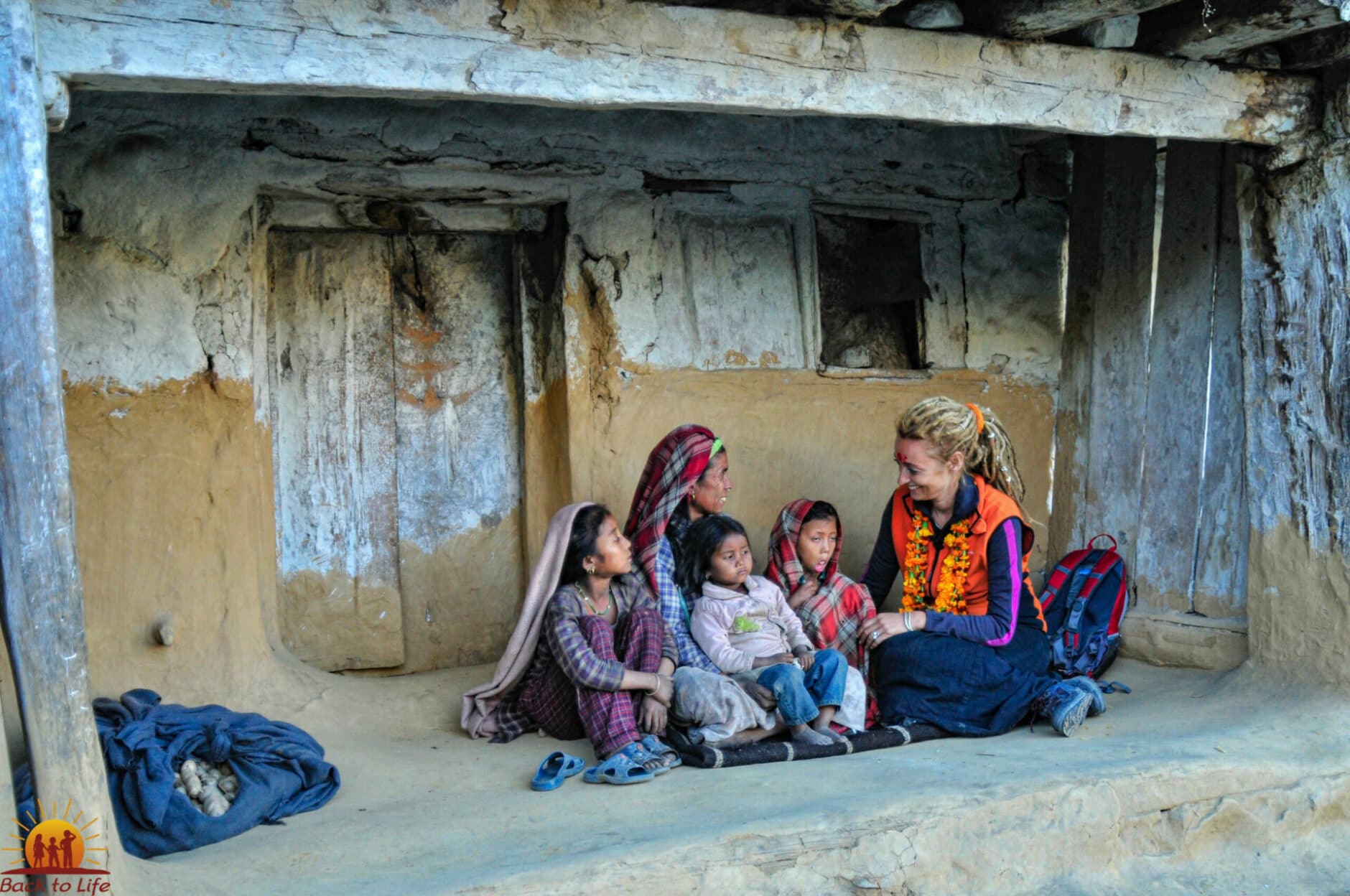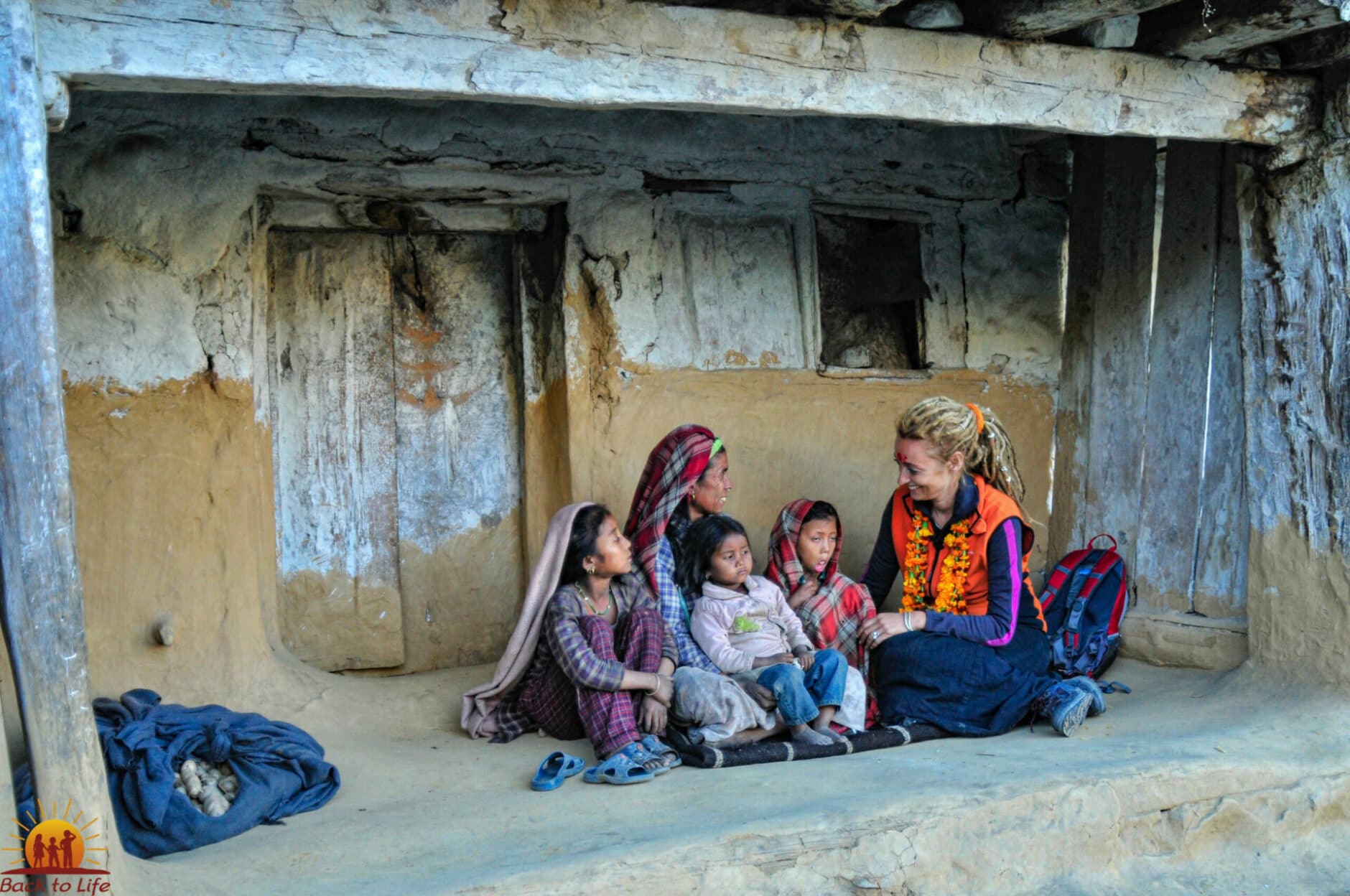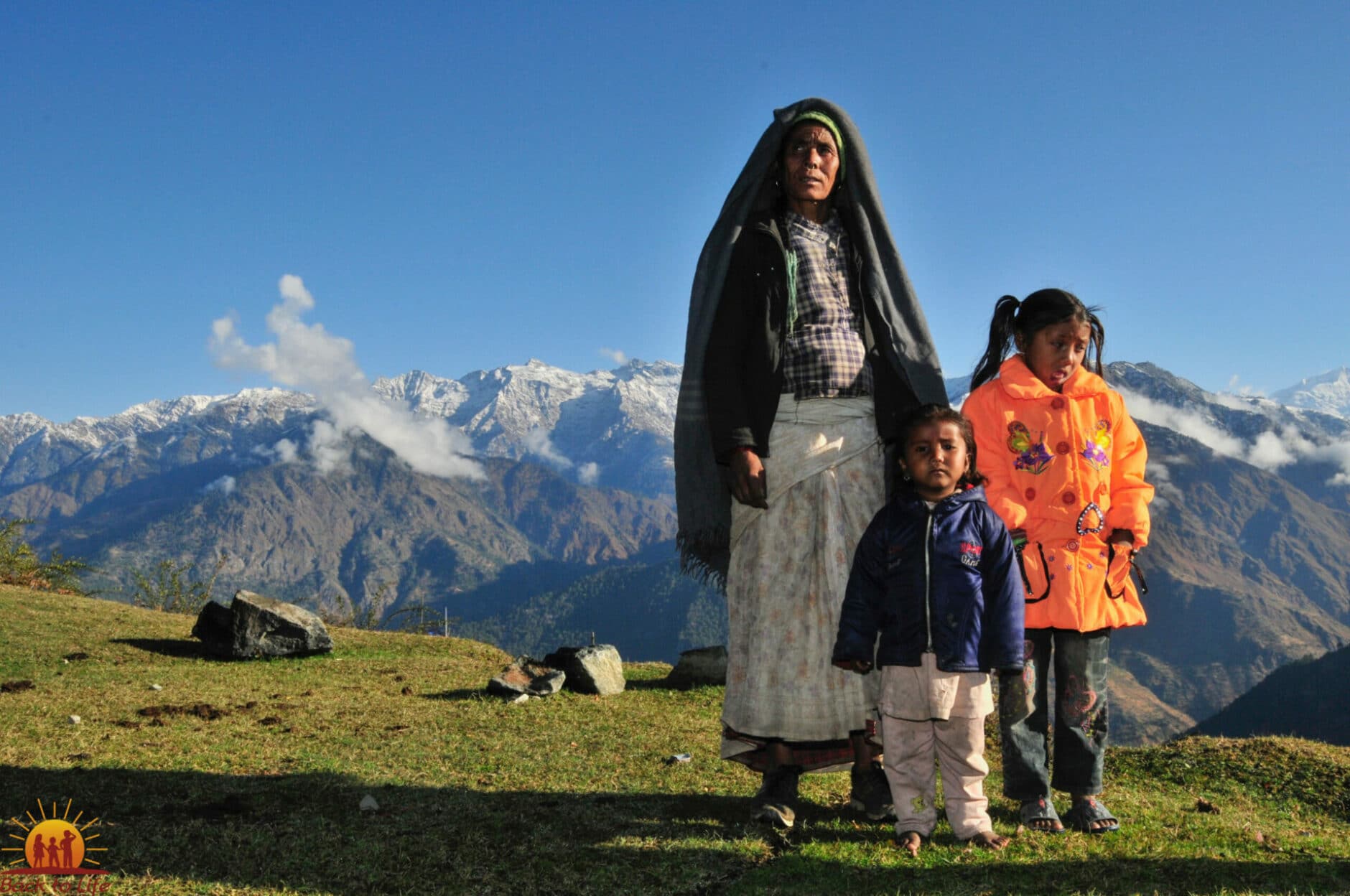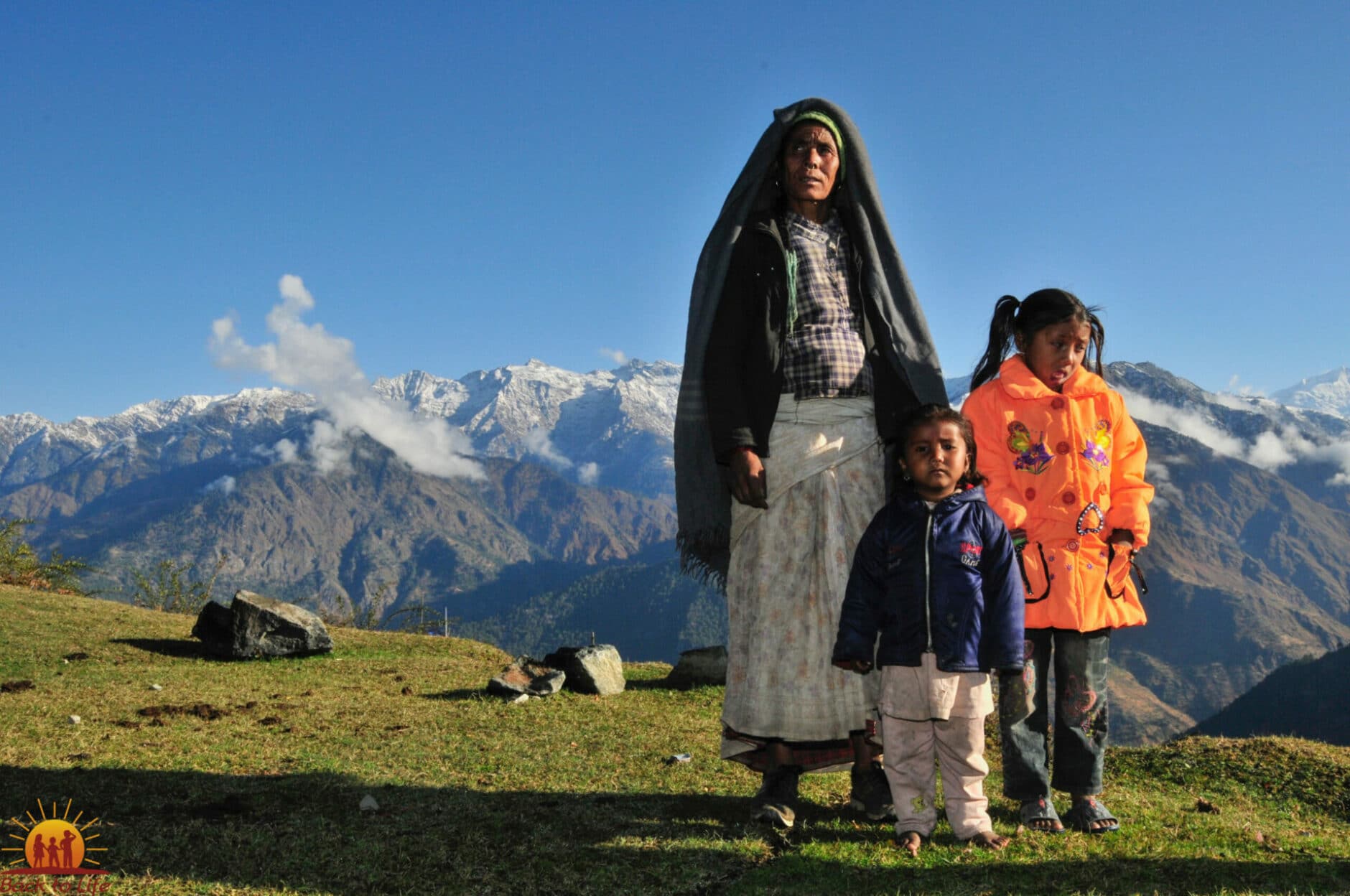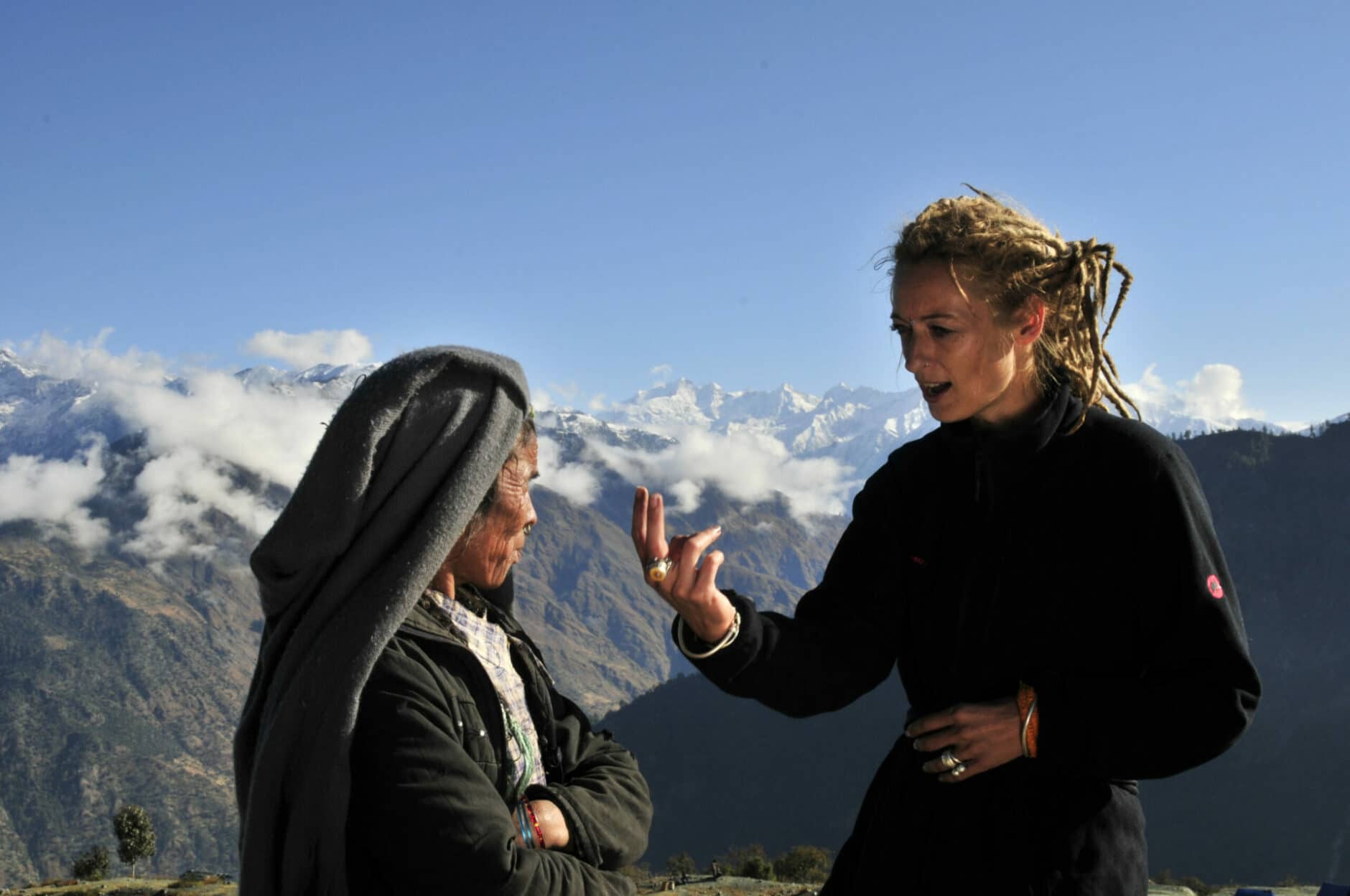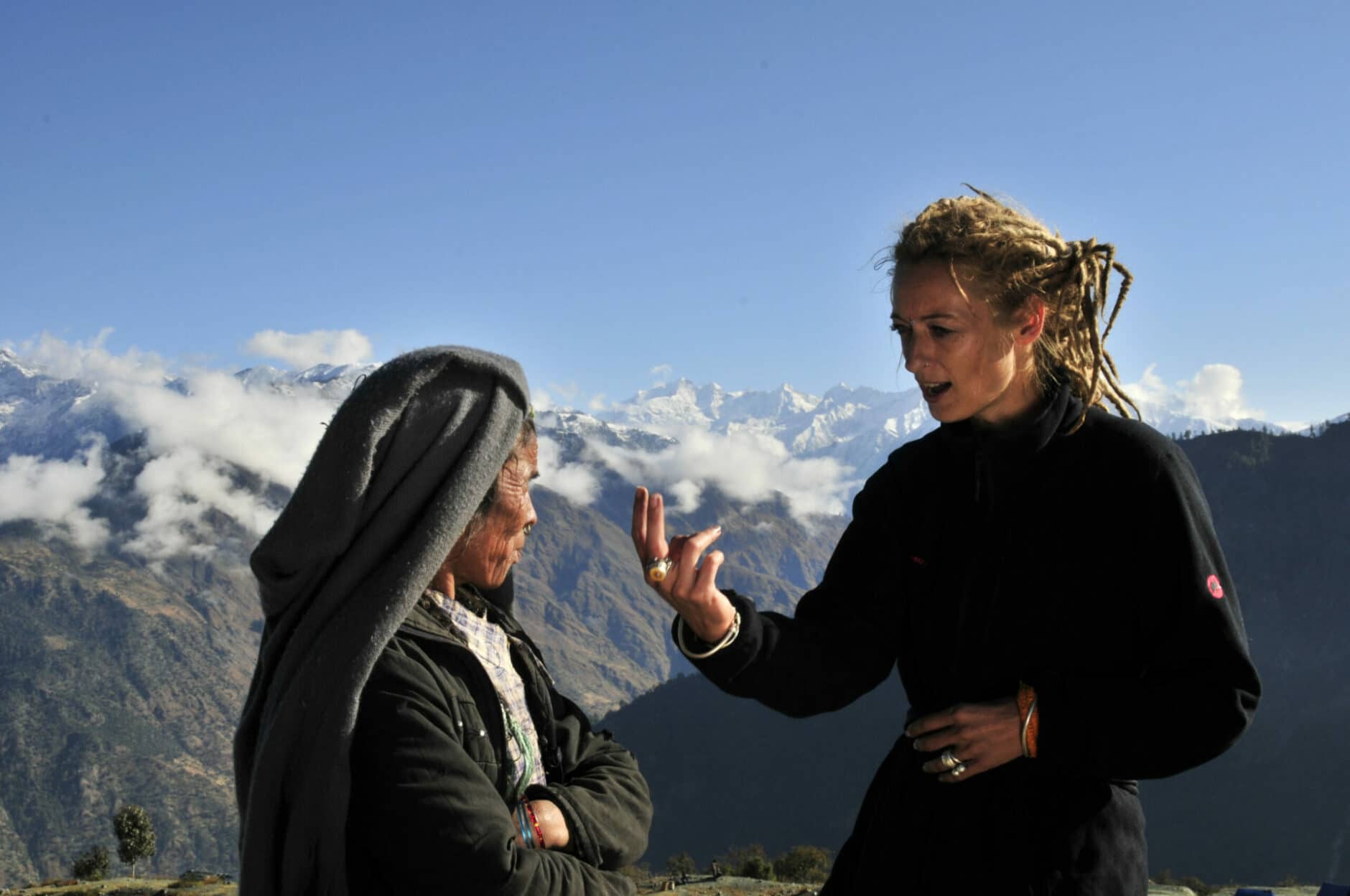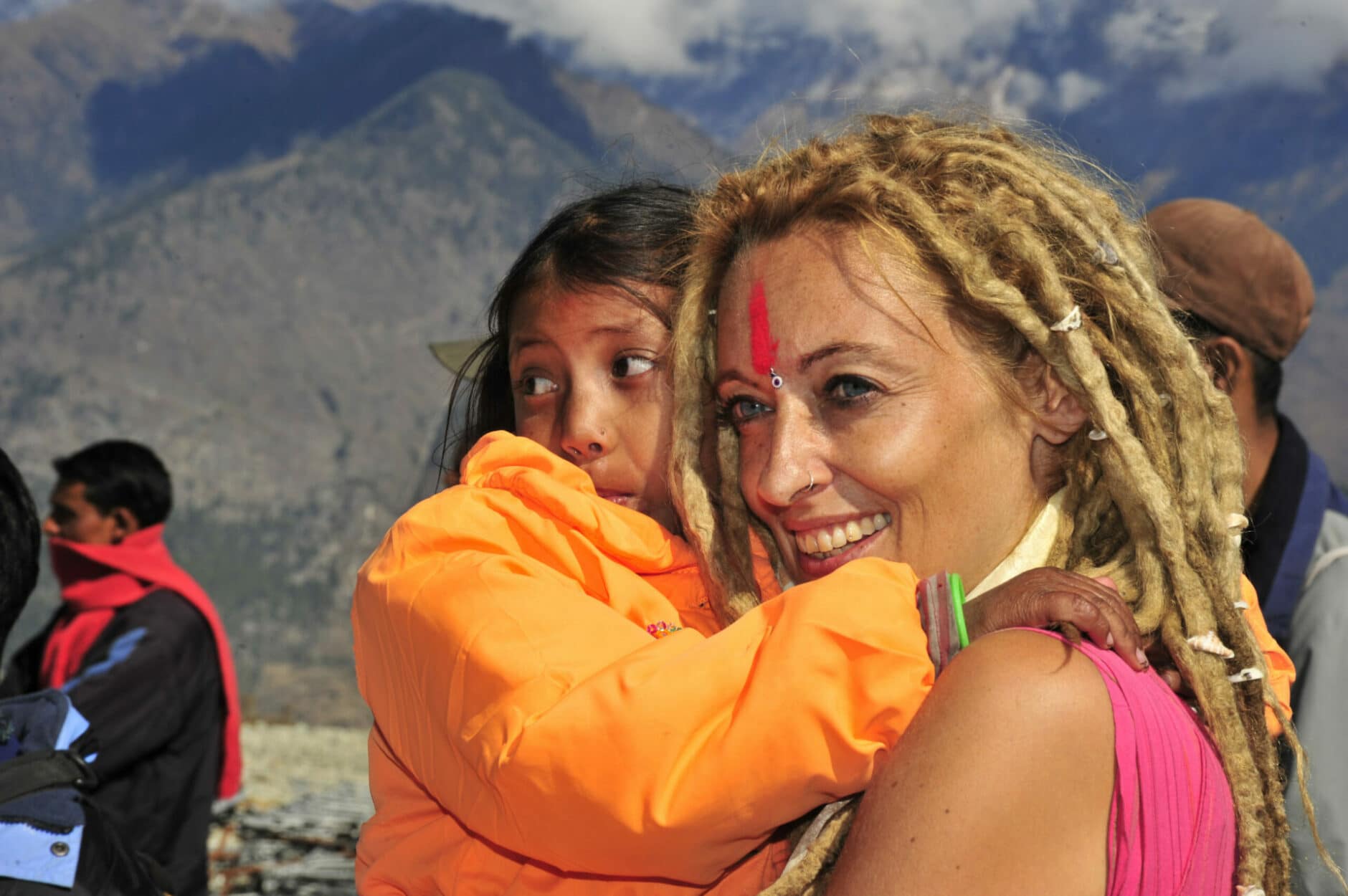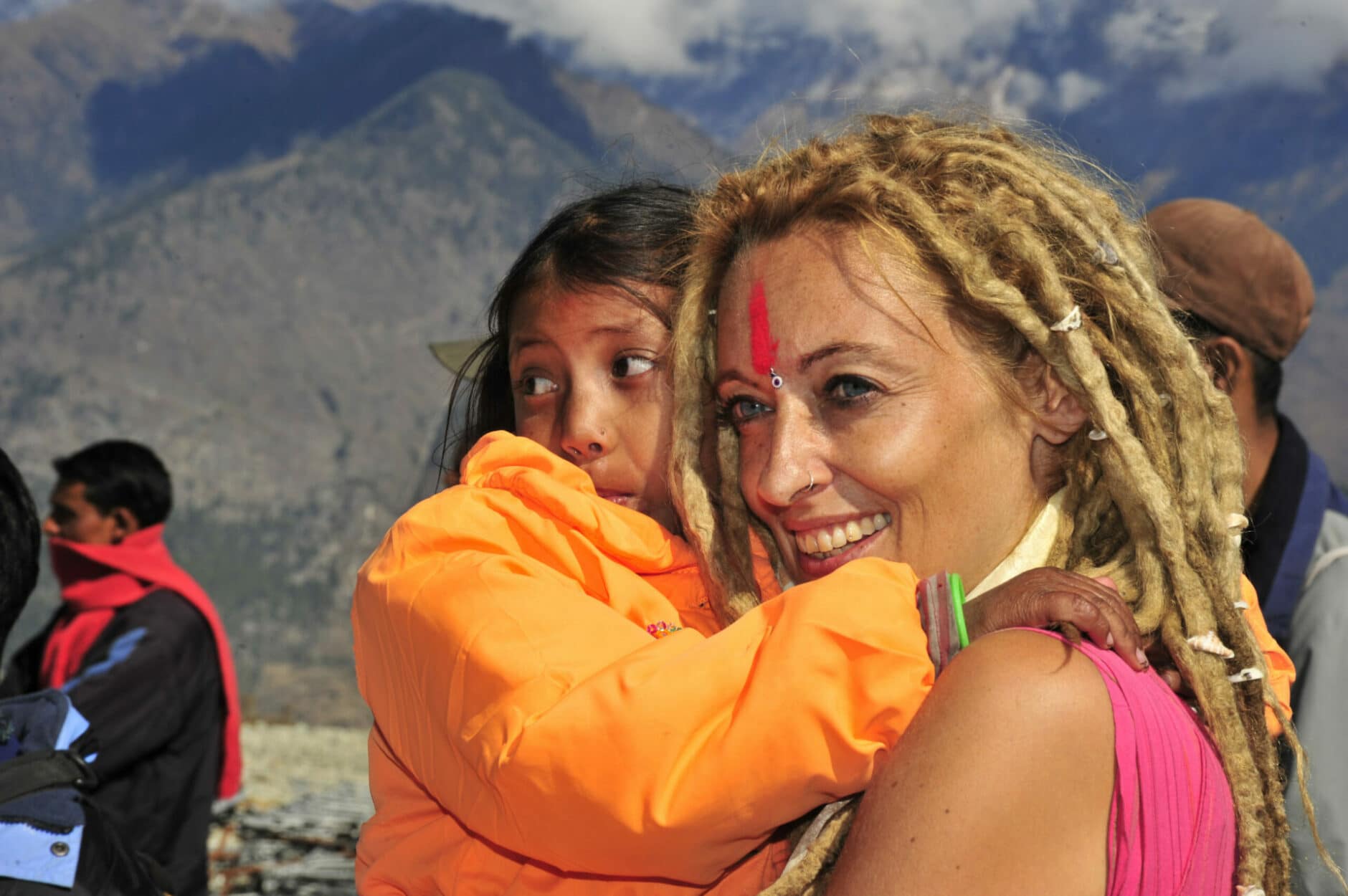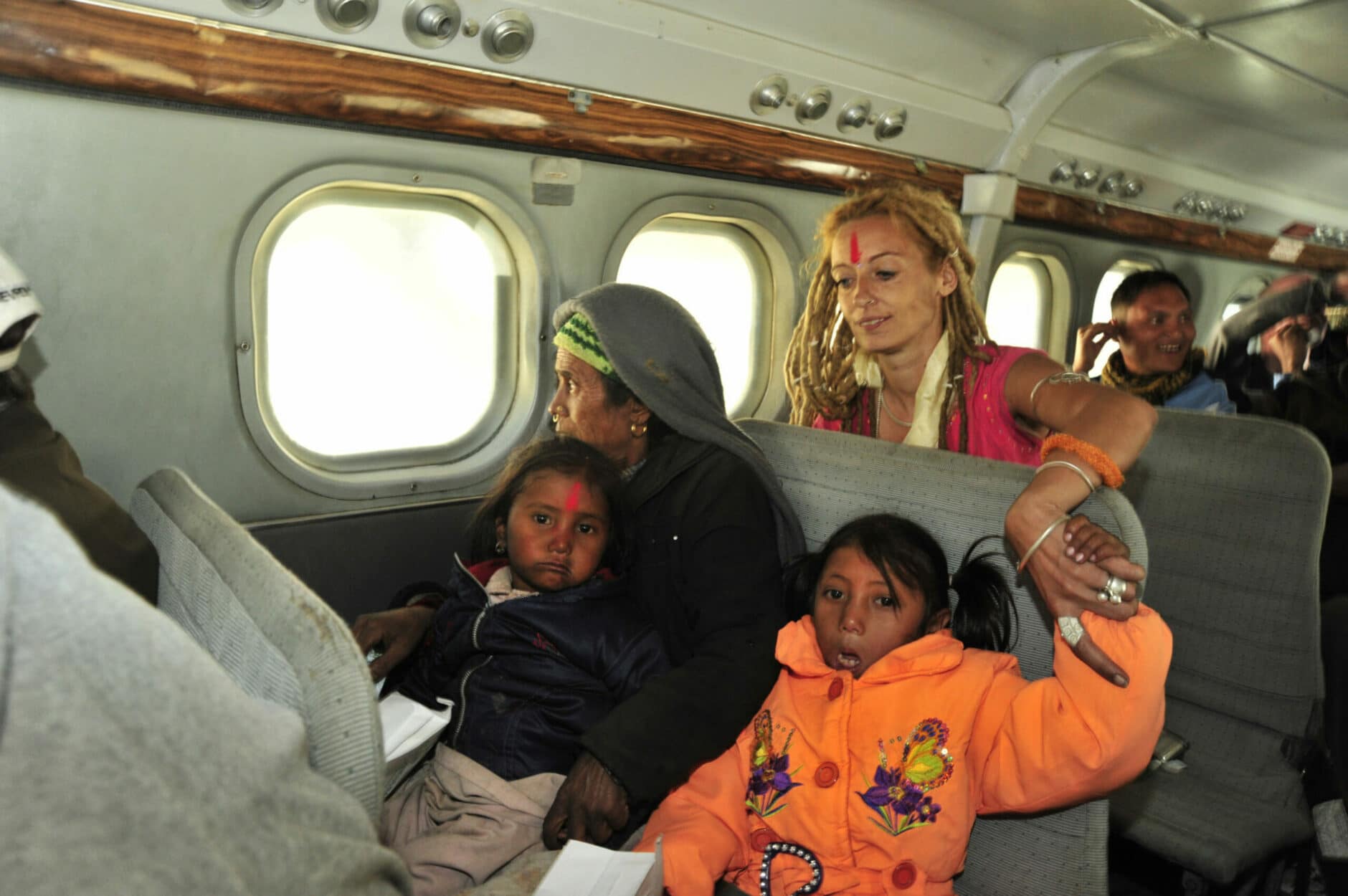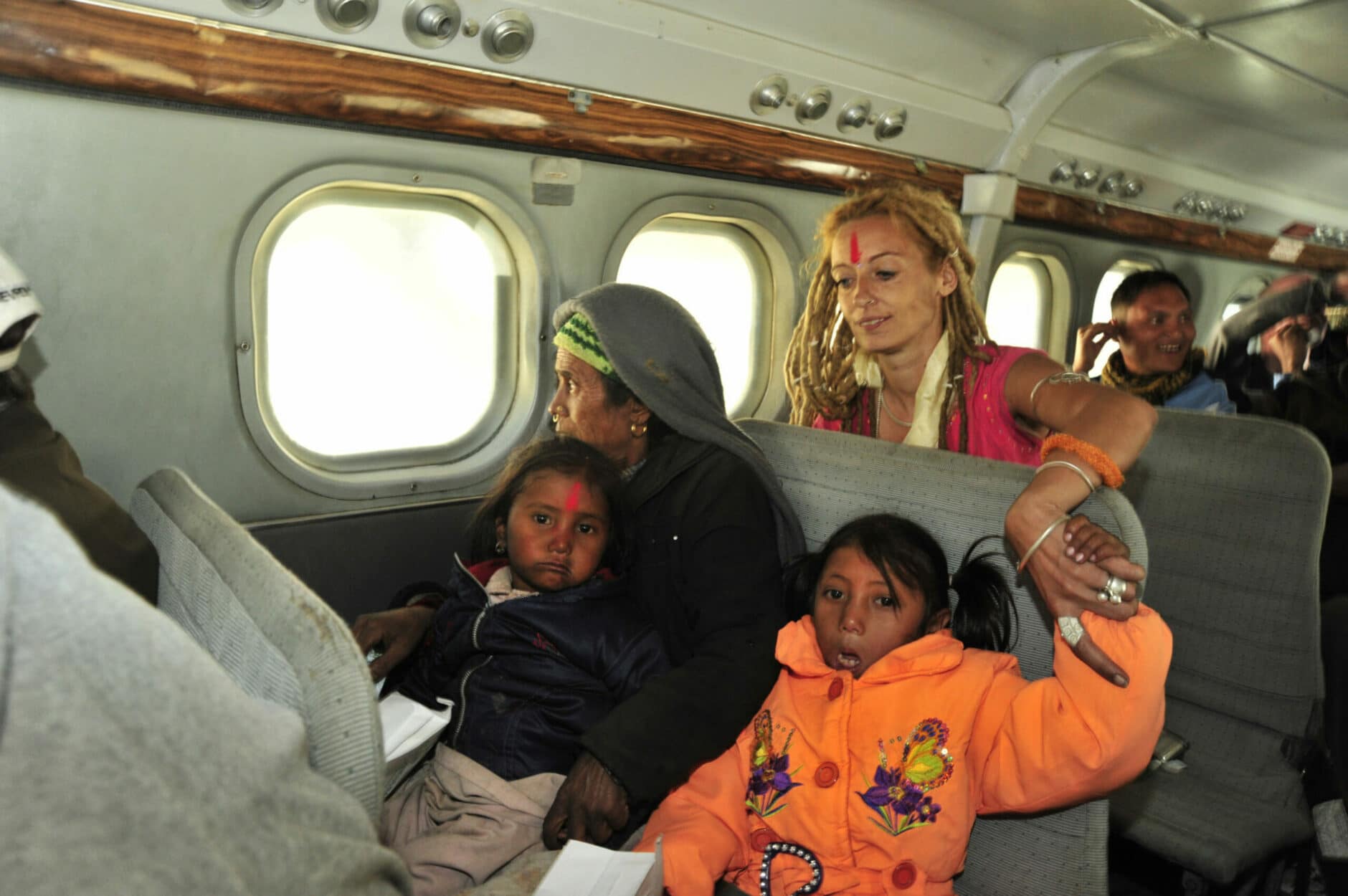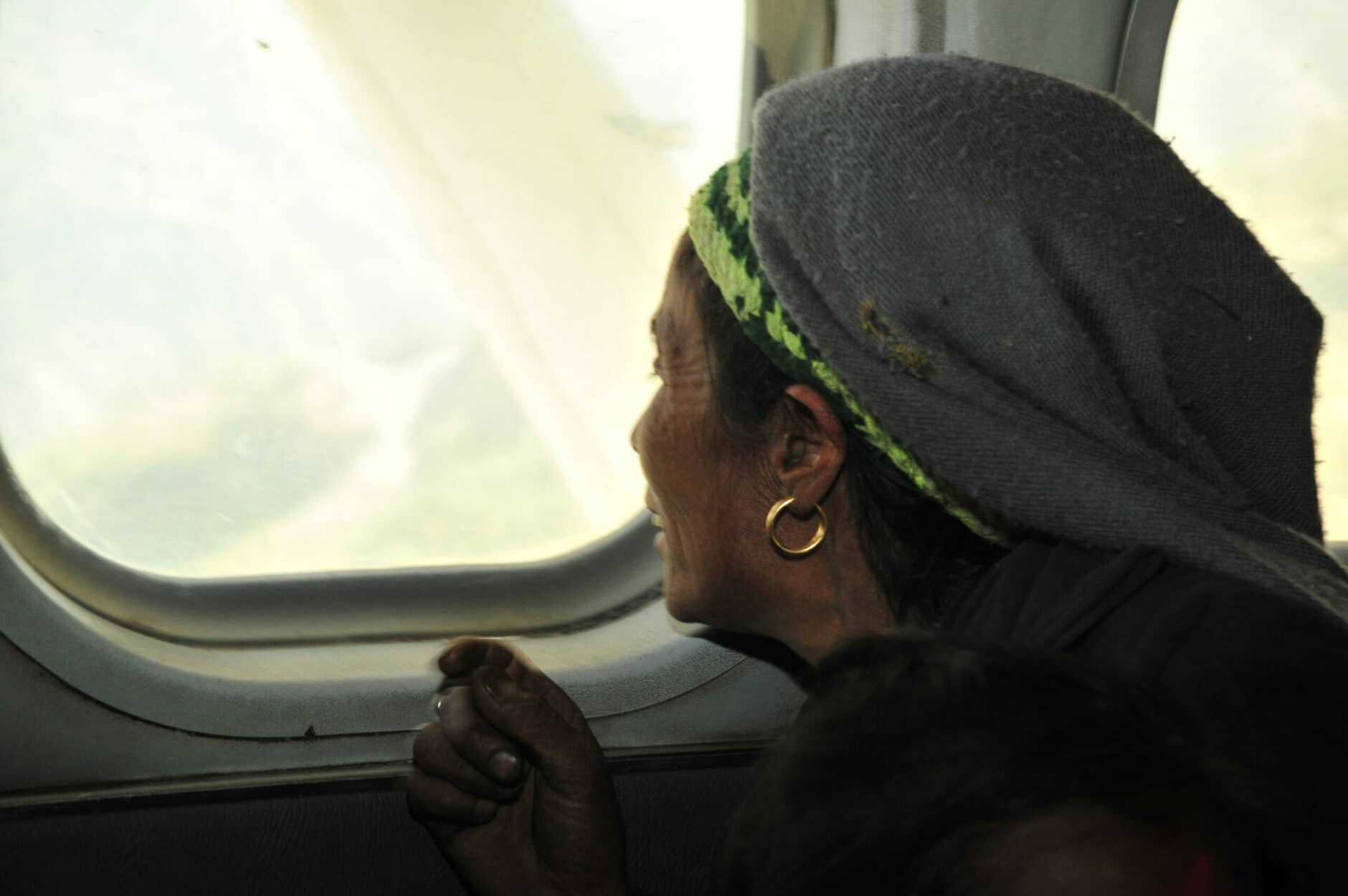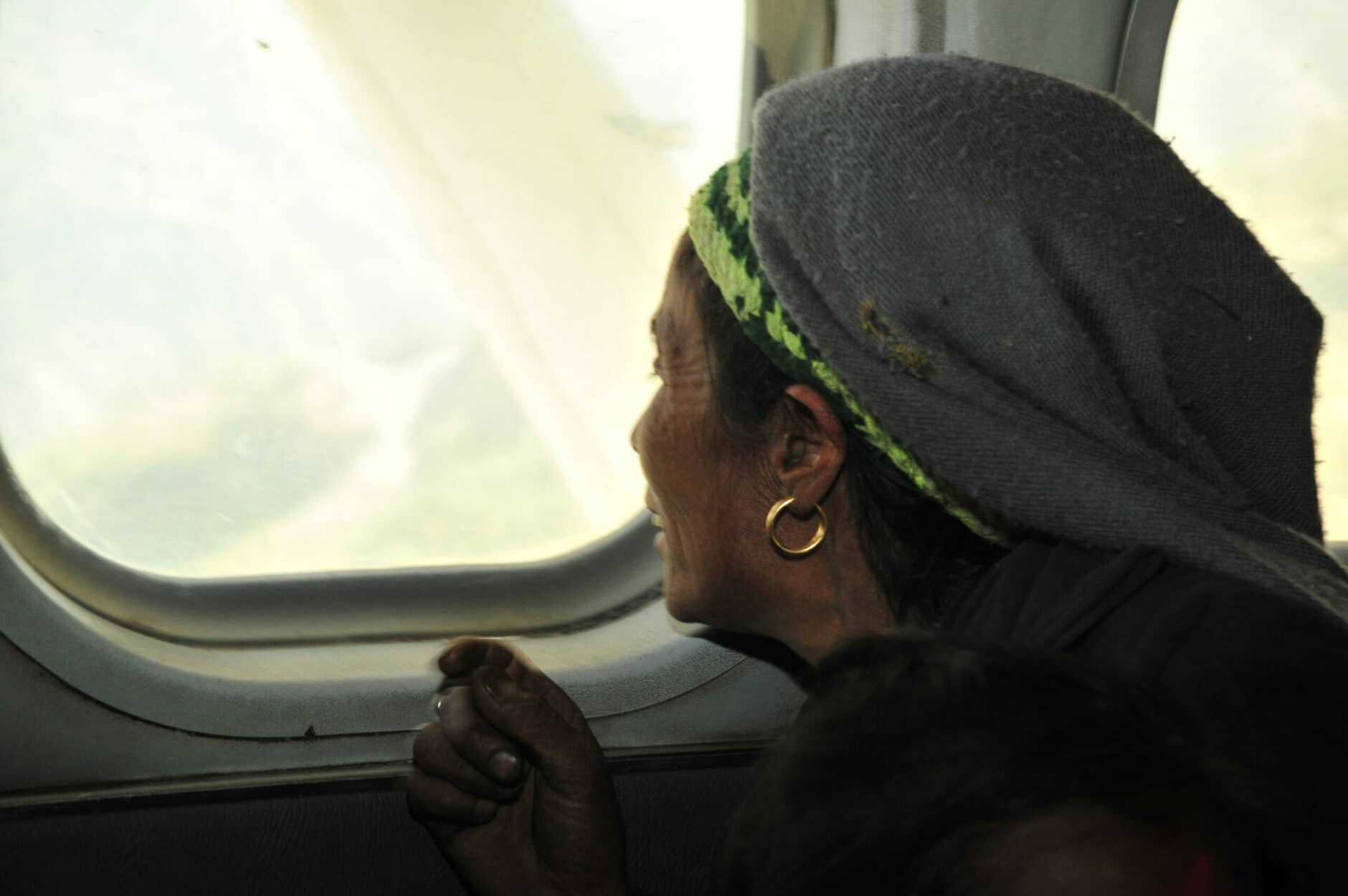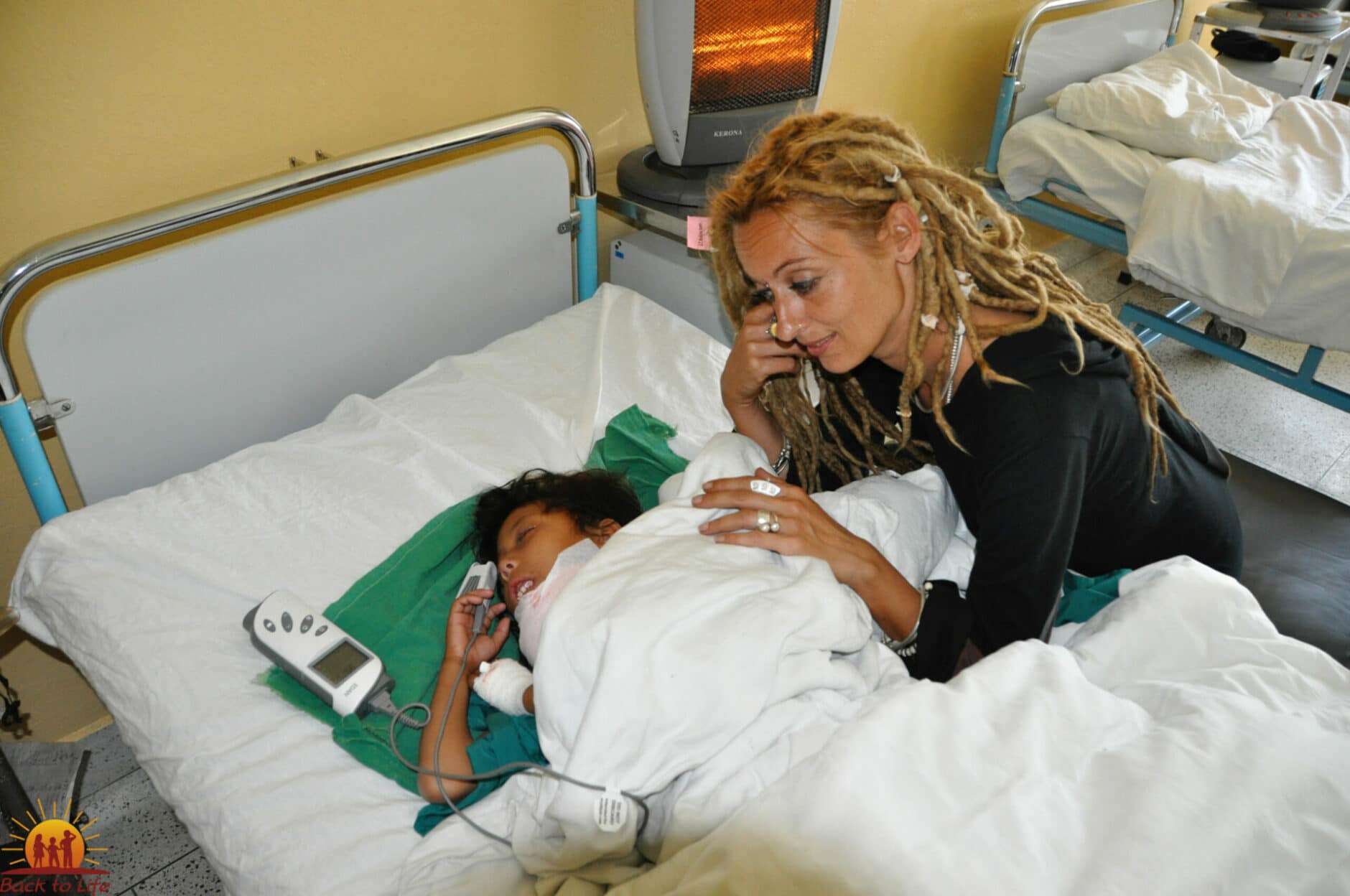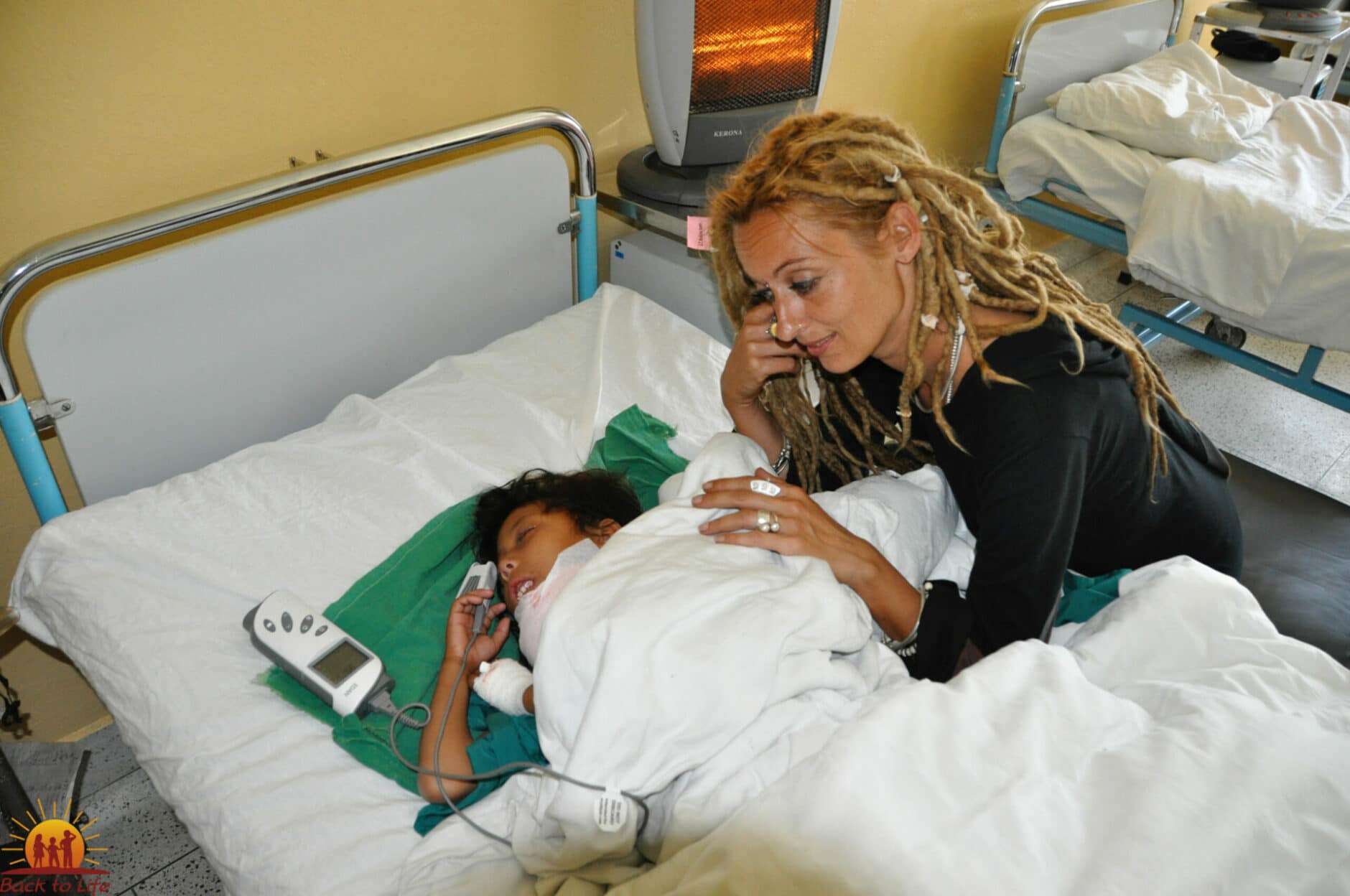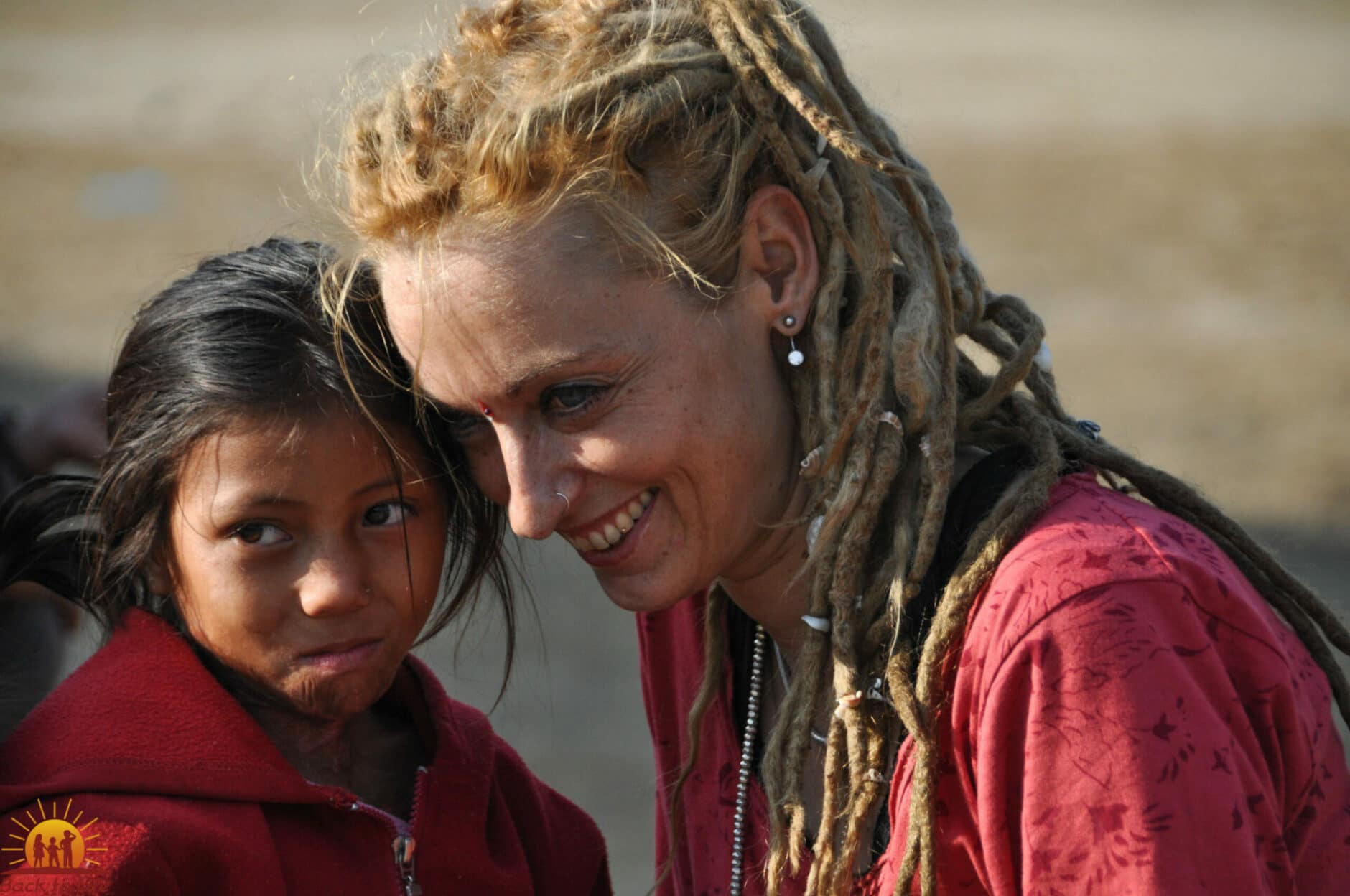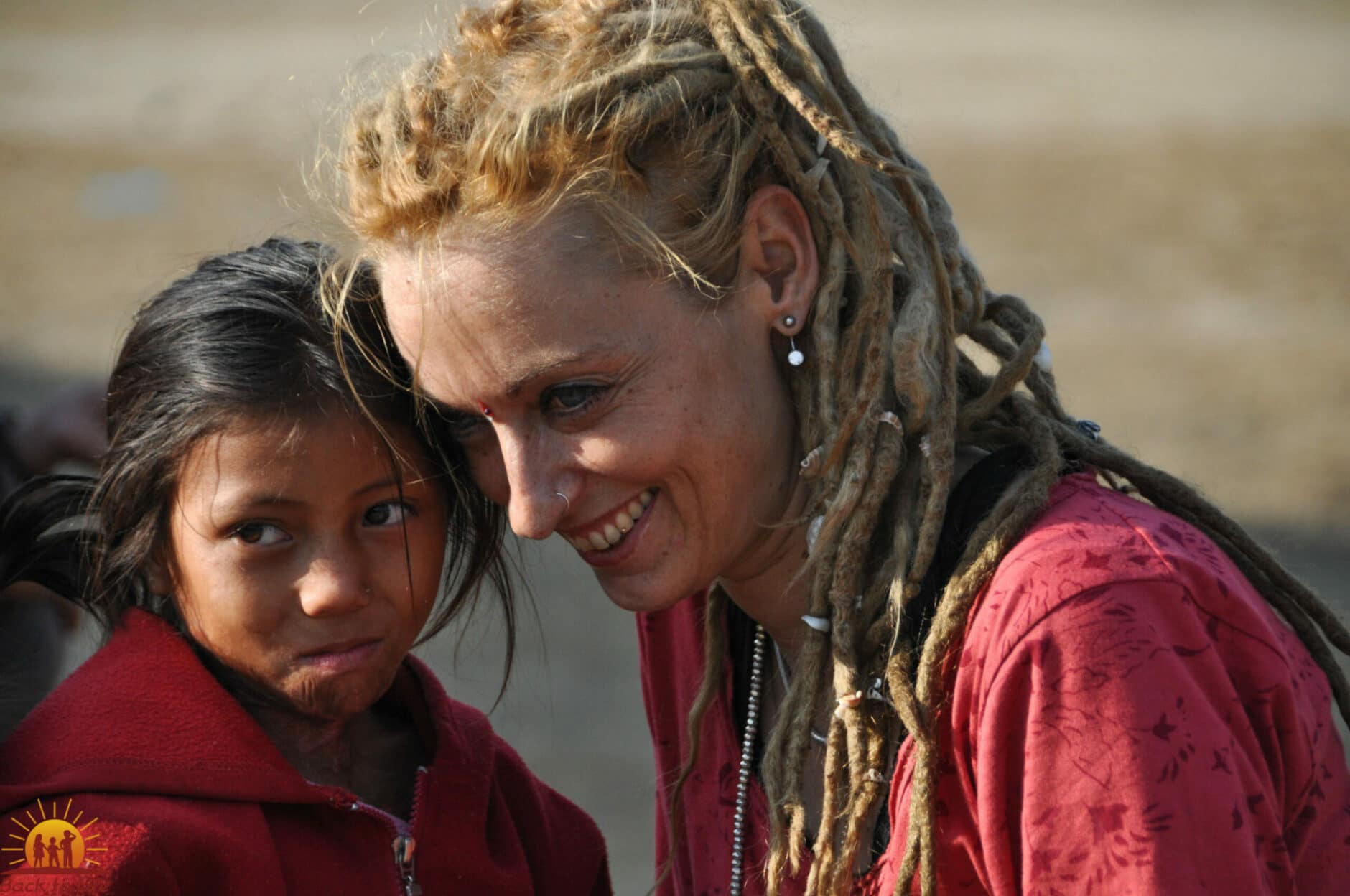 I gave her a teddy bear, which she won't let go from then on. Covering her neck with a frill, she gets up again soon after the operation for meals and plays with the other children in the hospital garden. Of course I visit her as often as I can because the days in the hospital are long. In addition to fruits, juice and biscuits, I also bring paints, handicrafts and board games to the bedside. So we spend hours playing and the once shy Khushi opens up more and more.
Khushi quickly became the darling of doctors and nurses because she endured the painful dressing changes without complaint and was motivated to work with physiotherapy. She is so glad and happy to finally get help. Amma can also be seen that her overwhelming worries have disappeared, she suddenly looks 10 years younger and always has a smile on her face.
SUCCESSFUL RECONSTRUCTION SURGERY | The next two procedures on the shoulders, one armpit and the arms also proceed without complications. Dr. Shakya is very satisfied with the results and can discharge Khushi from the hospital after 11 weeks. The next two operations on the shoulders, one armpit and the arms are also performed without complications. Dr. Shakya is very satisfied with the results and can discharge Khushi from the hospital after 11 weeks. Two months later, she is supposed to come for a follow-up examination, during which time she will continue her physiotherapy exercises and cover and apply lotion to the operated areas. The little family leaves the hospital beaming with joy. I have planned several visits to the doctor for the next few days, Amma is supposed to go to the gynecologist for an examination and the whole family to the dentist. Of course there is still enough time to show Khushi Kathmandu. Together we discover the winding streets of the old town, ride a pedicab, visit the inner courtyard of the Kumari, marvel at the pagodas of Durbar Square, walk around stupas, browse the local markets and take the escalator in a shopping mall.
THE FATE QUESTION | All of a sudden, Khushi's mother takes me aside for an important conversation. She explained to me that Khushi should definitely stay in Kathmandu for further operations and for a good school education. If she had to commute between Mugu and Kathmandu, her schooling would fall by the wayside. I was against it at first. She is just a girl from the mountains. I didn't want to uproot her or risk alienating her from her family. It almost broke my heart to imagine how Amma had to feel: To give away my own child out of sheer need so that it could even get the chance of an education. But when Khushi asked enthusiastically and emphatically to be allowed to stay in Kathmandu and go to school here, I finally agreed. I already sensed that this girl has a strong inner strength and is ready to go her own way. Nothing has changed to this day.
THE MOUNTAIN GIRL LEARNS TO LIFE IN THE CITY | When I visit the children's home and the school that will be her new home with Khushi, she is immediately enthusiastic. Welcomed by the school principal and his family, she goes on a discovery tour, marveling at the brightly painted rooms for the girls, the cupboards and bookshelves and the many spacious classrooms at the school. Here she will soon be taught in English. Outside there is a playground and a garden. Everything is child-friendly and lovingly furnished, the dining room looks like a huge, cozy kitchen-cum-living room. Khushi is particularly happy to have a roommate: Blacky, the director's sheepdog. He immediately becomes her best friend. She settles into her new environment in no time and immediately makes friends.
BEST STAYED AND FULL OF OP PORTUNITIES | From 2011 to 2014, Khushi continued to undergo new surgeries to have the bulging scar tissue removed. It has already become routine, but it still remains painful. We keep flying Amma to the operating theaters so that her daughter receives the best possible care in the hospital. The mother is overwhelmed by her daughter's placement – first in a children's home, then in a loving foster family, Even from 2011 to 2014, Khushi repeatedly undergoes new surgeries to have the bulging scar tissue removed. It has already become routine, but it still remains painful. We keep flying Amma to the operating theaters so that her daughter receives the best possible care in the hospital. The mother is overwhelmed by the placement of her daughter – first in the children's home, then in the loving foster family that Khushi takes in like a daughter. She still lives there today and feels at home. During her visits Amma does not remain hidden from her how rapidly her daughter is developing, how she is blossoming and eagerly using all the educational opportunities available to her. She soaks up new knowledge like a sponge. Curious about Khushi's everyday life, Amma even attends a school lesson and has all the exercise books and school documents shown to her. She is proud of her daughter and her gratitude to Back to Life can hardly be put into words. With tears in her eyes she says: "You gave Khushi a new life!" Kushi maintains contact with her mother and siblings over the phone. She's actually not homesick, she says. Kathmandu is her home now.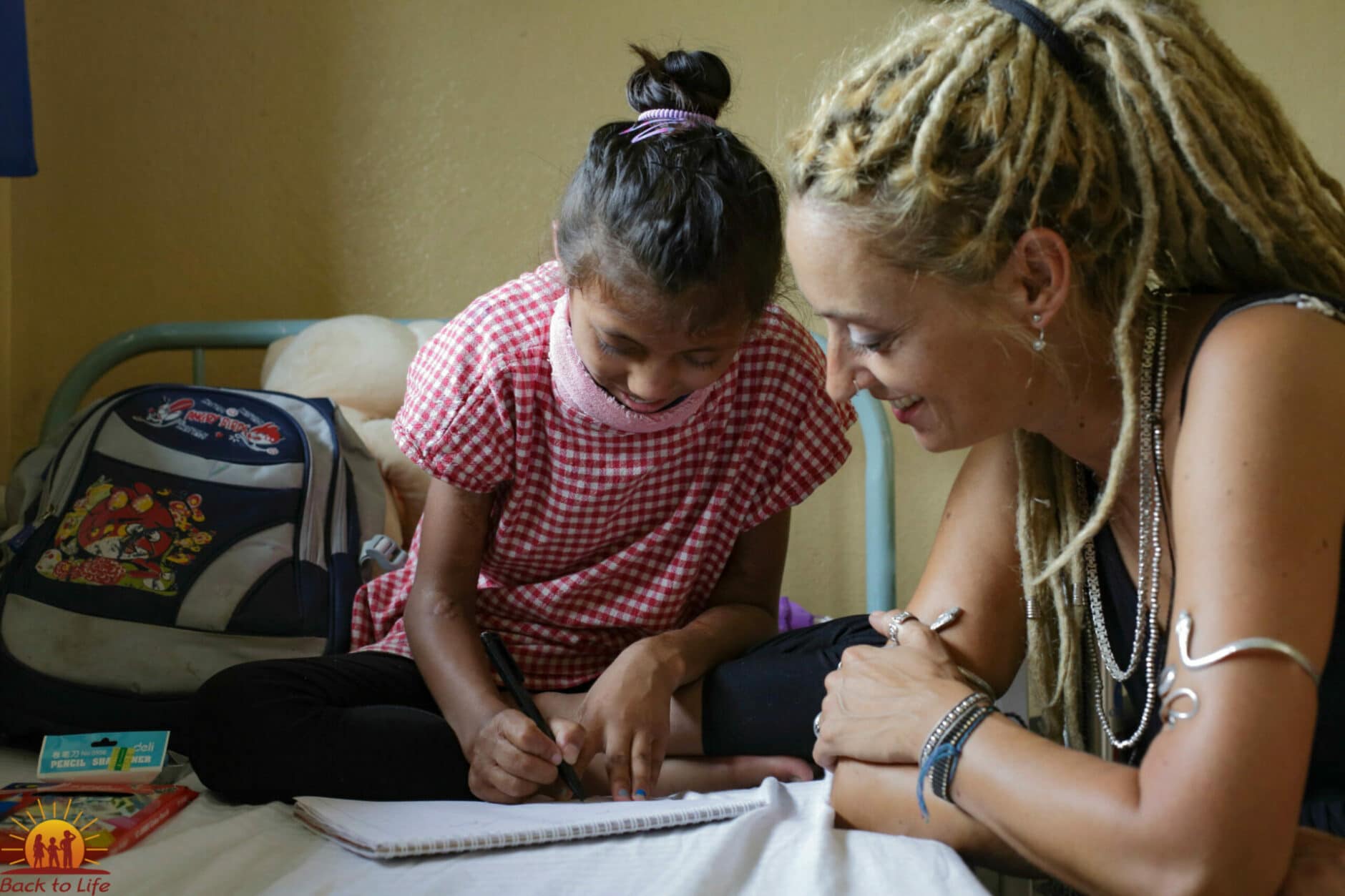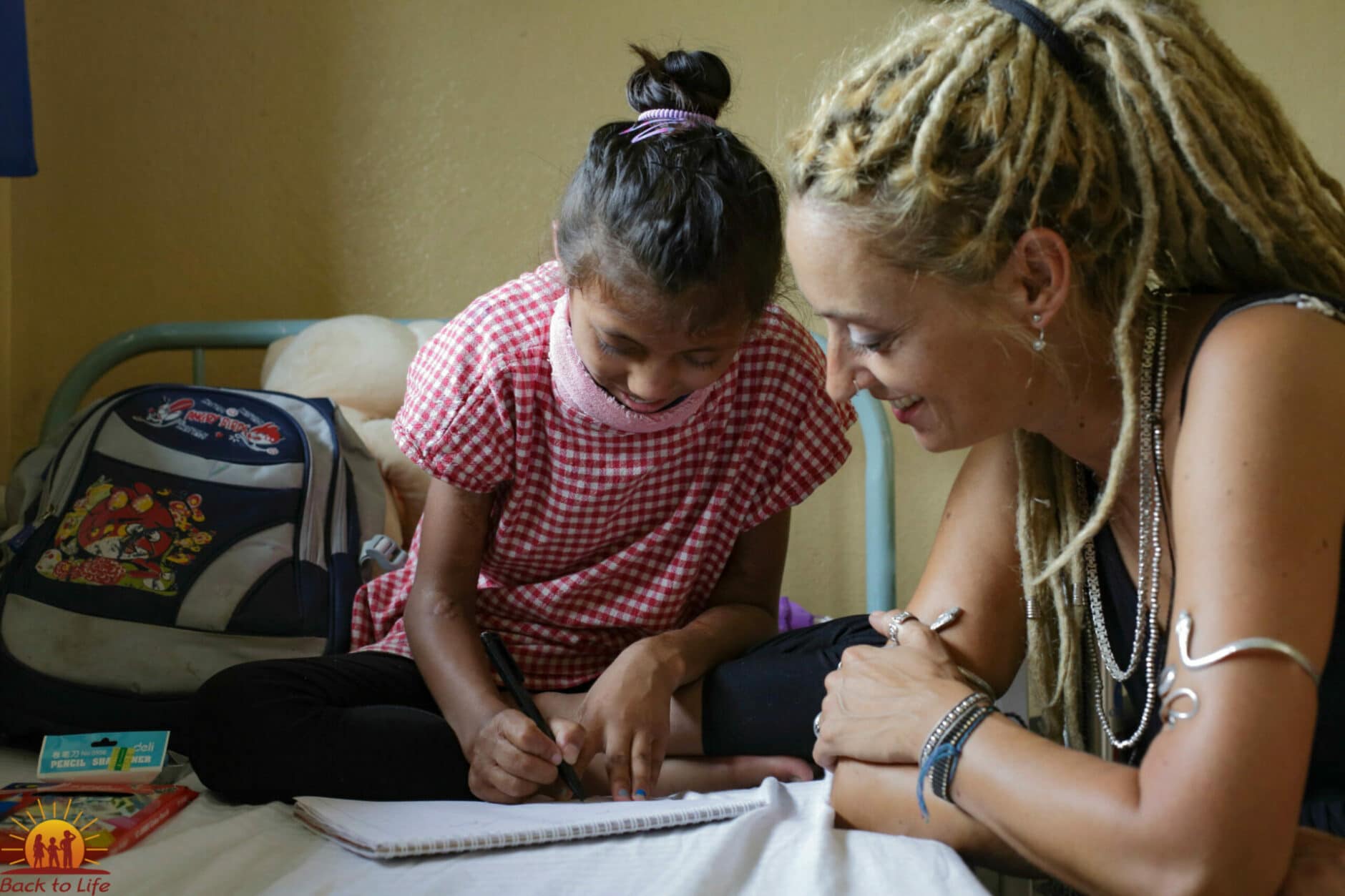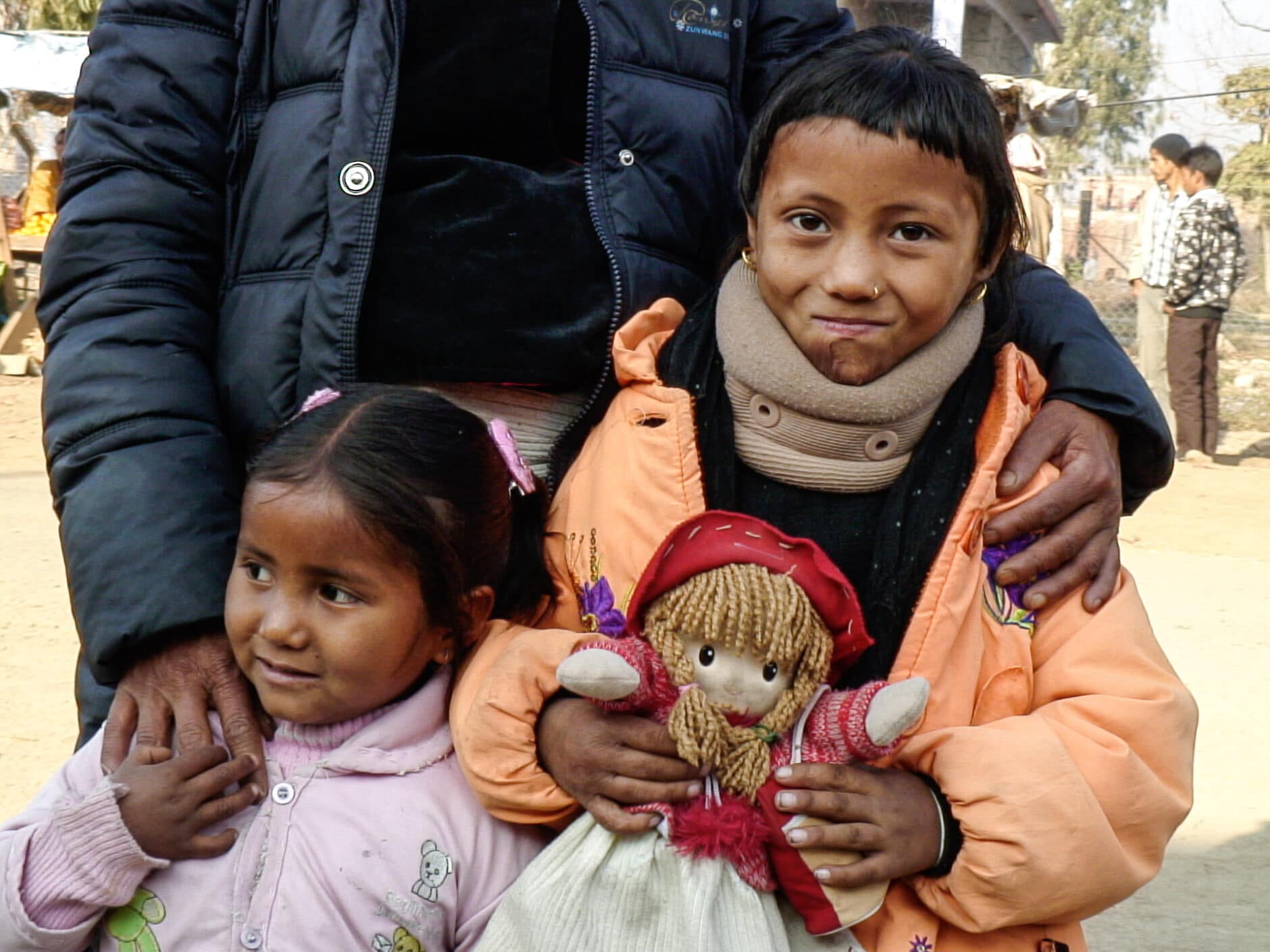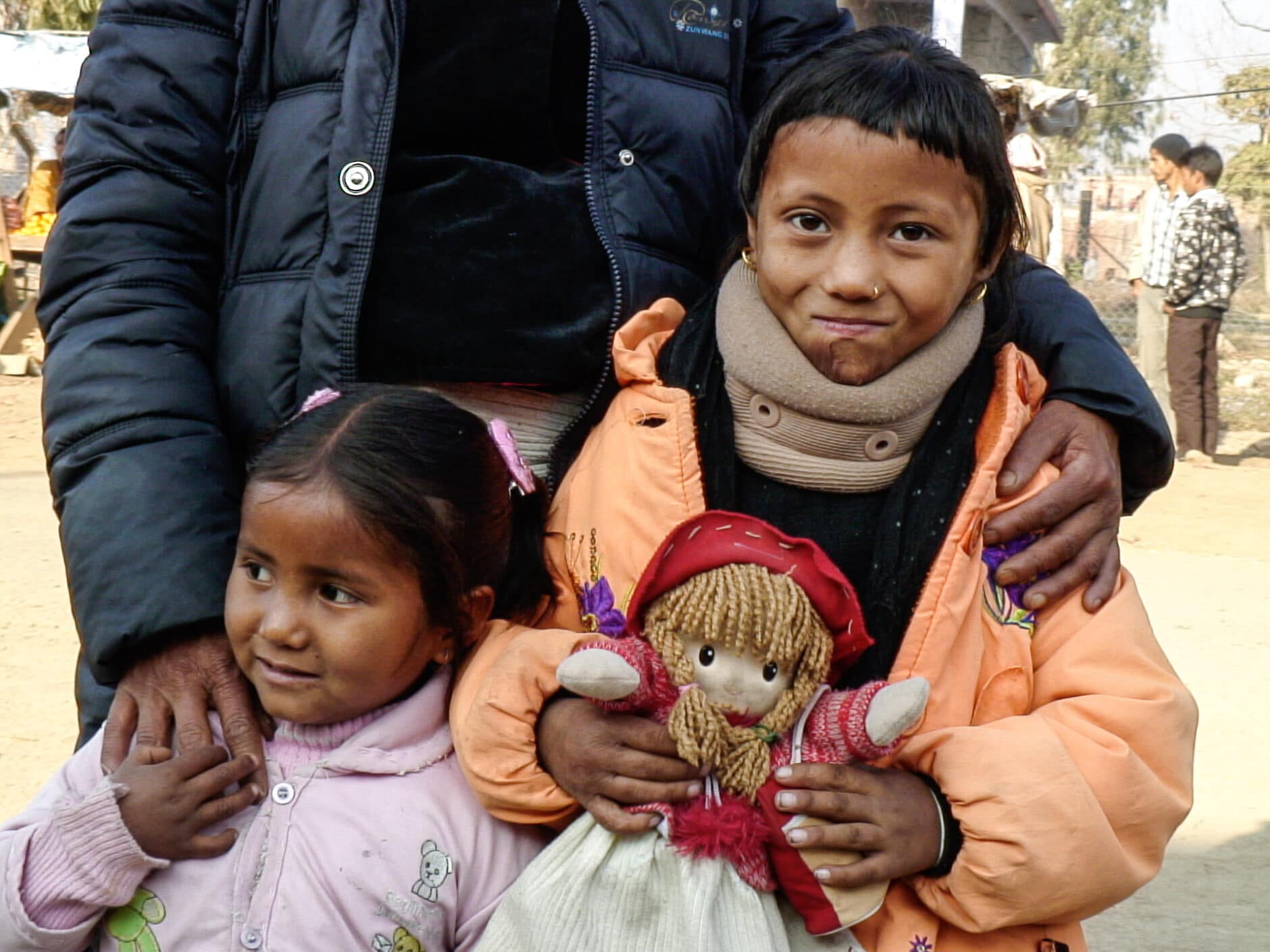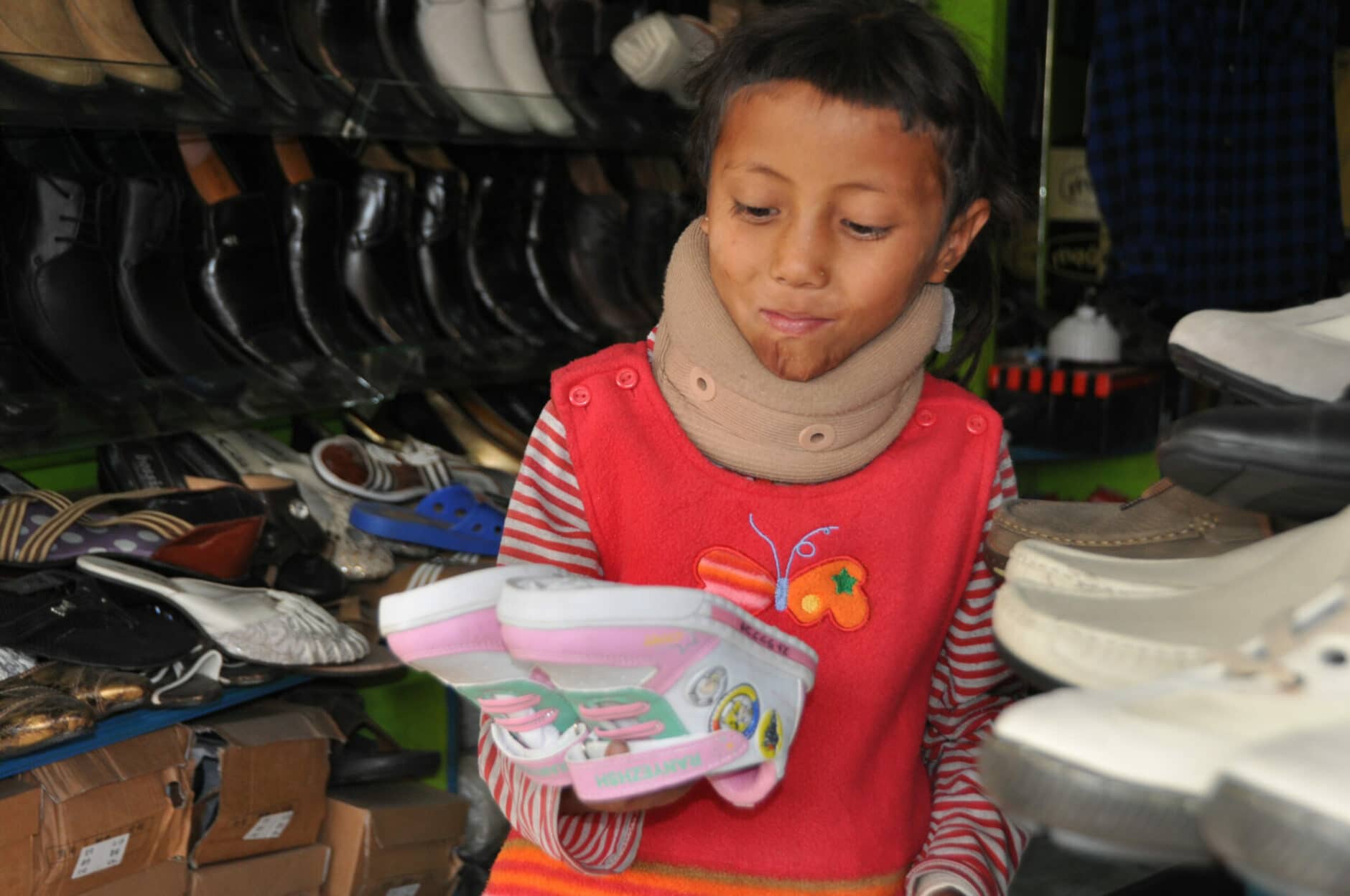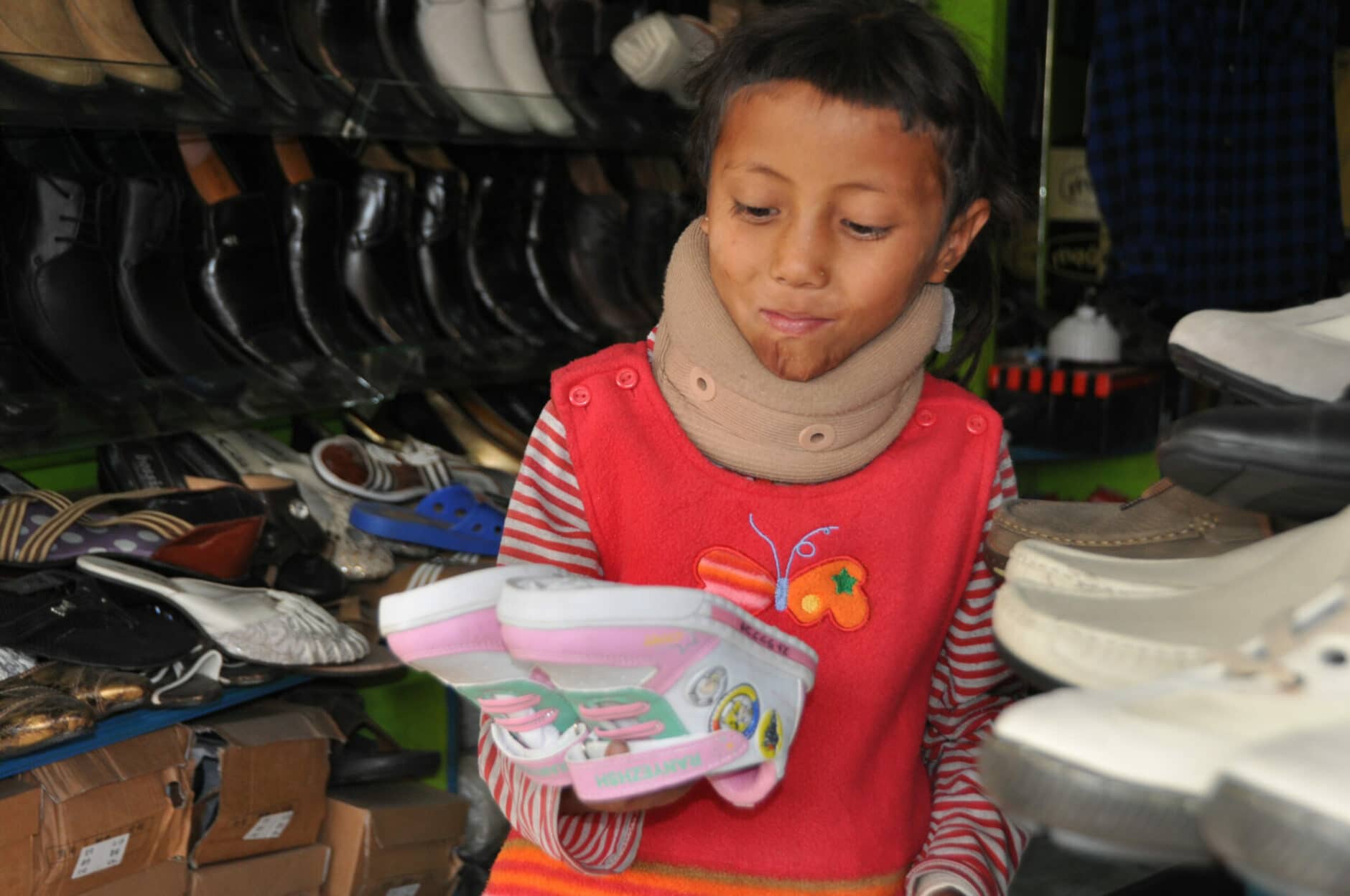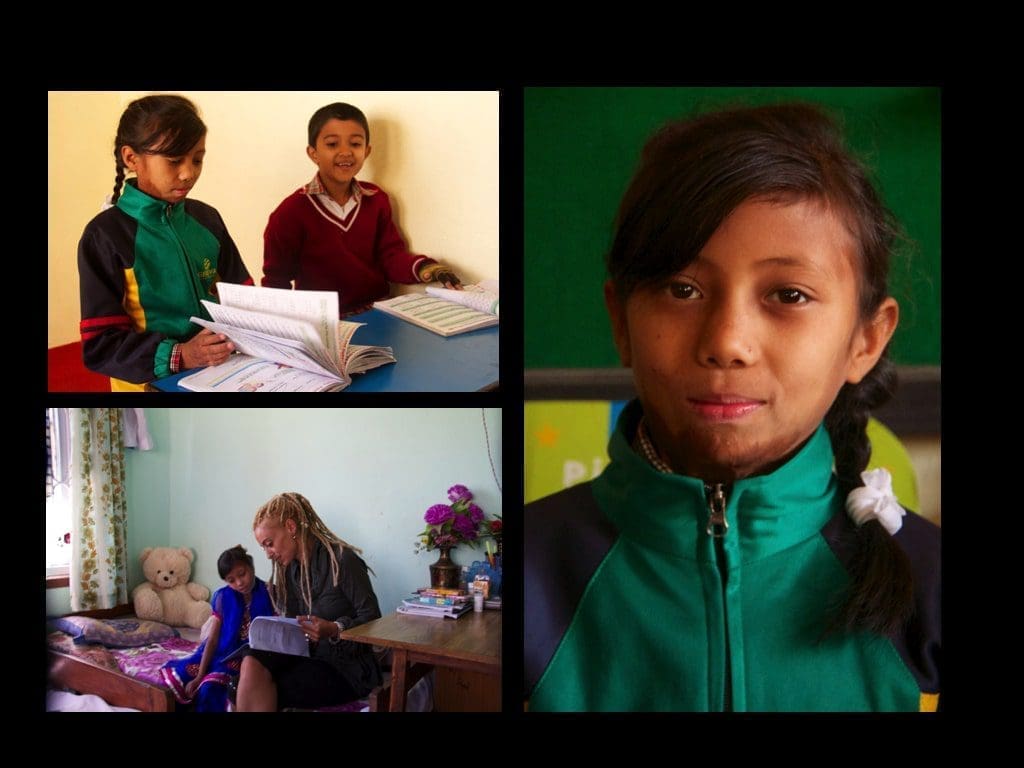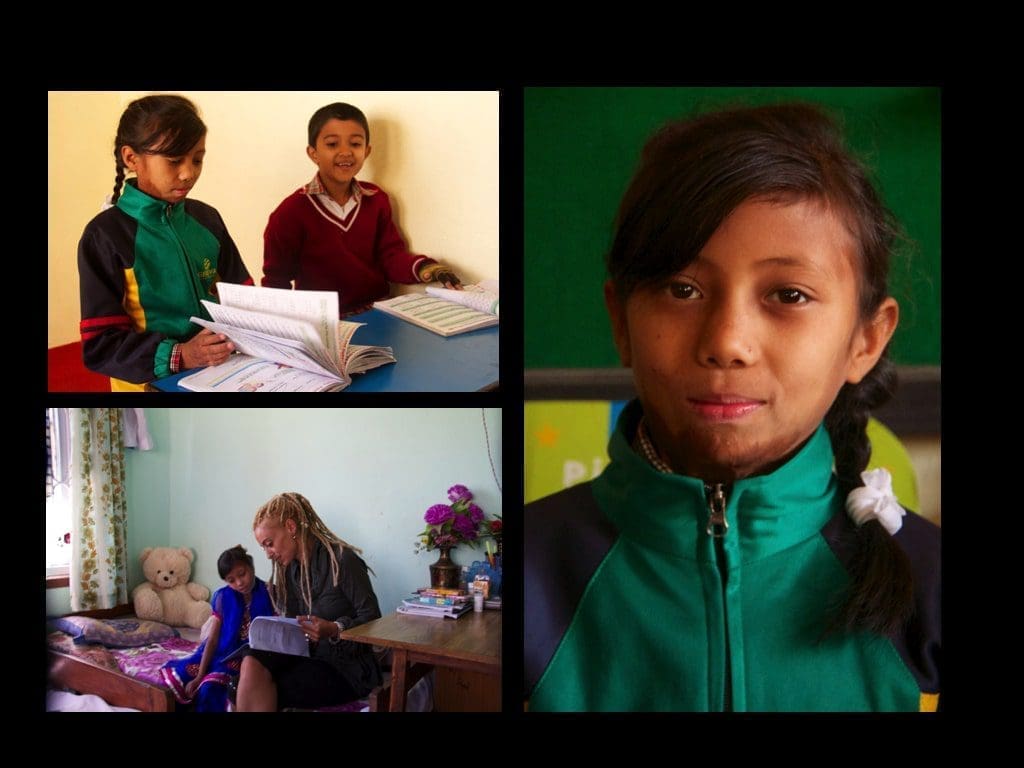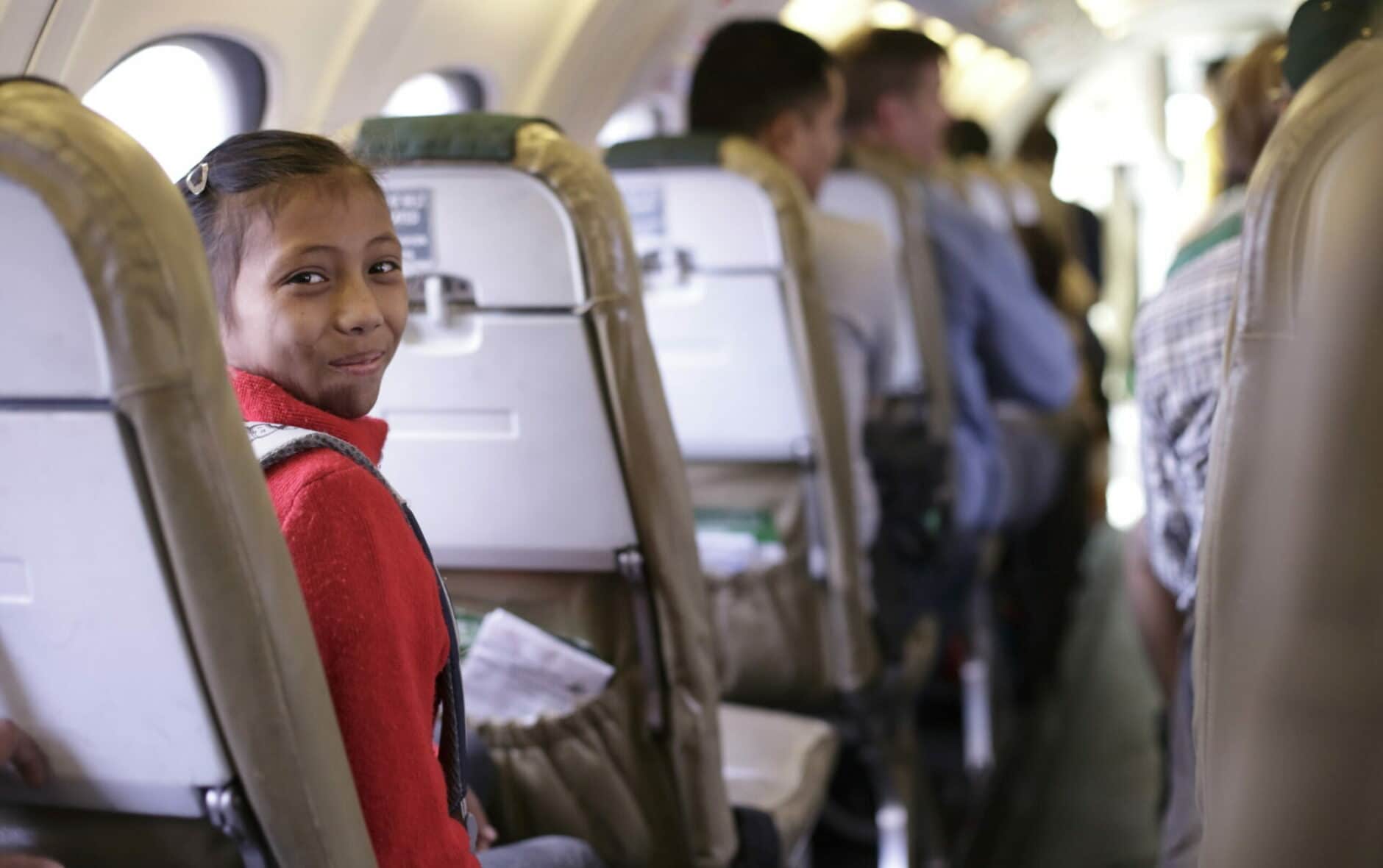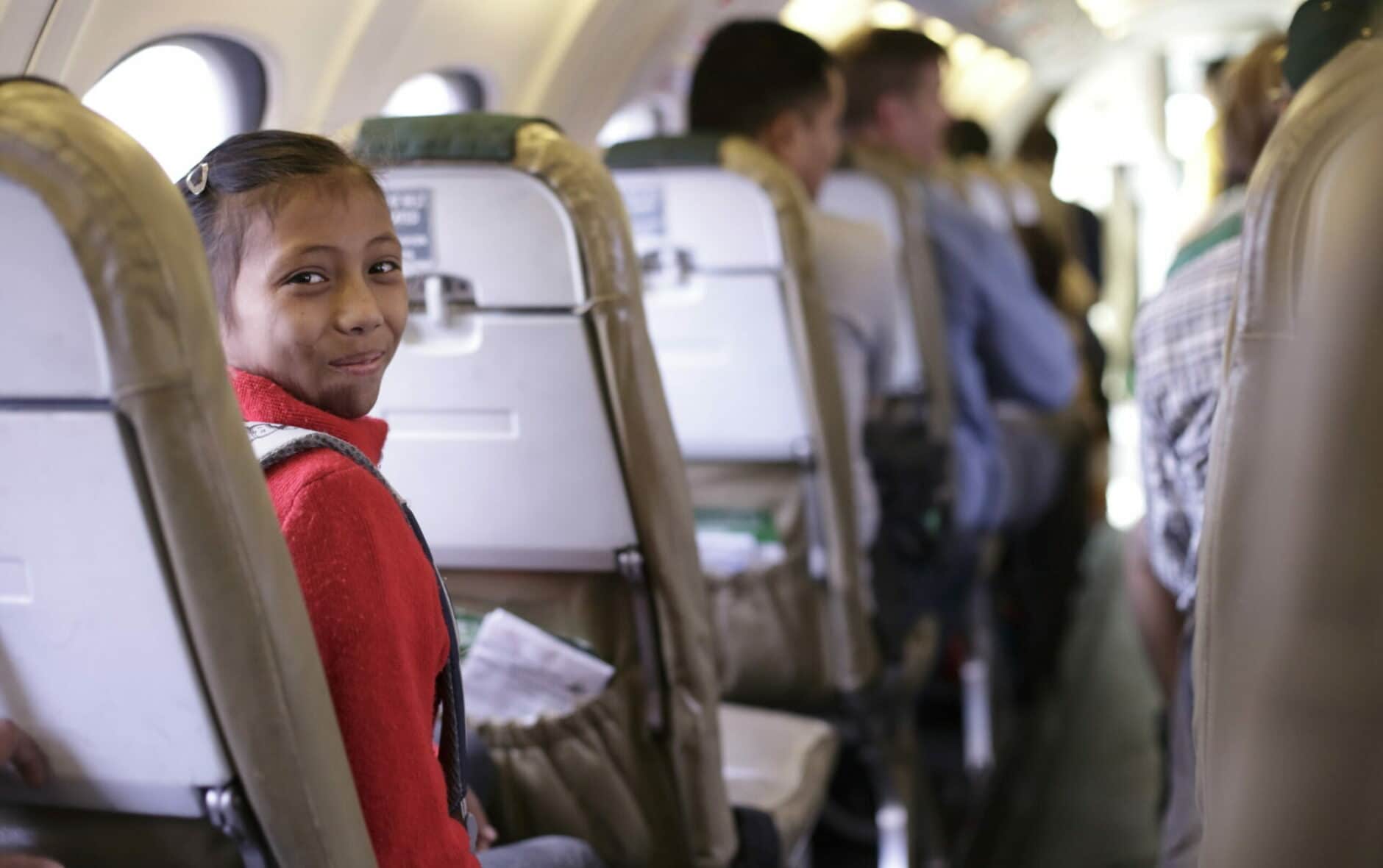 KHUSHIS FAMILY IN MUGU IS NOT FORGOTTEN | During a project visit in 2012, we find Amma seriously ill in her house in Mugu. Her condition is critical, and with a high fever she is close to death. We'll take you to a clinic immediately. The hardships take their toll: up to 15 hours of back-breaking work every day with continuous malnutrition – a combination that has already taken thousands of years. Her condition is critical, and with a high fever she is close to death. We'll take you to a clinic immediately. The hardships take their toll: up to 15 hours of backbreaking work every day with ongoing malnutrition – a combination that has fatally fatal to thousands in Mugu. But Amma is well and Khushi is very relieved.
DESTINATION A LEVEL | Khushi completed the following school years very successfully. In her main subjects English and mathematics, but also in the minor subjects social studies, natural sciences and IT, she got top grades. Your fluency in English is very impressive.
However, so that she does not forget her roots, Khushi travels to the mountains in Mugu once a year and spends her school holidays there with her family. When Khushi returned to her home village in the mountains for the first time, the villagers were amazed at her beautiful face and her newfound smile. They have never seen anything like it before, and never before has a burn victim from their area received such help.
The neighbors and children want to know exactly what life is like in Kathmandu. Khushi can no longer get out of the narration. The entire village is proud of the little girl who bravely struggles against fate.
Meanwhile, at 17 years old, Khushi is no longer a little girl. In Kathmandu, she has grown into a modern and confident teenager who is not only fashion conscious, but also reads a lot and speaks fluent English. In Mugu, they are amazed when they visit: "'How can she wear pants? Girls don't wear pants!' But I only wear pants now," Khushi says. Her friends from the village are a little afraid that they might not be as interesting to her compared to the exciting city life and modern people in Kathmandu. "But I then reassure them that they are just as important to me."
Khushi graduated from 10th grade in 2021 and successfully passed the intermediate school leaving examination. Now in senior high school, she still has her sights firmly set on the Abitur. And after that she even wants to study.
KHUSHI IS H APPY | Besides school, Khushi spends time with her friends, she likes to dance and play the guitar. However, her favorite thing to do is to have picnics with her friends or go to the scout meetings and enjoy the trips with other young people in the nature of Nepal. How much she would like to show Mugu to her boy scout friends! Unfortunately, these activities are rarely possible at present during the recurring lockdowns.Khushi is a model student who represents a whole new, educated generation of Nepal. She is on the right track and in excellent health – even if it will always be necessary to treat and operate on the scarred areas of her body.
By the way, translated her name means "happy". After a tough start in life with terrible experiences, pain and hardship, it can now be said that this is a truly apt name. Because happy, that's Khushi today.
KHUSHI IN THE CORONA PANDEMY | Khushi spent the first lockdown during the Corona pandemic from March to July 2020 with her family in Mugu. For her, passing on her knowledge about the disease was a natural thing to do: "For the children in my family and the neighborhood children, I organized a workshop and educated them about Corona. It's important to pass on knowledge. I am very fortunate through Back to Life to get a good school education in Kathmandu. I was not afraid of Corona in my village. Back to Life's home supports the villagers to go through the Corona crisis in a healthy way. Also, Back to Life has helped families who would have otherwise gone hungry." Khushi says, "Overall, we all got through the lockdown pretty well!"She missed her school the most, but from the Back to Life office in Mugu, she was able to participate in online classes and keep in touch with her schoolmates.
Khushi used to use the Internet and social media wisely, opening her foster family's laptop only once a week. But during the pandemic, the computer became a constant companion. Khushi now has his own laptop, which was funded by Back to Life. She says enthusiastically: "I often create presentations for school, I really enjoy doing that. I still like to read books, but for my school subjects I get the information from the Internet. It is important to distinguish which information is really valuable and which is not. Especially during the Corona pandemic, the laptop helps me, so I can take online classes and continue learning even if the school is closed every now and then. And sometimes I watch movies and listen to music through YouTube. Very much my friends and I like to make Tik Tok videos with the cell phone…"
SISTER CHUTKI COMES TO KATHMANDU | Khusi no longer needs to talk to her little sister Chutki on the phone, because she moved in with her in Kathmandu last year. This was the happiest event for them in 2021. "I am so grateful to my beloved foster family in Kathmandu for taking Chutki in. Likewise, thank you Back to Life for making this possible. This puts my biggest worry at ease." Khusi's older sister had married as a teenager and she had not been able to prevent it. "Neither my older brother, nor my mother and sister listened to my arguments. I was very angry at the time and hardly spoke to my family for over a year." Even today, you can hear the pain in Khusi's voice as she recounts it.
But Chutki is now in Kathmandu, she has started school and is slowly arriving in the new world. For Khusi, it's a bit like watching herself in the past, when she was full of wonder at life and diversity in the big city. With her sister she shares her room and all her things. Above all, she is also happy that there is now someone with whom she shares her roots and who knows both worlds: Mugu and Kathmandu.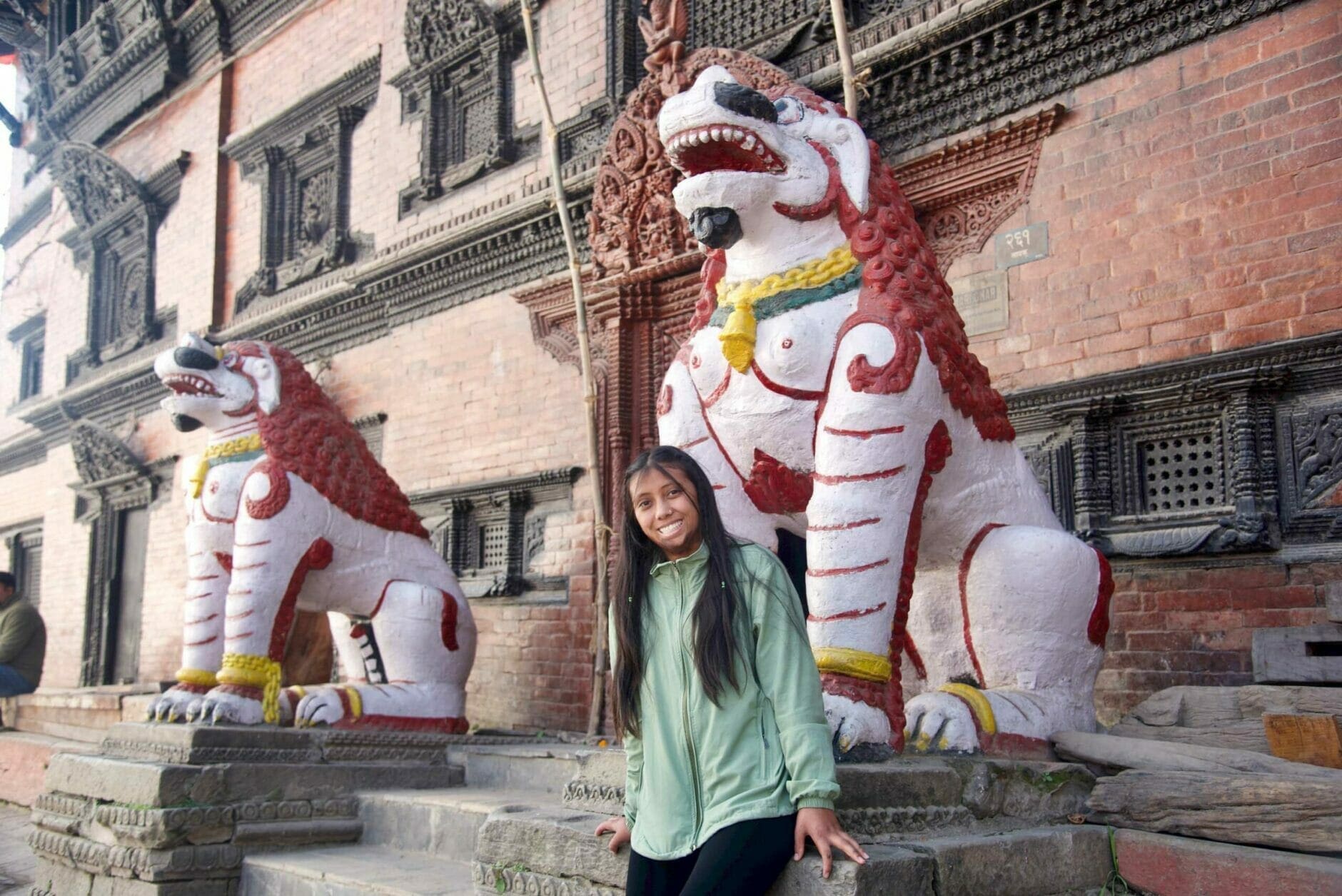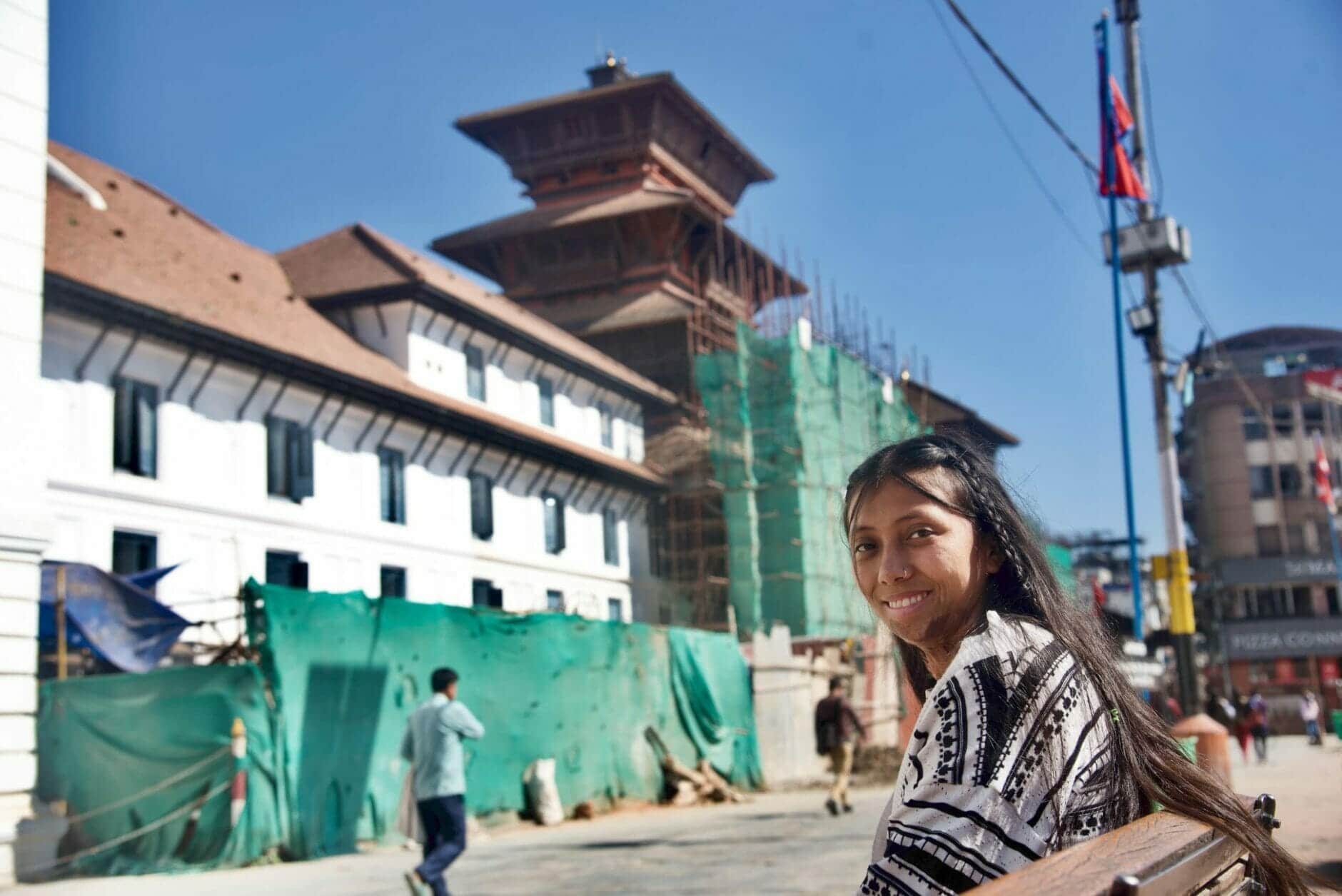 WHAT THE FUTURE HOLDS | Like all teenagers, Khusi has many dreams. Actually, she wanted to travel to distant countries and climb Mount Everest. She used to want to be a veterinarian, a physiotherapist or a fashion designer. Now she could also imagine leading projects like Back to Life's in Mugu. She is convinced that education is the key to a better future. "First, everyone should be taught as well as possible in schools, then child marriages will stop. But the government does not focus on Mugu. Education is so important, it should be the top priority!
"After all these years, I see how much the work of Back to Life makes a difference in the remote mountain areas. The people in my homeland gain hope and perspective, and the women are empowered. Their lives are definitely getting better, safer, healthier and more environmentally friendly. I would like to study something that will enable me to become a good project manager later."
Stella last exchanged video calls with Khusi in the fall of 2021, when she had just passed her secondary education exam (SEE). Despite her young age, young Khusi's words are full of wisdom and she tells us her secret to staying happy and motivated.
Stella: Dear Khushi, how is it for you these days, My dear Khushi, congratulations on your middle school graduation! You've come so far, that's great. In the meantime, you have been living in Kathmandu for 11 years, and at 16 you are a self-confident teenager. Do you still remember your first school days in the high mountains in Mugu?
Khushi: Oh yes, I remember it clearly. I was afraid to even leave the house. From the fact that the other children might be afraid of me when they see my scars. I don't have good memories of starting school at all, and I didn't go there regularly.
Stella: When you were operated on in Kathmandu and then enrolled in school, you made a very expectant impression on me. You have integrated quickly and successfully.
Khushi: It wasn't easy for me though, I had so much to catch up on, starting with numbers and the alphabet. I worked hard and learned English as fast as I could. At school I immediately made good friends who helped me a lot. Today my favorite subjects are Science, English and History. I don't like math that much. At home, my foster father helps me study, and in the past, my foster sister, who is now out of the house and studying. My foster father is a teacher himself, so I benefited especially.
Stella: Actually, you are a child of the mountains. But now you have been living in Kathmandu longer than in Mugu. What else is Mugali about you and in what ways would you describe yourself as a big city kid?
Khushi: Oh, I hadn't thought about that yet. Deep down, I still feel like a mountain child. I also prefer to speak Mugali much better than Nepali. But English has become the easiest for me. That has become my main language. I think also in English. In Kathmandu, I grow up to be a modern woman. I like that, I can even wear pants as a girl. I like the mountains and nature better than the big city, but Kathmandu offers me much more opportunities to make something out of my life. I am very grateful for that.
Stella: What do you miss from Mugu?
Khushi: Eating boiled potatoes with chili with my sisters while working in the fields. And arguing with them about who has to carry home the bigger load of wood or water.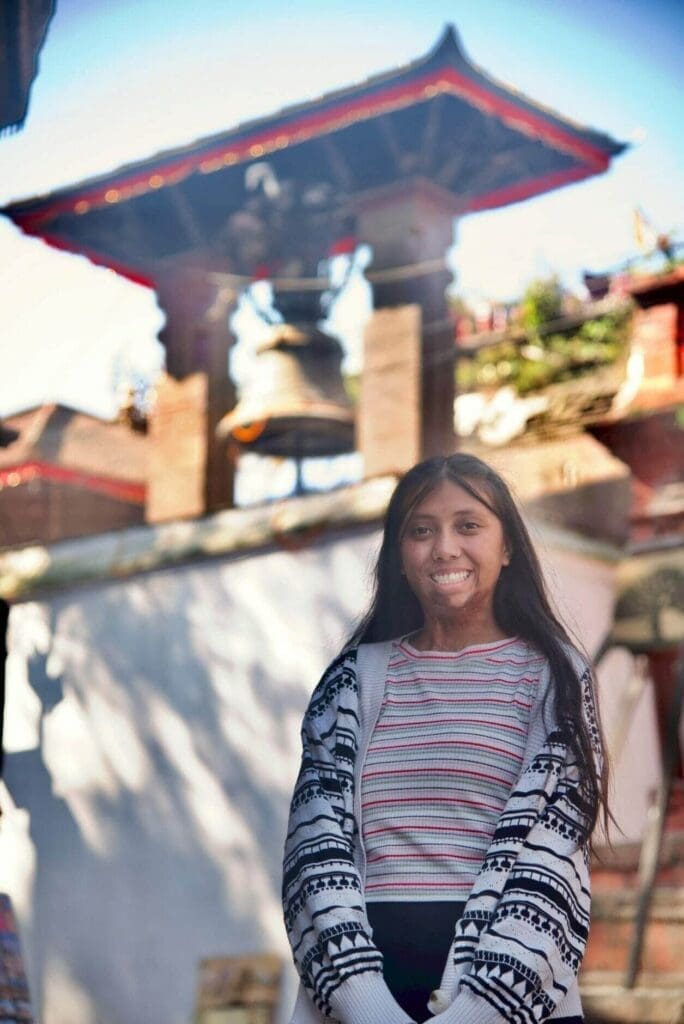 Stella: How easy or difficult was it for you to get used to Kathmandu?
Khushi: With the support of my school friends and my foster family, I was able to get used to the different life in the big city and especially the much faster pace. I can adapt to anything, I'm flexible and changes don't scare me, they rather make me curious.
Stella: How do you motivate yourself?
Khushi: I find motivation within myself. I compare my today with my yesterday and I am immediately happy and motivated when I think about what I have already achieved.